One of the quintessential mommy moments in my mind is bathing your babe in the kitchen sink.  I have no idea why but it feels like it connects me to the decades of mothers and caregivers of years gone by.
It's basically me holding hands with Mary Poppins.  Because I am fairly certain she invented the kitchen sink bath.
For Weston, he always had sponge baths until he was old enough to sit with me in the real bath tub.  And then once he could sit in the Bumbo, I would sit him in, holding it down with my feet (it would float even with my chunky monkey in it) while he shared bath toys with Will…aka chewing toys while Will pretended the shark can talk.  When he finally mastered sitting solo, it was always just easier to throw both boys in the tub together so this moment almost didn't happen.
It's funny.  These little things that make you really feel like a mom.  Sometimes I feel like I am just going through the motions….cleaning their hands, prepping food, making crafts, watching them play outside, pulling random objects from their mouths and pockets….but it seems like whenever I do sink baths, it really sinks in that I am a mother.
I am probably the only person that feels that way.
I am also probably the only person that realizes that the below photo is a rare jewel.  You can see his smile AND his eyes.  It's like seeing a leprechaun or a unicorn….this is so rare that this is THE ONLY picture I have of both.  #WINNING
So after a little digging, I found Will's first bath time experience.
Apparently I did believe in white balance.
This is a very 'Will' photo…
Stoic and wide eyed.  Contrast that with my second – smiley and squinty.
And this reminds me of Weston.  I see both the similarities in looks and activity of choice…
I quickly realized that Weston was just a smidge too old to continue having sink baths after this happened…the ability to stand pretty much evicts babes from the sink bath.  foh-evah.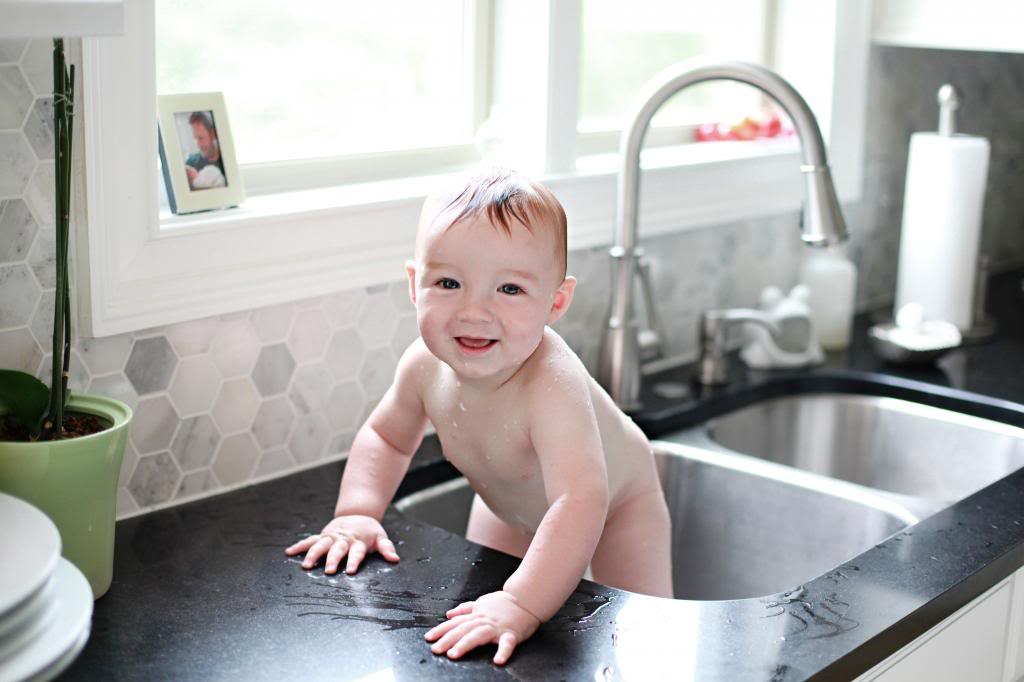 So what are the quintessential 'mothering' moments you think of?  That first diaper change?  The moment where you realize that all of your clothes smell like baby powder?  The day when you no longer order food in a diner based on your personal preference but on what can be mashed, smooshed, and masticated by your toothless partner in crime?