A lot of you have been asking to see Weston's nursery.
The truth?  We haven't started it yet.
Second child syndrome.
We knew that Weston would probably stay with us for a long time in our room in a pack n play and then later on when he was able, we would probably co-sleep.  We know it's not the right choice for everyone but we love having our babies close at night and its what we did with Will so we would love to continue the tradition.  And we also knew that it was a very real possibility to have another c-section…which would mean that I would not be able to carry Will or my newborn up and down the stairs for the first ten days.  So in true 'prepare-for-the-worst' fashion, we decided that we would create a little safe haven do-it-all place upstairs in the bedroom sitting room.
At first this space was rarely used.  And when I say rarely, I mean, not at all.  It became a dumping/holding ground.  And I am not talking about Will's place to fill up the diaper.
Speaking of the Tinkler, he was there (barefoot) (in a thrift store) when I found these cabinets.  Don't they look like the toy chest that we built for Will's room?  The ones we built were based on a plan from Ana White.  Those plans were inspired by Pottery Barn's Cameron Wall System.
But these were the real deal.  Pottery Barn cabinets…in a thrift store…for $15 a piece…that meant the two bases, the cubbies, and the chalkboard door unit were $60 total.  I practically spread eagled myself on them (also barefoot.  kidding…I'm not that redneck…yet) and screamed bloody murder for assistance.  I may or may not have yelled at another thrift store shopper that was thinking of walking down our aisle.  I definitely gave them my stink eye.
Here's a better picture of them after I got them home.  I texted Jer in all caps.  It was a good day.
Since we decided that it wasn't the best time to tackle Weston's room (hello, we are STILL trying to finish up the kitchen), we moved them beside our bump-out fireplace.  Miracle of all miracles (you know…besides the whole raising the dead and walking on water thing), the pieces fit pretty perfectly.
I bought the lined baskets at Walmart that fit in the cubbies.  Get this…they cost about $15 a piece…making them just as expensive as all four of the wood pieces.  Those baskets now hold all of Weston's clothing.
The rest of the room was still pretty bare so we decided to search Craigslist for some sitting furniture.  Jer's brother Torrey told us that he was selling his ottoman and couch and he would give it to us for super cheap and we were thrilled with that idea.  He had this same couch and ottoman in our basement (way way back in the day when he lived with us), so we knew that it was a nice piece and crossed our fingers that it would fit.
The couch fit perfectly.  And we set up our tv to receive Direct TV…so all of our recorded shows and movies would be able to be seen upstairs too.  I figured that if worse came to worse, me and the boys could camp out on the couch and watch Thomas all day while I healed.
We also broke out the pack n play…
All of that was what I consider the first phase of this room.  The pull-out-what-is-absolutely-necessary phase.
Now the space looks like this….nothing to write home about but way more cozy and comfortable.
The couch is actually perfect for the area…we sit here to watch movies at night and I love nursing here in the early morning watching the sun come up.  It's really peaceful and relaxing…and only steps away from my bed which every new mom knows is GOLD jerry GOLD!
The ottoman will have to be recovered.  It was a faux leather and it had some scratches from Torrey's dog….Jack Bower (heehee)…so now my little Ruff guy (get it? ruff?  rough?), well, he combined with the direct sunlight tore it up real good.
The TV wall has the wooden cubbies on one side and our mini fridge on the other.  It's nice to be able to keep juice, water, and pumped breastmilk cold without going downstairs.  It's not much to look at now but eventually I'd love to tile out the middle section and add builtins to the sides.
I photoshopped it so you could see what it might look like.  Seriously, why am I not I Dream Of Genie right now?!  I would wiggle my nose and blink my eyes and make things magically appear.
My favorite part about the new space is the rug.  I originally saw this photo posted on the blog Little Green Notebook…and basically fell in love.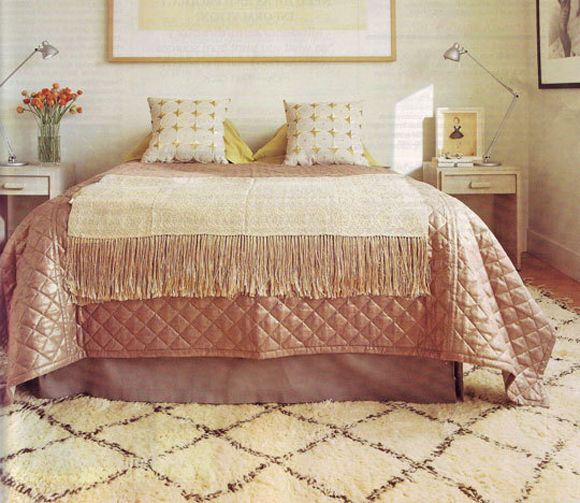 Elle Decor, March 2010
That rug is amazing.  It was plush and looked cozy and comfortable (sense a theme with this space?!) so I was thrilled when I found one on RugsUSA.com that looked just as touchable.  It's called the Tuscan Moroccan Shag rug in Ivory.
I must tell you…this sucker sheds like Cousin It during a head massage.  We have to vacuum every other day.  But it's worth it.  It is so plush that it's like walking on a pillow.
Full disclosure…I'm a huge fan of RugsUSA – I have purchased several rugs from them in the past and back when they were a sponsor, they offered me this rug for free…and I gratefully and quickly accepted.  I also wanted to make sure you guys could have a little sumpin-sumpin….so here's what's up for grabs…
PRIZE : $150 credit at RugsUSA
NUMBER OF WINNERS : (1) One
TO ENTER : Leave a comment with the phrase "Rug my mug" and tell me what kinda rug you like?  geometric? shag? floral? pompom? dalmation hair?  kidding Cruella..kidding.
PRIZE SHIPS : United States
NITTY GRITTY : This giveaway ends on Friday, February 1st 8am EDT.  Only one contest entry per email address.  The winners will be chosen using Random.org and emailed to claim their prize.  Winners are not announced on this blog so please use your regularly checked email address.
GOOD LUCK!