Disclaimer – This is a sponsored post brought to you by Canon. All opinions are 100% my own.
One of my friends jokes that her version of a Pinterest party is balloons with the right number on them 🙂 But personalizing a birthday party isn't hard if you have a Canon printer.
I have used our PIXMA TS9521C and IVY Mini Photo Printer for so many events and I'm here to share all my tricks for making your kids party to make it Pinterest-worthy.
#1 – Display a birthday photo
This might be the most obvious way to personalize a party but it often goes overlooked. Displaying a birthday photo (or photos over the years) is a great way to celebrate your kiddo! Plus, there are lots of times I go to a party without knowing the child or parents very well so it gives me as a guest a glimpse into that sweet life that we are celebrating. Love that!

#2 – Create personalized name signs
Personalized party signs with a nod to your party theme is simple and so cute! Kids love seeing their name on a wall and it's most effective when a contrasting color on a blank space. I like doing it over the buffet or gift table for maximum effect.
To create these at home, I size each letter the same as a sheet of Canon matte photo paper and then print each one on my PIXMA TS9521C. I simply trim the excess and hang them with a bit of painters tape looped on the back.
#3 – Print themed wall shapes
If you don't want to do their name, themed shapes and characters are also a fun option. I love when things "crawl" or "spray" up the wall. I recommend shapes that have a clear outline so that it pops off the wall. Print these out on Canon matte photo paper and cut them out. Print out baseballs for a sports party, butterflies for a fairy party and bats for a halloween party.
#4 – Print a welcome sign
A welcome sign is a great way to personalize any party. I like to print out a theme specific sign and hang it on an easel (easy to move!). I usually find that it helps to put the sign near the main entrance or near the gift table.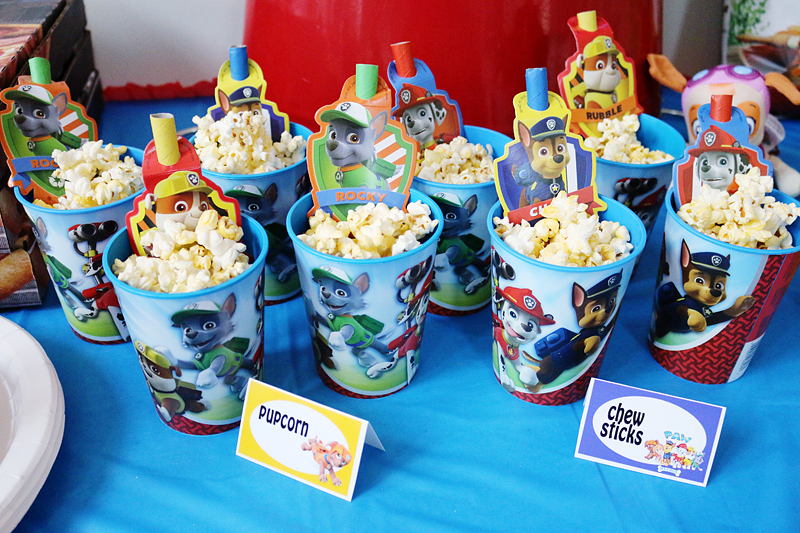 #5 – Print food signage
Another great way to personalize your party is to make food signage. It can be funny, punny, or just printed in your party colors. It is a fun and simple way to personalize your party!
#6 – Print favor tags
Gift tags are an easy and simple personalized touch for anyone to do! I love doing activities at the party that the kids take home and providing a paper bag with a personalized favor tag gives the guests a carry-all and ensures that everyone gets a thank you!
#6 – Create a Photo Booth
A photo booth is a hit at weddings, parties and all fun events! Almost everyone has a camera phone these days and all you have to do is designate a spot in front of a plain wall and put a box of party props out for the party goers to decorate themselves with.
I also put out a sign that says "Snap a photo (or 32) and airdrop me your favorite to print!". Then using my handy-dandy IVY Mini Photo Printer,I print out the photo as I receive it. The IVY is wireless so it doesn't matter what I am doing, I can click four times and the mini sticker print is ready to roll! As the party goes on, I peel off the back and put the sticker on a photo plaque or wall area for everyone to see! And the best part is that it is the same size as my cell phone so it fits in my back pocket 🙂
I hope that this inspires you to personalize little things for your own child's party and shows how simple it really can be! At the end of the day, the memories that you make at these parties are so sweet and remembering to make that birthday child feel special and loves is the most important thing….no matter how Pinteresty the party is!
This is a sponsored conversation written by me on behalf of Canon USA. The opinions and text are all mine.