I'm thrilled to get my hands on our basement dining room.  It's been a space that has been long neglected….a dumping ground for all the random things that collect in our house and are no long front and center.  It deserves a good ole fashioned makeover.  It wasn't hideous – just neglected.  And just like every neglected laundry pile knows….if you don't do anything about it…eventually it will eat you alive.  So I set upon myself to finally tackle it once and for all.
Also I should say….we have only ever dined in this dining room when we were refinishing the floors upstairs.  I don't actually think I even moved the things off the sideboard and it looked exactly like this but with more chairs. Needless to say – I will be putting a lot of these items on Marketplace and hopefully I can offset the cost of buckets of paint this space will need 🙂
In the past I shared the space but I wanted to put all the photos together in one place….so here we go….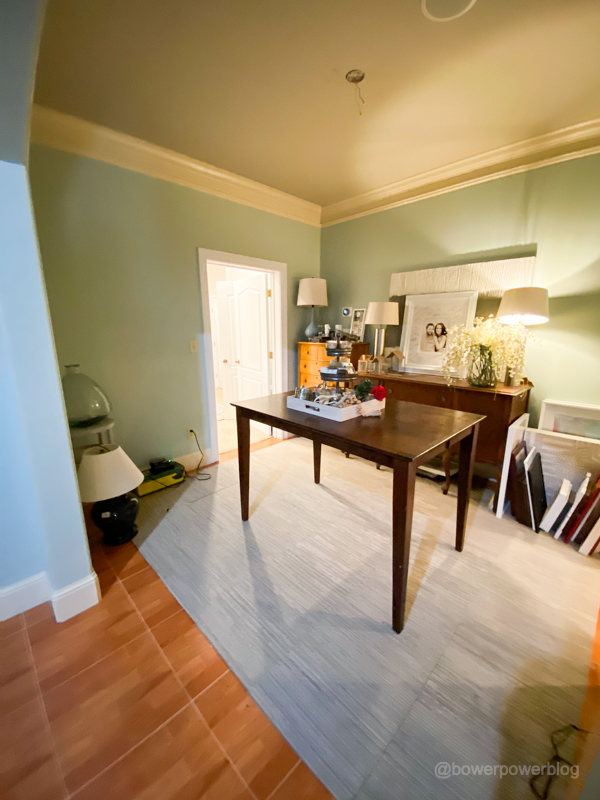 The plans I have for the space are fresh, clean and yet still warm.  I want to eliminate 90% of the things in the room….basically the only thing I want to keep is the walls.  Ha!  Fresh paint.  New flooring.  Storage.  Lighting.  Art.  Here's the vibe that I was thinking….
Of course the biggest change will be the flooring and the paint.  Everything else is just new items (with plenty of DIY!).  I hope that the end result is a calm and comfortable space.
I plan on tackling the table and sideboard myself.  Hoping my building skills get better overnight.  I must admit I may be out of my league here with these lofty dreams but the promise of storage is pretty motivating.  Also I have never built a round table before so it feels very exciting.  I am an enneagram 7 so new things are my jam….but I get intimidated easily…so who knows….I might chicken out.
Here are the links for the basement dining room plans –
Paint – Classic Gray by Benjamin Moore
Follow me on Instagram to get updates on how I transform the space.  And remember – life is short.  eat the chocolate first.