It's scrap project time!  Today I'm making a faux antique bread board and I'm here to share all the details on I did it and how you can make one yourself! 
So this is a really easy project that doesn't really require much wood working skills.  It's definitely a beginner project but the end result is so pretty and definitely something you would find at Pottery Barn….ya know….if Pottery Barn was open and we were allowed to go into one 🙂 
CUT LIST
Let's just get right to it.  If you don't have scrap wood and want to make it from stock lumber – you simply need two 8 ft pieces of 1×4's.  You will have some left over scraps – make sure you save them for other future projects 🙂  
All the pieces will need to be ripped down to make them have square edges.  
Here is the official cut list :
(4) 25 1/2″L x 2 7/8″W
(1) 30 1/2″L x 2 7/8″W
(2) 14 1/2″L x 1 3/8″W
FINISH & COLOR
For the finish and the color, I first distressed the wood with a variety of tools.  It definitely helps get the aggression out!  Just go for it with an axe, screwdrivers, hammers, and other stress-relieving-items.  Just imagine you are fighting corona virus 🙂 
Evenly apply the stain to the fronts and edges of the boards.  Make sure you get some into each little crack and cranny. 
Let that dry and sand thoroughly with 100 grit.  
ASSEMBLY
Assembling the board is super simple.  First line up the bottoms of the five long boards with the longest in the center.  Then you will use a brad nailer to attach the skinny boards 3″ from the bottom and 3″ from the top.  I went with a single brad through the boards on the front and then reinforced it with staples in the back. 
CHISEL TECHNIQUE
During the process of assembly, I accidentally placed a staple too close to the edge and the end came out the front.  While I was removing it with a chisel, I discovered that I really liked the look that the chisel left on the wood.  If I scraped the front of the boards, it removed some of the stain but left a very worn, very textural look.  It was SO PRETTY….so I decided that I was gonna do it over the entire thing.  The key is to go with the grain and take frequent steps back to look at the overall piece.  
THE FAUX BREAD BOARD
I absolutely love the end result.  I wanted to hang it on the wall in the kitchen but I decided to pop it on the shelf next to the sink and it's pretty perfect so I think it might live there for a second.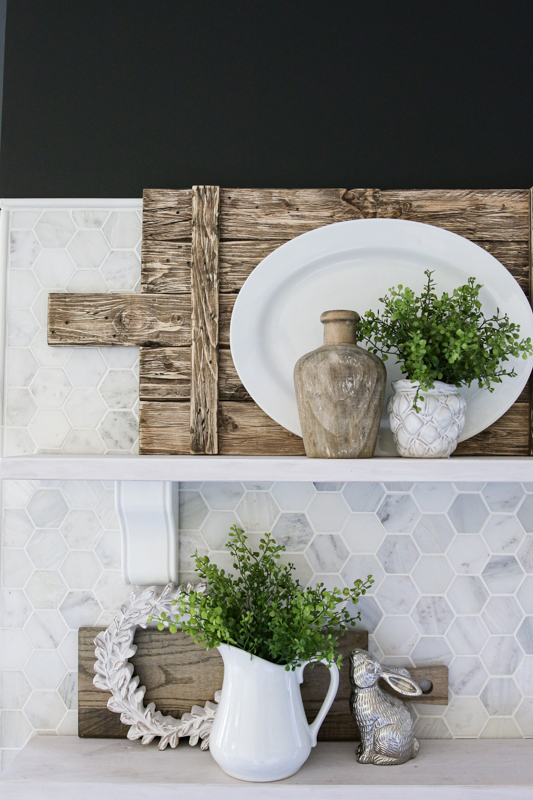 My favorite part is definitely the oversized dimensions – it looks WAY more expensive than $10 in lumber.  Also I love the texture.  I think the happy accident with the chisel is what really made it pop. 
The ash color is pretty fantastic too.  I highly recommend Varathane stains and this one might one a new favorite for me.  
Also I think that the fact I got something done is pretty encouraging.  I have been feeling slumpy…..my sleep clock is resetting itself and I've been going through some major insomnia (it happens when I get stressed).  When I don't sleep, my headaches begin and my whole morale goes into the crapper so it's a viscious cycle that is really hard to break.  Sometimes getting things done, well, it can help me break the cycle.  I know that everyone is dealing with this whole quarantine thing differently but I hope that whatever you are doing (tackling projects or taking breaks from DIY)…..it helps you mentally and physically.  Stay strong my friends.  I'm praying for all of you!