Disclaimer – This is a sponsored post brought to you by Walmart.  All opinions are 100% my own.
I'm a busy mom. We have two businesses, trying to renovate two houses, keep up with five kids and a dog….plus take showers….it just involves a lot of moving parts and time is a hot commodity around here.  Most of you guys either ARE or KNOW a busy mom.  And busy moms are kinda like a juggling octopus.  We have one million balls in the air and have a complicated method of allowing nothing to fall.  This is why I am THRILLED to share with you these time-saving tips using Walmart NextDay delivery.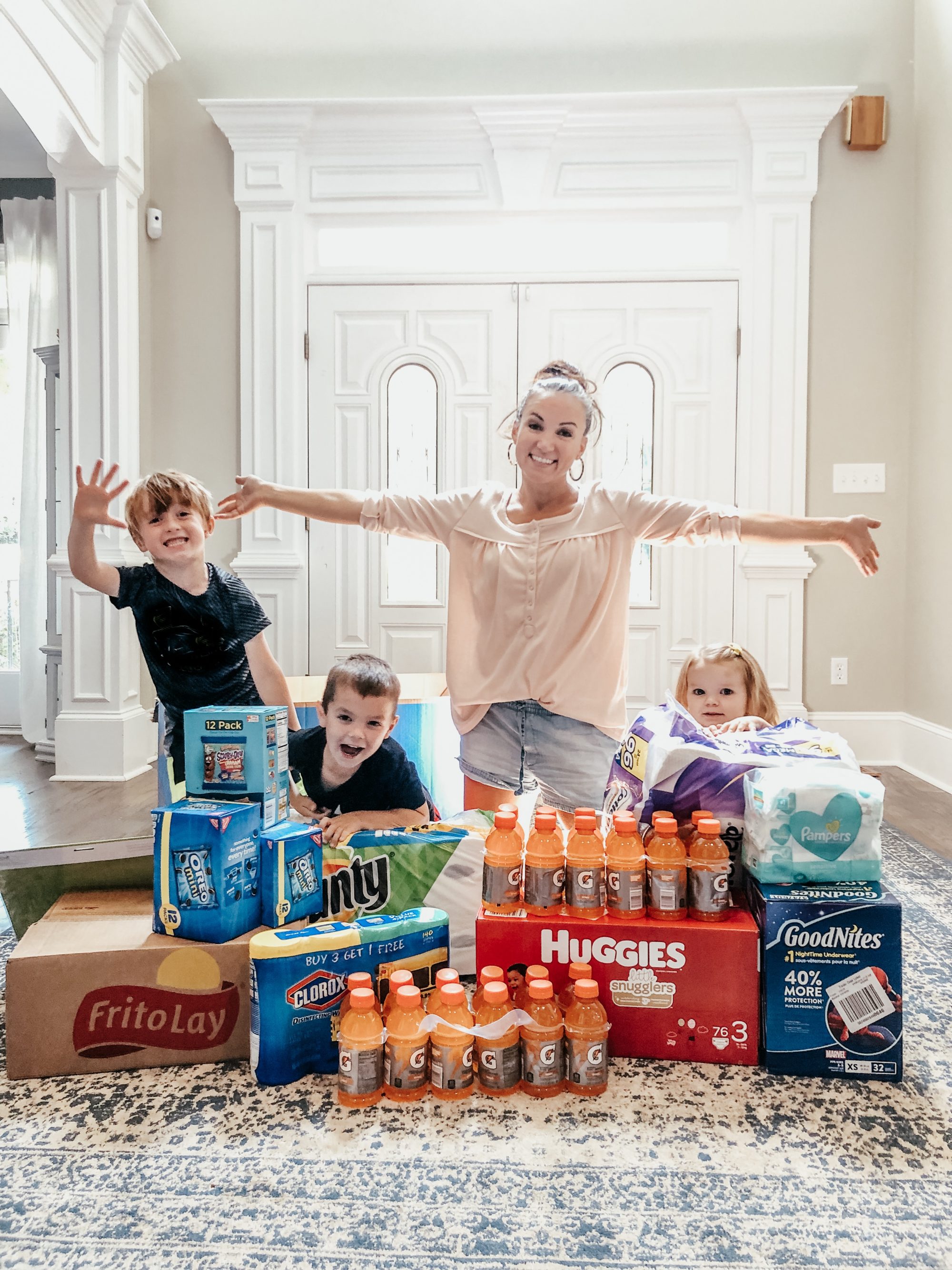 These can help anyone who is trying to save time and energy….and you don't have to be a busy mom 🙂
So first things first.  Walmart recently launched their NextDay delivery option and it is my new favorite thing.  It saves me time and energy and I absolutely love it.  Here is how it works…on your phone or computer you log on to Walmart.com.  Then in the upper corner you 'flip the switch' to NextDay delivery.  Once you do that, the Walmart site will show you the items that are eligible.  Add those to your cart (it will confirm that it is NextDay eligibile) and after check out, ALL of the items will be delivered to your house in one big box in under two days.  It's literally a game changer.
Here is a step-by-step way to do it on your phone…
And here is the way to do it on the app…
and finally here is how to do it on the desktop…
So how does this change my life?  How does this save me time?  Well there are several ways that I use Walmart NextDay to make the entire week go so much smoother, save me extra trips into the store, and several ways it helps organize my madness so I can skip the lines and traffic and craziness that ensues with store visits.  Here are the ways I save time by using Walmart NextDay delivery.
PARTY PREP
Every single weekend we are either hosting people at our house or going to someone else's house for a party.  I plan at the beginning of the week exactly what I want to bring to someone else's house (side dish, drinks, birthday gift) or what I am planning on serving here at the house (crockpot food, grill out, tailgating fun).  I add that to my Walmart NextDay delivery order and know that I won't need to make a mid-week grocery run.  Also it saves me money since I'm only ordering what I need instead of impulse buying in the store.  I always try to place my order Sunday or Monday night so that everything is here for the following weekend.

HOUSEHOLD BASICS
We constantly used to runout of toilet paper or paper towels or Clorox wipes at the most inopportune times.  It was always when guests were about to arrive or there was a major spill.  And when I was in the store, I always hesitate to buy them because they take up major cart real estate.  So now I order those on the Next Day Delivery and always have them in stock.  No extra running to the store for the giant size paper towels 🙂

SPORTS & REC
Four out of five of my kids play sports and so you can imagine that we go through a whole lot of gatorades and oranges and popcorn.  Jeremy is coaching three of the teams and that often means we also need extra water bottles and supplies for the volunteer coaches.  I like to prep for games with lots of sunscreen and bug spray and things for me to survive the heat.  I make sure to get a 12 pack of drinks, a 12 pack of individual snacks and a case of water for each game.  It sounds excessive but in all honesty – my five kids, grandparents and the coaches all go through it!  On our Sunday order, we order enough for games that week and then extras for practices.  It means I'm never missing their games because I don't have supplies.

KID & BABY ESSENTIALS
The boys are all potty trained (THANK YOU LORD!) but Ella is still in diapers and hands down the most stressful thing to me is running out of wipes or her diapers.  We always take inventory of our diaper supply and order them through Walmart NextDay delivery as well as bathing supplies.  I've also been getting night time pull-ups (we send Max with a pull up anytime there is a cousin sleepover) since we don't want to gamble with someone else's mattress.  It's little things like that take up a lot of space in my cart and usually require battling the crowds that I love to have delivered to my doorstep.

SCHOOL NECESSITIES
Another way I save time is by ordering kid's school supplies and lunch favorites through Walmart.  I know that the Walmart prices are way better than other retailers and I love knowing that the kids can pick their 'special lunch treats' without their hands all over the boxes and knocking over shelves of food.  It saves me so much time and effort and frustration to just place the order online and know it will be here for school.  Also any time I volunteer at the school I am sure to ask what the teachers need so I can add it directly to my Walmart cart and know that it will be in their hands by the end of the week.  I know I can't do their job but I can make it a little easier by providing stuff my kid uses so I'm happy to do it!

Another perk of the Walmart NextDay delivery is that the giant box is the ultimate toy!  My kids love making it into a fort and are so helpful in putting things away if it means that their "house" is almost ready for hours of fun!
I hope this post helps you guys out there struggling with finding a little extra time.  I know that using this new feature has saved us hours of time and the delivery option (FOR FREE on orders over $35) is incredible.  It's like the ultimate companion to our busy lives!