I get a slew of emails & comments everytime I post about my finds at Goodwill.  Some of the comments are in envy.   A few will be outta disgust (mostly at the thought of the Goodwill smell).  But most of them are from people who are shocked outta their socks that such great wares are available at a thrift store.  And they often say that their own local second-hand retailer is not like mine.  It's just not up to par. 
To those people…I say FALSE.

In my bacon-lovin opinion, all Goodwills, Salvation Armys, Thrift stores, and the like were created equal.  They were endowed by their Creator with certain unalienable Wares, that among these are Clothing, Furniture and the pursuit of Dishware. (name that document)
Sure – just like people, each thrift store has its strengths & weaknesses.  You wouldn't hire Lindsay Lohan as a chaufeur, would ya?  But being able to identify the strength of a store is part of being a frequent shopper.  And after you identify the strength – be it low prices, variety of stuff, or quality of items – training your eye to look past the junk to see the cheap treasures gives truly wonderful results…both to your wallet & your home.
So that is what I want to help with – training your eye to be the Sherlock Holmes of Goodwill shopping.  That's why I am going to share with you some tips on how you can exercise your pretty blinkers to pick out the best of the best.
1.  GO SLOW
You might walk into a Dishware section & see this:
You are so overwhelmed by the amount of stuff that you can't visualize any one piece & decided to throw your arms up & walk out.  First of all…put your arms back down.  Then take it one shelf at a time, one item at a time.  Remove the piece from the shelf and hold it out in front of you with only the floor as the backdrop.   Now imagine that piece in a Domino-esque dining room or a Pottery Barn tablesetting.  Generally dishware can't be changed…so you have to be able to change the surroundings to get the desired effect.  95% of the time, the item is too dated or too ugly or too broken, chipped or cracked to be used.  But the other 5% of the time, the item will be just fine…it's just the surroundings that rub stank all over it.
In the above photo – there was this great drink dispenser for $4:  
Sure – it's missing a lid…but you could snazzy it up with a swatch of spare fabric and a ribbon…and BAM! you got a very chic lemonade table.
Or how bout this $1.50 (on sale 50% off) cheese cover:
Collect four of them & use as a tablesetting cloche like I did for this Christmas tableau:
Or see this curly-edged itty bitty ice cream cup for a mere 77 cents? 
Doesn't it look so much better with ice cream?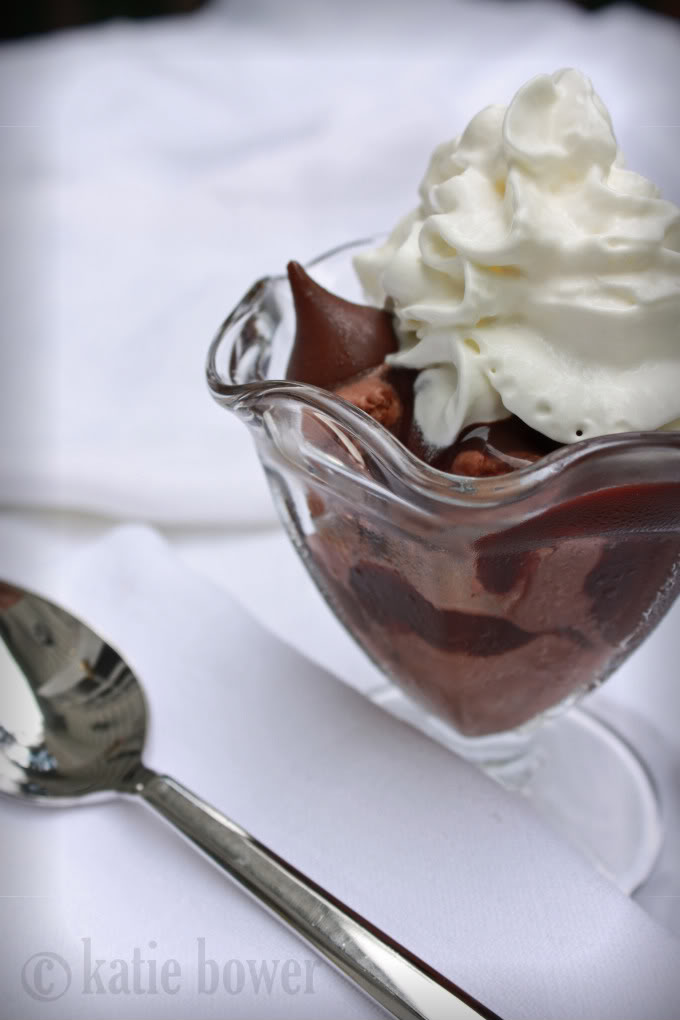 And can't you just imagine a winetasting dinner with all different salad plates?  If you layer them all on the same type of  dinner plate – (I'm imagining green glass plates on a crisp white tablecloth) it will look like it was way more than $4 for all four of these grapey wares.  
The point is – I found all of these items on a single wall…piled under cracked plates and next to ugly commemorative memoroblia.  But going slow & pulling out each item to imagine it's potential is well worth the effort and time.  
2.  ARM YOURSELF WITH IDEAS
Apart from dishware, most Goodwill items can be changed…tweaked…or modified slightly to meet your specific style.  But in order to do so, creative ideas need to be first deposited in your bank of a brain.  You don't have to be creative.  You just have to remember creative ideas when you see them.  Take for instance this bell dome:
Not exactly something that would make it on Oprah's Favorite Things list. But then I remembered a post I saw on Design*Sponge…and thought, dude!
Basically this uber-genius Canadian chick took this similar piece:
and turned it into this:
Or how bout taking this colorful cow:
and spraypainting it with some high-gloss paint for a very Jonathan Adler-esque ceramic animal:
And speaking of spraypaint – using it on two similar shaped items will make them seem like a set.  For example, you could use highgloss black and make these four mismatching candleholders into a centerpiece that would normally cost mucho dinero:
3.  REMEMBER THE DETAILS
A superb tip for all you thrifters would be to look through your favorite catalogs, magazines and decorating books and make a mental list of details that strike you as totally swoon-worthy.  These little details – like baskets or throws or fabrics – can be bought at a discount and then transformed into a great piece for your home. 
Let's use me as an example.  I love the Pottery Barn catalogs.  I save them like they are magazines.  And when I look through the pages, I mentally jot down the things that are oh-so-fabulous for when I hit up Goodwill.  Like this red & white color schemed bedroom…
I immediately noticed the stripes.  When I saw these similar patterned pillows at Goodwill,
I remembered it as a fabulous find.
Or when I saw this silver tray on the thrifty shelf,
I knew that you could scrub it shiny and use it on a dresser to gather some perfume & a vase of flowers just like in this Pottery Barn photo:
Or these pieces that showcase topiary art,
is a much cheaper alternative to the Ballard Designs version.
Or what about this weird Goodwill piece that looks like a cd holder from 1996…
Couldn't it be used as a chic way to hold your mail like on this PB office pic?
Just make sure to brush up on your favorite designs before hitting the store.  It will help your eye look at things in an entirely new light.
4.  BONE STRUCTURE
Looking at the bones of a piece – especially when it comes to wood and furniture – is going to be your best way to have a successful Goodwill experience.  Instead of looking at the color or that hideous lampshade or that ugly hardware…look at the lines.  The bones of a piece are the basic structure.  The underlying details – such as curvature, shape, proportion, or design – all make up the internal structure.  DO NOT LOOK AT THE COLOR.  DO NOT LOOK AT THE PAINTED FLOWERS OR THE 1980's handles….they can be changed. 
Take for instance this dresser:
Ugly mismatched hardware but good bones. 
Still can't see it?
Well, meet Holly – who is the queen of painting dressers white & switching out hardware for fabulous makeovers.  Here's what she does for folks who can't visualize the finished product: She takes an ugly thrift piece & makes it beautiful.  And then she gives befores & afters.  Like this one:
Before:
After: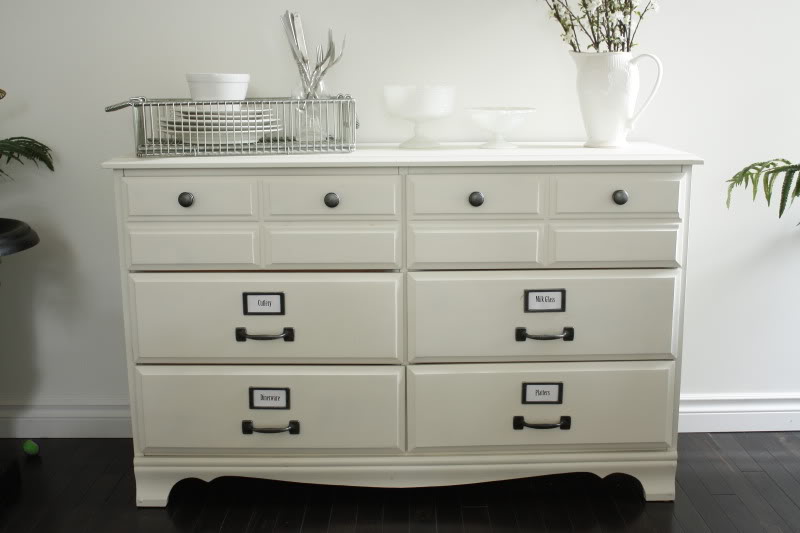 See what a little white paint can do?
Yeah…and it doesn't stop there.  You could see this piece and think it's way too old-lady for your snazzy updated home.
You could just paint it white, change the knobs & instantly you have a piece that fits into any room in any era.
Or you could consider a special painting effect – like this one curtesy of Martha,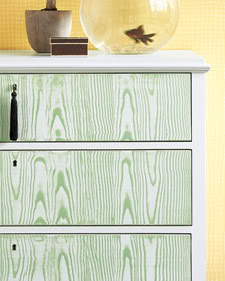 Or how bout the bones on these lamps?  (specifically the yellow one and the brown& white textured one next to it)
The yellow one looks like it would be oh-so-great in a room with a new white drum shade…especially a room that needs a big lamp to add weight to the side table.  And the brown & cream one?  Well, it's nothing that a little fire-engine high gloss red can't fix.  Or turqouise.  Oooow – oww.  I am seriously catcalling a lamp right now 🙂
5.  PHOTOG PROPS
Last tip of the day includes a little tidbit for any rookie photographers out there…hello friends.  This one is for you.  Whenever I go into a thrift store I also keep my eyes peeled for anything that I like to use as props for photos.  Be it a  blanket or a basket or a chair.  I like pieces with lots of texture and a very low cost.  And the best part about buying picture props at Goodwill is that they don't need to be perfect.   Like this chair –
It would be cute straight from the store in a photo with a little girl (like these one from CW Photography):
Or what about props for small products (like a pair of mittens or your specialty soaps that you sell on etsy)…well, Goodwill is the place for you too.  Picking up a 'broken-in' item like his aluminum mini basket draws the attention to your product rather than itself while still creating interest (and making your item bigger to boot!). 
Now that you know some tricks on how to make the most of your Goodwill experience – you are thrift-store-armed-and-dangerous. 
So go get some magazines, scour the internet to increase your idea bank, and stock up on white primer spraypaint…you are officially ready to get your eye trained for discount shopping!  And I betcha it'll treat ya better than a wild jungle cat…okay…okay….enough Tiger Wood's jokes.  Poor guy. 
Anyway – so now that you saw some of my finest tips on shopping Goodwill…what do you have to say?  Maybe you have a top tip of your own to share?  Or maybe you wanna spill the beans on your finest Goodwill discovery?  Ohh…that's a good one.  Pretty please share your favorite thrifty-find.  Or maybe it was an okay discovery with unbelievable potential?  Tell me, tell me, tell me.  There is very little that excites me like a thrift store find….well maybe bacon….and maybe when a golfer plays the wrong hole 🙂 But other than that?  Nope. Nuttin.