Beautiful and fun doesn't start to describe the splendor at Atlanta Botanical Gardens.  I thought going there would be sortof like walking through a park…it's not.  It's way not.  That would be like comparing Stefan Urquelle to Steve Urkel.  Not the same.
My sister agreed to go with me last minute.  She told me later that this was her first real daytime outing since having Clay.  I remember those days.  Being a self-confined mother of a newbie.  She's done things like go plant shopping and run errands, but fun stuff like seeing a place that has a cool exhibit named Imaginary Worlds?  no.  And you know that with a name like that, it's gonna be fun.
Some of the cutest things in the garden must have taken forever.  Like these trees that look straight out of a story book fantasy.  Each branch was wrapped with these individual little strands of sparkly white crystal flowers.
Will has fall break this week so we were all able to go together.  I love being able to spend the full day with him…it was just a couple months ago that he was with me all day every day and even though it's just been three hours a few days a week, I still miss him.  Don't get me wrong….school has been so good for him already.  He's learning so much and loves his friends and teachers….but I still can't get over the fact that he's old enough for things like letters and Spanish class.
Of course, Weston also came.  I considered leaving him at home but when I thought about him making himself lunch, it's just not the mess I like cleaning up.  Plus, he tends to try to sneak chocolate and watch cat youtube videos between meals.
The gardens had special features littered throughout called scarecrows….but honestly…they were more like 'junk-figures' than anything.  I love love love when people make creative things out of junk so this was totally my jam.   This was called Crowtron 3000.
And this one was "Strollin' with my Crow-nies"…but Will told me that it was me and baby Weston.
This one was Will's favorite.  It was named "Cruisin' in the garden"…and yes, Will is flamingo-ing.
This one was named "Bubo" but honestly it reminded me of a wise old owl of recycling.  That's a thing.  Well….it is now.
Clay like the Day of the Dead display.  Can you spot him?  He has the blank stare and the white head.
Will and Weston are here with Esmarelda…fairy goth mother.  I'm not kidding.  That was her name.  Cleavage was her game.
As fun as the scarecrows were…the best part about the visit, the part that literally made me catch my breath, the part that was evidence of true vision was these giant plant sculptures.  Remember what Edward Scissorhands did to landscaping?  Take that up a couple notches and you have Imaginary Worlds.
I loved the Unicorn but Will wasn't convinced that it was an actual thing.  He kept on arguing that it was a horse with a horn.  And I would say "Yes and that is called a Unicorn"….and he would say "No that is called a horse with a horn".  Apparently you can teach the kid Spanish but mythical creatures don't stick.
The dog was really cute.  And about two feet bigger than me.
The bunny rabbits were fun but little.  And not as much impact…but since they were hiding in the bushes, Will got a kick out of searching for them.
This was the cobra…and it was HUGE.  Like Indiana Jones would be wetting himself.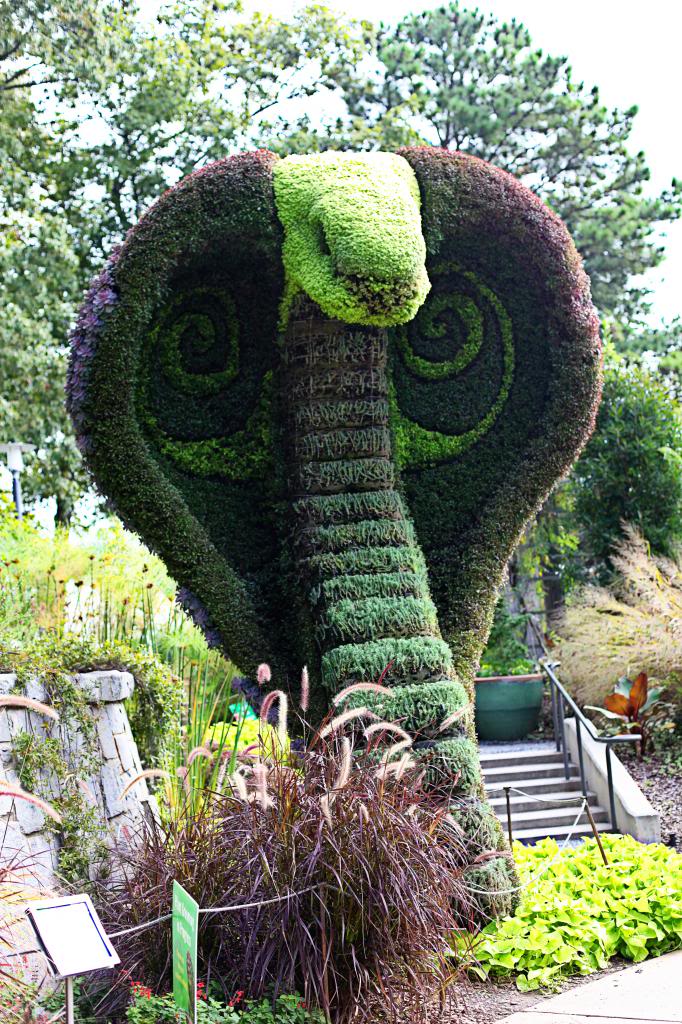 Look at all this detail…
I kept on trying to figure out how they did it….it looked like they made metal frames and did a inside liner of landscaping fabric with soil on the inside too.  Then they plugged the plants in where they wanted the designs.
The ogre.  It was awesome.  Will told me "like biwwie goats gwuff".  It does really look like the troll in that book.
Of course, my favorites also included water features.  I would seriously love either of these in my backyard.  Of course, the pedestrian traffic would be annoying but worth it to have a goddess in my property.
The Koi fish was the other water favorite of mine.   It spun around shooting water of their mouth.  It was beyond cool.
Overall it was such a perfect day.  Cool and gorgeous.  Plus, I have never been to Atlanta Botanical Gardens (after twenty years of living in metro Atlanta, I should be on a shame-list).  Now this experience just makes me want to do a little bit more of the traditional Hot-lanta attractions (I've heard the Botanical Gardens is fantastic with their Christmas lights display so I might be putting that bug in Jer's ear this winter!)
Oh and I didn't get any DSLR pics of it but the kids little play ground area is great too.  Maybe next time 🙂
I was trying to think of some of our other fun adventures in and around Atlanta…here's what I came up with:
Stone Mountain Light Display,  Zoo Atlanta, The Atlanta Aquarium, Corn Dawgs   (Hope to add to this list soon!)