Did you ever have an irrational fear?  Something that totally doesn't make sense?
For the most part, I am a fairly laid-back mama….but when it comes to stairs, I am uber paranoid.  I think it's because I never developed the reflex to put my hands out if I fall (true story) and so I fall down a lot of steps on my face.  Go ahead.  Say the "oh so that's what happened to it" joke.  My brother loves that one.
And now, anytime I sense that the kids are near stairs, I get all crazy and think that their little money-makers are gonna get mangled from a tumble.  It could happen.  That is why a baby gate on the deck is absolutely necessary.  I can't imagine these poor Bower boys with busted up noses and fat lips and of course the cost of soaking them in a vitamin E oil bath constantly.  It would be terrible.
But I am happy to say that the baby gate is officially done and it is looking like it should have always been there.  We wanted to have something that blended with the rest of the railings….in general, I am anti-mixing styles on an exterior structure.  And I think the finished product is looking mighty fine, right?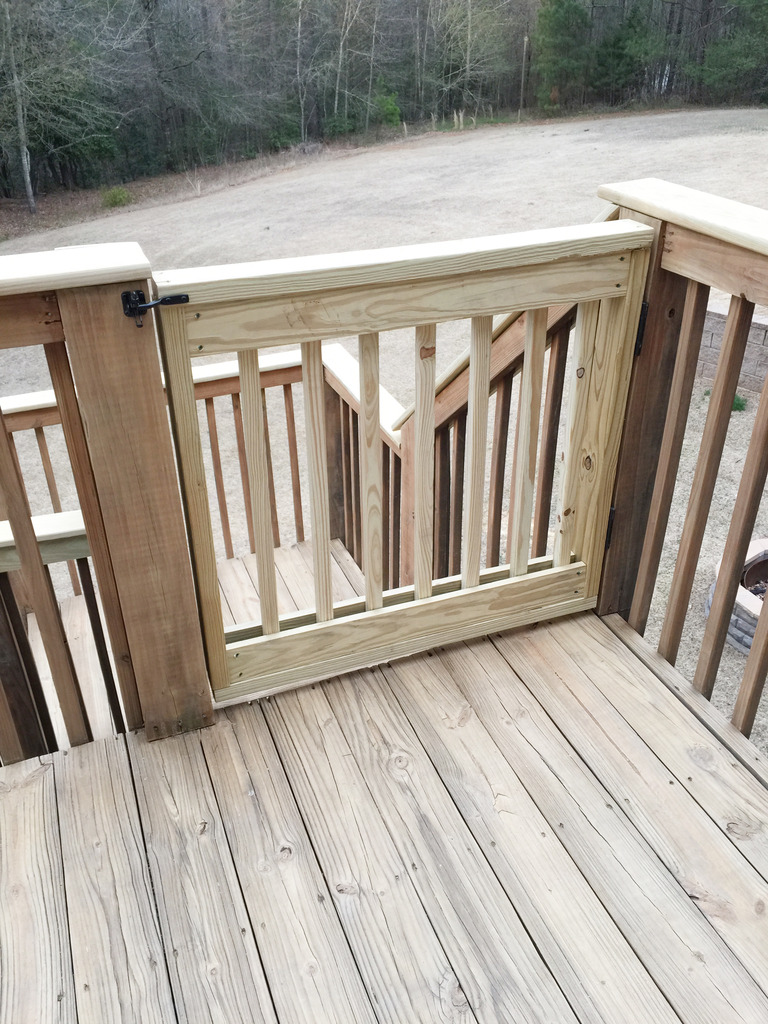 Here's how we did it…
First Jeremy put together a frame of 2×4's the size of the opening.  We left roughly a quarter to a half inch on either side as a gap.
Jeremy fixed this onto the 6×6 post with these black gate brackets from Home Depot.
Then he added two 1×4's to the top and bottom…copying the deck look.  Then the balusters were cut to fit and screwed into place.  I asked Jeremy if they could be spaced roughly the same spacing as the other railings.
Then he sandwiched them in place with another 1×4…both top and bottom.
Pretty nice right?  And looks like the little brother of the regular railings.
Next came the latch and I put on the piece to the door first so that I could line up the latching mechanism correctly.  If it's not lined up where the straight piece goes directly into the right latch spot, it won't lock easily and it'll be one of those annoying 'closing the gate three times things'.  Excuse my stain-stained fingers and dirty fingernails….I am not one with a regular manicure (I WISH!).
Here's the lined up latch.  Now if you gently swing the door shut, it will naturally go into place and latch.
And there is our finished baby gate!  Totally ready for any little bobble heads that plan to make a great escape.  Oh and we checked it with Will (just to make sure he could unlatch it from the other side and he can…which is great because it means more freedom for our big boy!)
When it swings open, it will stay open if we push it all the way….otherwise it gently starts to swing close.  We originally bought a self-closing latch kit and when we thought about never being able to leave this open, it didn't make sense for us right here….but we see how some folks would like that feature.
Overal, the cost of the gate was somewhere in the neighborhood of $25.  It is so inexpensive to do….especially since flimsy baby gates would do very little if a boy like Weston tried to put his weight against it.  I definitely want to have Jeremy put a gate at the bottom too….and two more inside (probably a very different style than this) but knowing how easy it is, I am stoked about the safety factor….and the 'save my babies' faces factor'.  I mean…if you had these three running around, you would feel the same way….
So are you feeling where this deck is heading?  I am super excited to share more of what we did…this was a huge project for us for the last couple months and we absolutely LOVE getting to show ya the progress.  And for those folks that have left comments about their own deck renovations…it is daunting…believe me, I was super wary of the work load in the beginning but trust me…the end result is well worth it.  You will be so glad you just (in the words of Dorie…) kept-on-swimming…..or (in the words of me) kept-on-decking.  And thanks for following along on this adventure.  I really can't wait to get past all these detail posts so that I can show you some end results!
p.s.  I just wanted to say that I have a big prayer request….if y'all are a prayer warrior, I would really appreciate it if you lifted up my uncle.  He is a paranoid schizophrenic and is currently in the hospital.  Part of his mental health issues is that he completely distrusts medicine and doctors but is a diabetic and has been refusing his insulin so now he is unconscious, on a ventilator, and experiencing kidney failure.  His prognosis wasn't great…and I know that my grandparents and my parents are all there to do whatever they can to advocate for him and for his wellbeing.  Any little prayer would be amazing.  Thanks y'all.  Love ya.  Mean it.