Disclaimer – This is a sponsored post brought to you by Canon.  All opinions are 100% my own.
Baseball is my everything right now.  I love love LOVE it.  There is nothing more that Jeremy and I love than watching Will up at bat or running around in his cleats!   We are so madly proud of Will and how he has developed as a little athlete (we just found out he made ALL STARS!  Wahoo!!!) and in the ways he has grown as a teammate, a kind hearted opponent and as a little fan of the sport.  He chooses to watch baseball over cartoons now, we have seen him be so encouraging to his friends and other teammates (um, it's hard to be five and expect so much of yourself.  These little guys can hit, catch and know what to do with the ball and if they make any errors, oh, they break all the mama's hearts with their kindergartener tears!) plus we have seen his compassionate big brother heart toward others and oh man, that makes my heart bigger than the baseball field.  We just are over the moon about this kid and thankful that he got to play this sport!
Since this is his third season of doing it, we thought it would be fun to share some of the cute ways we have created the little guys snack bags.  I mean….some of those kids literally play the entire game because they are passionate about baseball and some because they are passionate about the snacks.  We as snack-mom would hate to disappoint 🙂
Okay so one of my favorite ways to make a snack bag is to brown-bag it.  It's super easy and affordable and the tag is the personalization that is great for this age group.
I have tweaked it for handled bags as well.  These white mini gift bags are 3 for $1 at the Dollar Tree and they are great for the kids because they can easily access their treats and then hand it off to mom 🙂
You probably noticed that I added the baseball stitch tape to the bags….it's SO easy and I love the way it makes the bags instantly baseball themed.  Plus, I have bought one roll and use it ALL the time so it's affordable.
I like to do a single strip of tape on one side of the bag and then just trim with scissors.  The best part is that they made it clear so you can make any TEAM color baseball themed as well 🙂
For the personalized part, you need to break out the computer and your Canon PIXMA iP8720 Crafting Printer.  It's my GO-TO printer for tags because it prints everything on one big sheet of matte photo paper (13×19 is BIG and makes plenty of tags) and always looks amazing.  It's this one…
Life is short….take pictures with your printer.  #yolo #justkidding #notreally
I create my picture or get one free online and then copy that layer (CTR + J) over and over till you have enough tags.  My tags were about 3.5″ square and looked substantial.  I like big tags and I can not lie – go on, you know the lyrics 🙂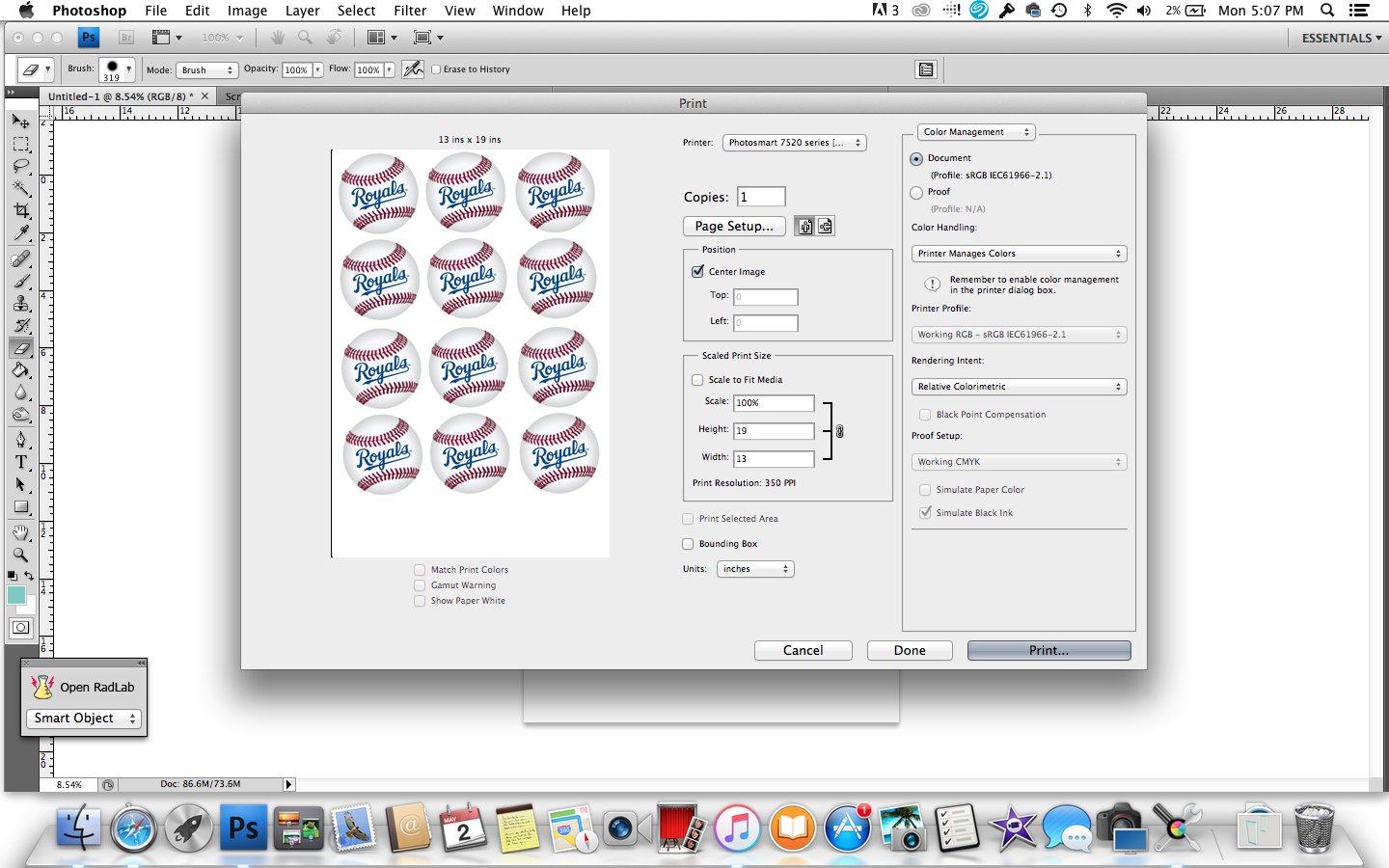 Print out your tags and trim them with scissors.  I think this would also work amazingly for your little ones if you did it on sticker paper too so that they could wear their team spirit!
Trim out your tags and break out your hole punch to finish the tags.
As far as snacks go…I love giving a little variety of junk – I know.  I know.  It should be healthy but after the games, I like spoiling them a little.  Some of the moms also slip in baggies of grapes or fruit cups that have baseball stitching drawn on the plastic lid  but I think of this as my opportunity to deepen the love for baseball or soften the blow from a loss 🙂  I also really dig anything that is baseball themed.  psst…Cracker Jack is in these small boxes at Dollar Tree for 3 for $1.
I also found these plastic baseballs online and they come with stickers and tattoos and gum.  The kids LOVED them after their game and immediately started goofing off with them 🙂
Tie your tags onto the bags and you are ready for treat time!  Also – it's always a good idea to mark a bag for any kids that might have an allergy (that's one reason I love fastening the bag so that parents are there to intercept any unapproved foods!).  You can always include names on the tags if you really want to go above and beyond by making personalized snacks 🙂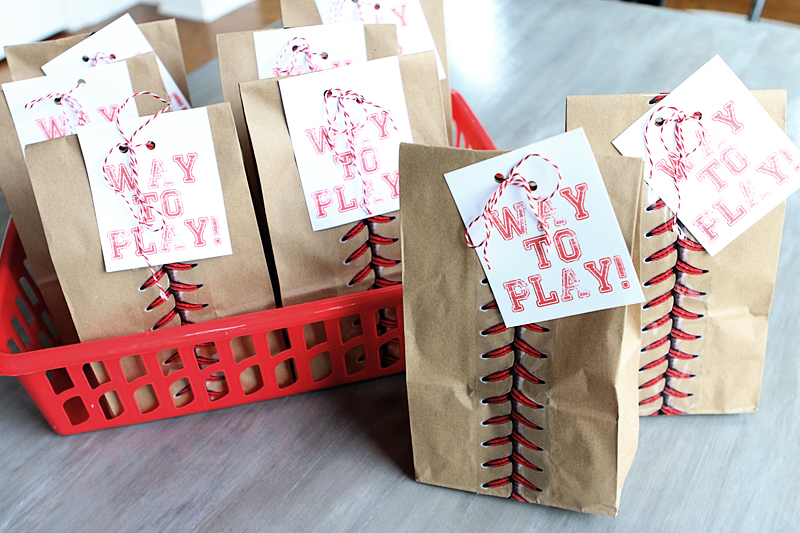 Aren't they so cute?  I love this kinda crafting because I was definitely the girl that looked forward to the orange slices during soccer practice and the mini barrels of Kool-Aid 🙂
Will's team has 12 kids so we grabbed two of these red cartons at the Dollar Tree to tote the snack bags around.  I like them because they are great puzzle boxes later 🙂
Me and the other moms were joking that we have had a Pinterest-season this year because all the moms have done really cute and fun snacks for the kids.  We made fun of how into it we all were!  But even with all the jokes….I like that we as parents could throw these little mini-parties after each game….just to celebrate them getting out there and playing ball!  It didn't matter if we won or lost, it was a way to really love on these little guys.
So I'd love to see your snack bags or your treat ideas!  Our regular season ended this week but we have a full season of All-Stars ahead of us and I'm sure I need more cute ideas to spoil these ballers 🙂