Call me Barbara Walters.
I'm here with some hard hitting journalism.  It's the showdown of the year….in one corner we have Benjamin Moore Advance paint…a waterborne interior alkyd that boasts being the best for painting cabinets…and in the opposing corner, we have Sherwin of the Williams clan.  Sherwin ProClassic is also a waterbased acrylic-alkyd.  Both heavyweights.  Both big hitters.  And both up for the fight of the title of best cabinet paint.   known.  to.  man.
That was me being as dramatic as possible.  Go back and read it with the soundtrack to Gladiator in the background.  It sounds better.
Seriously though…we painted our cabinets with Benjamin Moore's Advance paint and assumed that it would be the best (I read in a ton of different places that it was the best waterbased paint for cabinets out there).  But then I was really disappointed because it was taking FOREVER to cure.  It didn't seem hard as nails like everyone said.  So I decided for the benefit of all humanity that I would test the same type of paint in Sherwin William's formula on our island.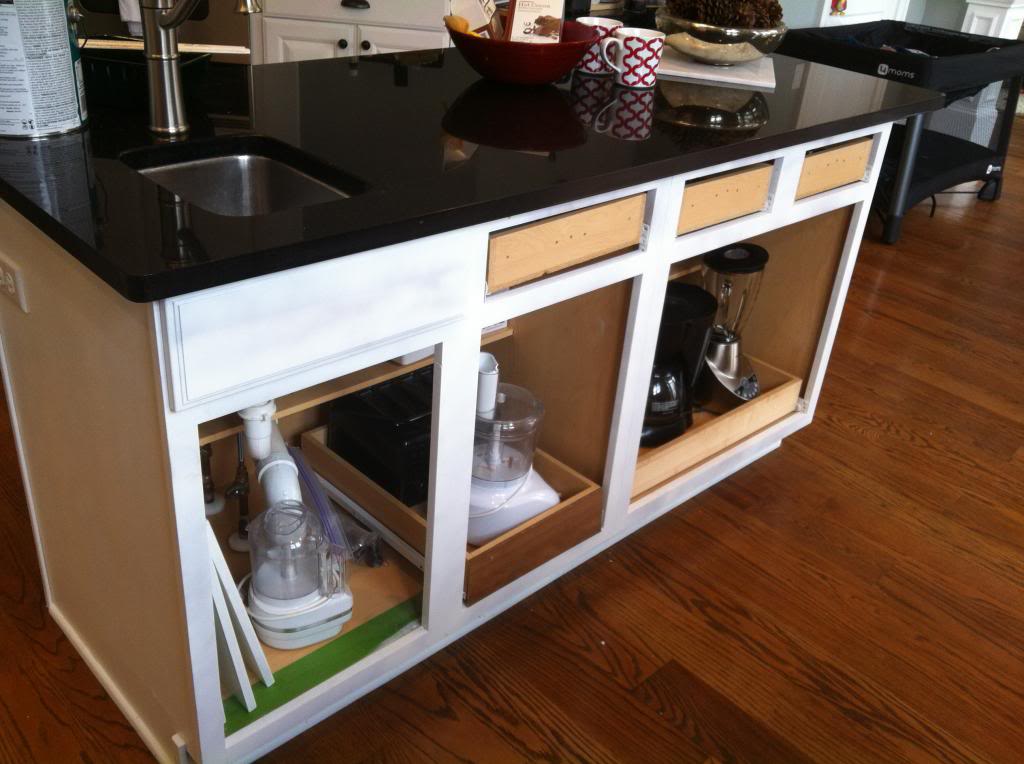 The island had been primed just like the rest of the cabinets but it was never finished because we had always planned to paint it a different color than the Simply White.
You can really tell in certain shots that it was just primed…no top coats whatsoever.
Sorry about the crummy photos…my camera was getting cleaned and my lens repaired so these are all my iphone pics.
Anyhoo…this is after one coat.
Sorry about the crazy coloring…
Here's what I came away with…the Sherwin's went on really really smooth.  It was super easy to apply and I didn't have any real troubles with drips like we did when we sprayed the Benjamin Moore cabinets.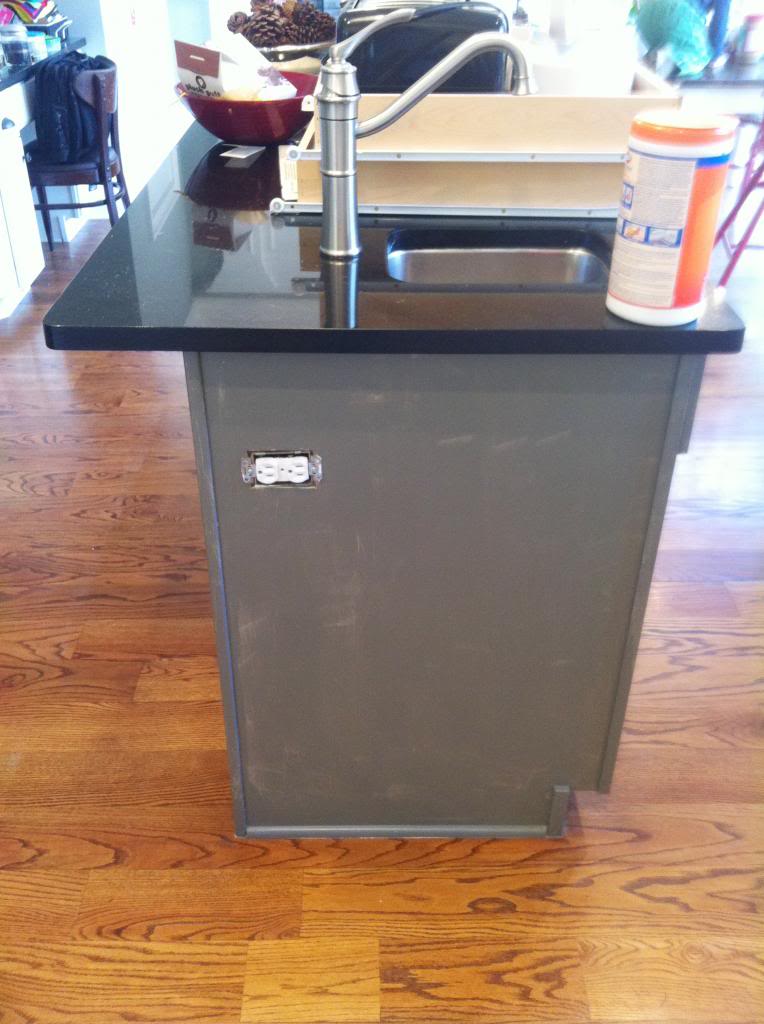 Overall, I thought that it was a really nice consistency of paint…not too thin or thick…and it seemed to cover pretty well considering I like to do really thin coats.
I didn't like the color though.  It doesn't look like the swatch I gave the fella at the store.  And I am usually pretty good with color.  So I am thinking that maybe the color matching wasn't such a great idea.  If I bought this paint again, I would definitely do one of the Sherwin Williams colors because they probably have those formulas down pat.
And even though it's still a very pretty muddy gray, the undertones are all wrong in real life with our walls.  Since the wall color is more of a bluish undertone, it makes the island look really flat.
For consistency, we decided to also spray the doors like we did with the Benjamin Moore paint.  Jeremy said that it did not spray the same either.  He agreed that the paint was a great consistency and great coverage.  He also said that it seemed to dry faster.  For the sake of science though, I think no matter what paint he sprayed second, he would probably prefer because there was such a learning curve with the spray gun.
So two coats on the island and we had full coverage….vs. the three we had to do on the white cabinets.  I was pumped.  I let it dry a solid week before attaching everything back on….BUT THEN THIS HAPPENED….
Yes.  Unthinkable.
I was shocked.  And it happened all over the island.  I was expecting the paint to take a long time to cure…the Benjamin Moore took at least 60 days for it to be as hard as everyone bragged it would be….but this was totally different.  This is not like a soft paint that has gotten marred.  This is dried paint that is chipping off in big dried clumps.  I literally can take my fingernail and score a line of chipped paint.
So I came to the conclusion that the island is going back to white.  I love the two tone…I do…but in this situation and for the amount of money it costs for aklyd paint, I am not ready to mispick the island color again (apparently the wall color is beautiful but doesn't get along with it's peers).  Since we have most of a gallon left over from our other cabinets, it can live as a white guy for a while.  The worst part is that I have to sand it all down again.  But this might be just the kick in the pants we need to get Jeremy to help me add a couple narrow shelves on one end and replace the corbels with something less lion-footy.
Okay – so here is the point system for our showdown….
BENJAMIN MOORE PROS
cheaper ($56 a gallon vs $71 a gallon – I got the Sherwin Williams paint 30% off during a sale, so it ended up $49 but whoa)
ended up with a harder finish
factory looking finish (even though it was really hard for us to apply correctly with the sprayer)
SHERWIN WILLIAMS PROS
great consistency
great coverage
faster drying
easy to spray
Of course, in the end, we had to give the crown to Benji….even if the points don't show it.  The end result is just too important.  Chipping is just not something I pay for…and even though it was a headache to apply and the wait time was EXCRUICIATING because I had to make sure Will didn't ram the cabinets with his bike, it cured up really nicely and our white cabinets look fantastic.
So that's our little island painting adventure.  Of course, I am still looking to use the rest of the can of Sherwin Williams paint…I'm thinking one of the boy's bathroom vanities.  Maybe the results will be different in that space…who knows?!  One experiment doesn't prove anything.  Afterall, I didn't have environmental constants so I'm gonna have to do the next one double blind.  Oh look, my nerd is showing.
Barbara Walters signing off.
p.s.  There are a number of reasons that paint can chip and peel – usually it's due to the surface not being prepped and primed sufficiently.  For complete info on how we prepared our cabinets for paint, click here.  Here is how we painted our white cabinets.
Update : Looking for more info on something you see in our house?  We have a Shop the Bower House page with paint colors and links to accessories, furniture and decor!