It's one of my favorite memories from last year.   It's a little farm turned fun park called Corn Dawgs and it rocks my autumny world.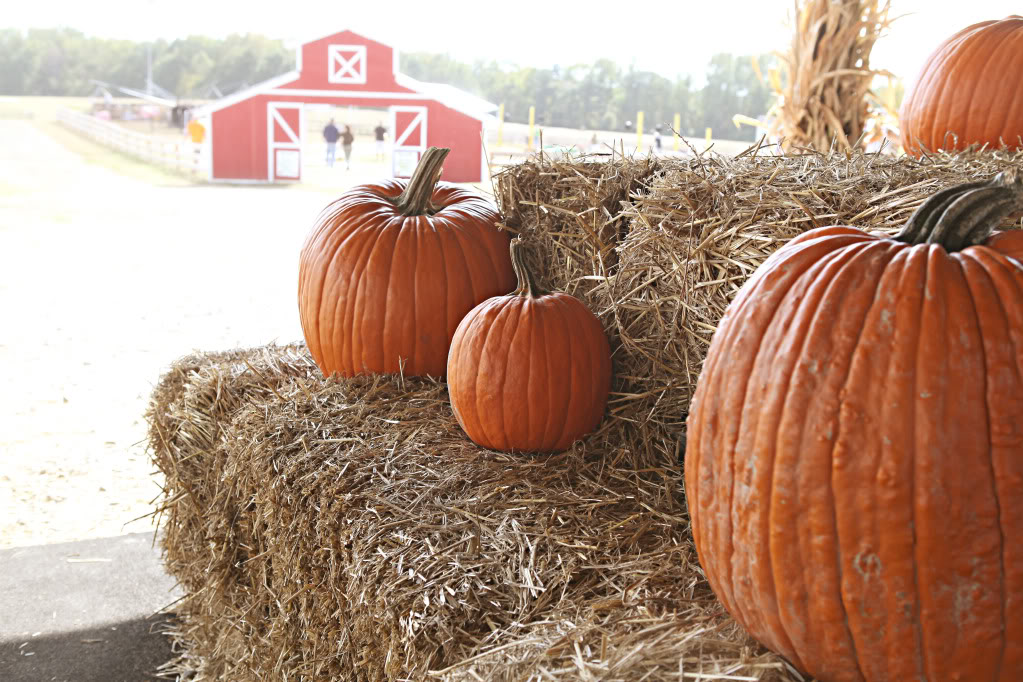 One of the first things we did was attempt to get a decent family photo.  Thankfully my sister was there to act as photographer.  I just had things set up on the camera for her and then just told her where to stand and she with her genius did the rest. 
This one was the best that we got.  Look – Spikey Will is even looking at the camera.
Most of the others looked like this:
Right away we hopped in line for a tractor ride.
Will is mildly obsessed with driving things…so he really wanted to do it.  The only hitch was that he wasn't old enough to ride alone.
My legs are crammed in there like marshmellows in the mouth of a Chubby Bunny.
We also attempted to do the stone maze…that was highly unsuccessful.  Will didn't quite understand the entire maze concept.
He did understand this ring & hook game though. 
All it requires is throwing…something he's quite proficient at doing.
He came close to hooking it a couple times…although, he probably didn't think that was the point.
There is the rope swing and hay jumping…
Our friend Kyler showed him how it's done.
Thankfully Uncle Boots was around to give the kid a hand.
Then it was off to the petting area.  Last year we had lots of fun with the goats…this year there were only a couple little lambs and a small pig. 
Will wasn't interested.
Cole was…
He did so good.  Cole is such a gentle kid when he needs to be.  His heart is so good.  I would trust him to be gentle with a newborn…I don't know if I could say that about most 7 year old boys.
There was one little goat that came into the petting zoo and it was interested in our little Tinkler.
Will wasn't interested in him though.
Kyler was such a sweet heart.  She shared her sheep food and was so careful to give him those little pellets.  It's funny because she didn't have many to begin with…but she gave all that she had to him.  Sharing at it's finest.  Things you can learn from a three year old. 
I love when he opens his mouth when feeding the animals.  But I can't blame him.  It's the same thing I do when feeding Will 🙂
And of course, Corn Dawgs is not just the name of the fun park…it's also the name of the food of choice.
Yes, we often feed him non-corn-dog-type food.   But those are just not as fun to take photos of.
The absolute best part of the park is the corn pit.  Basically it's this giant sandbox but filled with corn instead of sand and it's amazing. 
There's only one rule and it's a tough one.
 Really tough for some people.
Will rolling around + Cole throwing corn = amazing action photo of Will looking like he's being attacked by corn
We were joking about what would happen if it got too hot with all that corn.  Would it pop like a giant Reddenbacher festival?  Would it be safe to eat?  Would it be smart to bring your own butter?  It might always be a good idea to have a stick of butter in all situations.  Just saying.
The corn smelled like dust.   He smelled it.  I smelled it.  Later we blew our noses.  You can imagine what came out.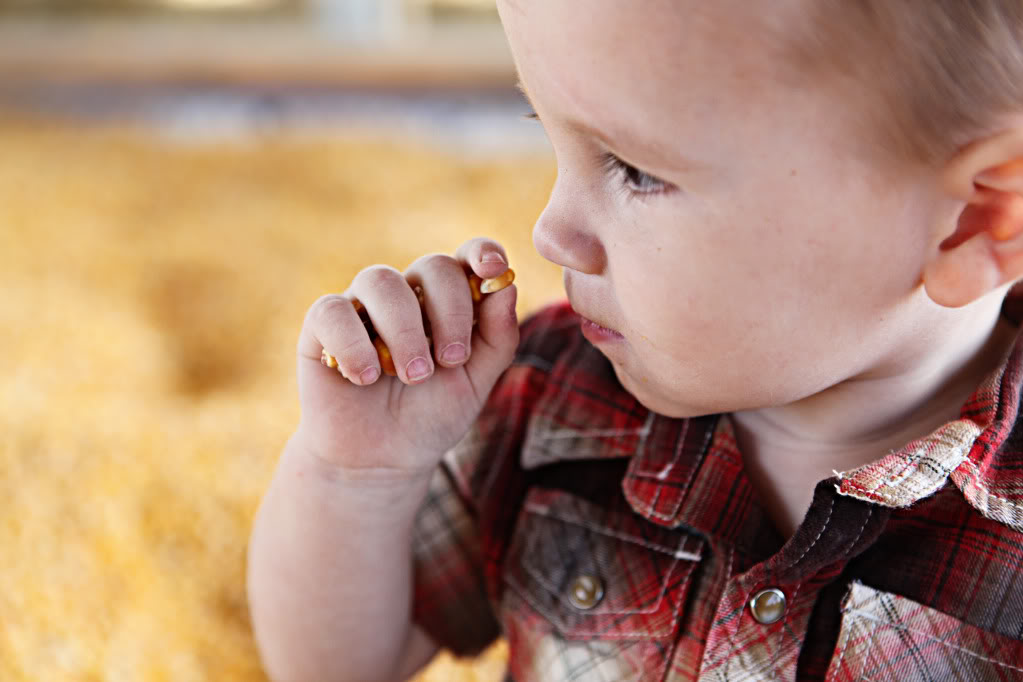 I love that Will and Cole love each other.  There is no better gift in the world than having friends in your family.  None.  period.
They ran toward each other and bonked heads.  If it was anyone else, Will would have been crying…but since he boinked Cole, it was hilarious.
I love this crazy kid.  I love him like a pregnant girl loves Tums.  It's deep in my soul.  It's in the pit of my stomach and it makes me sick to not have him around 🙂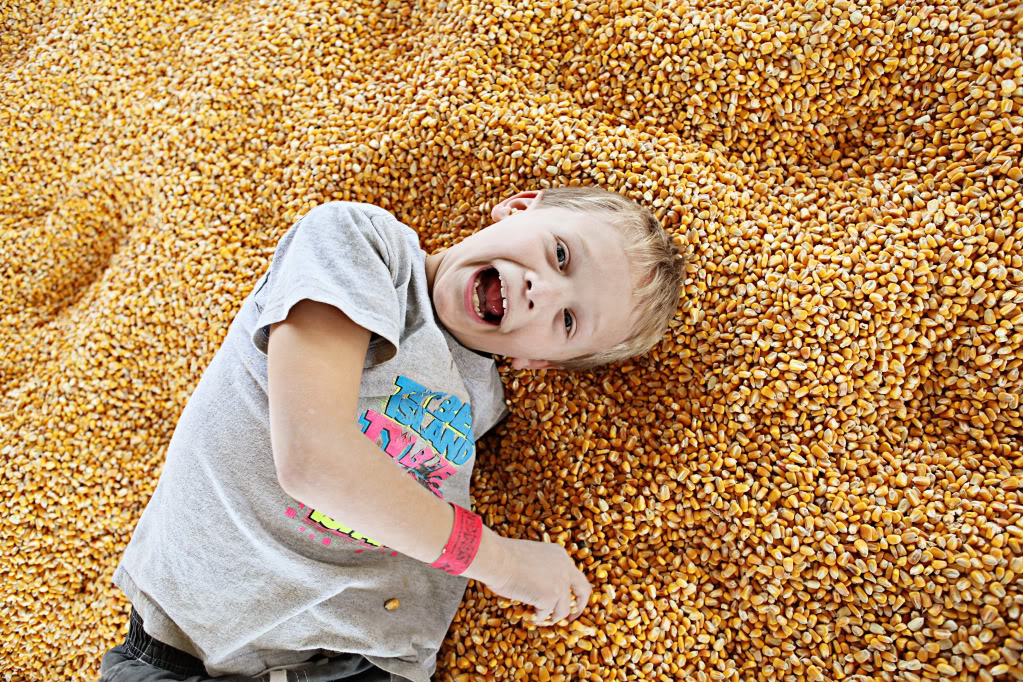 See all that corn dust? 
Bet that wouldn't taste so hot with my buttery popcorn.
After we spent the majority of time in the corn pit, we explored other areas of the fun park. 
Enter the funniest photo of the day.  Boots & Boyfriend riding blow-up horses.  That may be the weirdest sentence I have ever typed.
Just so everyone knows, I climbed on the horse…and got really excited to bounce…and then faceplanted right in the middle of the rink….or racetrack…or whatever that thing is called.  There was pointing and laughing. 
Look at that mane that is eating Cole.  I'm waiting for November to cut it.  Yes, I'm gonna donate it.  And yes, I am going short.  Stop shaking your head Jeremy.
I would do it right now…long hair just never gets worn in anything but a ponytail….but I need it for my Halloween costume 🙂  I'll let you guess what I'm gonna be.
Sa- WING!
Boots fell in the spider net.  It was funny to watch that woman in the background watch him. 
Jer loved the John Deere quad-bikes.
Will had mixed opinions. 
I liked it until I accidentally slid into the tire partition and took out the baby.  Yes – mom award goes to anyone but me.
The hay tractor was so cute.  Oh the things you can build with a couple bales of hay and a pallet 🙂
 Of course, I was strangely attracted to the pumpkin patch.
And I was mildly obsessed with getting Will interested in the kins. 
Fake smiler.
Blue steel on pumpkins…also known as Orange Steel.
My little farmer 🙂
After a couple hours in the park, we headed home.  It was such a fun day.  Words can't really describe what a chill day at a fun park does for me.  It's like a massage for my soul.
Here's to next year and another 360 days to look forward to Corn Dawgs.