This post is what we rednecks call a three-fer.  Three more steps we took in our kitchen to get it a little closer to being done.  or gettin' done.  whatever language you prefer.  Here's what we are talking about here:
How we took care of those extra holes in our granite
How we blended our outlets into our backsplash
How we sealed our backsplash
First up – those holes.
Yesterday I shared how we got our rusty old Goldie gone.   Not to be confused with rusty old Goldie Hawn.  KIDDING.  I love that chick in How to Lose a Guy in 10 Days….wait?WHAT?!
Seriously though – we kicked our old gold faucet to the curb and replaced it with a Pfister Wheaton simple faucet in brushed nickel.
When we pulled out the old faucet (which required four holes) and put in the new one (which only required two), we were left with two holes in our granite countertop.  Two extra holes.  Do you realize how many inappropriate jokes I could make with that kinda material?
The easiest and cheapest way to cover these up are with sink hole covers that are available at most home improvement stores.  My local Lowe's actually carried two types…one that clipped in and one that was a screw on version.  We went with the screw on version because it looked a lot easier to install and I was worried that I would shift the clipped one with my vigorous sink cleaning.
Each one was $3.87 so this project was really easy and cheap (ringing in at under ten bones).
I climbed my 9 month pregnant booty under the sink and screwed them in about thirty seconds.
Photographic evidence that I indeed still fit under the sink with a gigantor belly.
And there she blows.  Well, she doesn't.  She's kinda awesome.
The far sink cover is under my frog scrubbie holder that is storing my fingernail brush (to remove paint under the ole cuticles).
Next up is the kitchen outlets and lightswitches.  We decided that we would replace ALL the outlets and switches in the house as we tackle each room….this one was a little confusing because we had wall switches that would be getting bright white switches and bright white faceplates…and then there was the backsplash that looked a little funny with the plastic up against the marble.
First we removed all the old creamy colored switches and receptacles.  We have a giant bag that we are keeping so that we can donate them all at the same time.
When we picked out our backsplash, we noticed that The Tile Shop also carried outlet covers so we called them up and checked to see if they carried outlet covers and light switch covers in polished marble.  SUCCESS.  They did.  We went back and got enough to cover all our outlets.
See how the light switch cover blends well with the marble?  Sweet, huh?
Now that all the marble was in place, it was time to seal it up.  Sealing is great because it helps keep your grout clean (grout is like Charlie Sheen, it can be gross if you let it) and prevents it from breaking down over time.  I recommend it because it's a heck of a lot easier to seal grout and tile than it is to scrub dirt, grease and grime off it.  All I did was pour some of this Premium Gold Marble sealer in a plastic container and wipe everything down.  While I was at it, I also sealed my countertops (which is recommended for granite once a year!).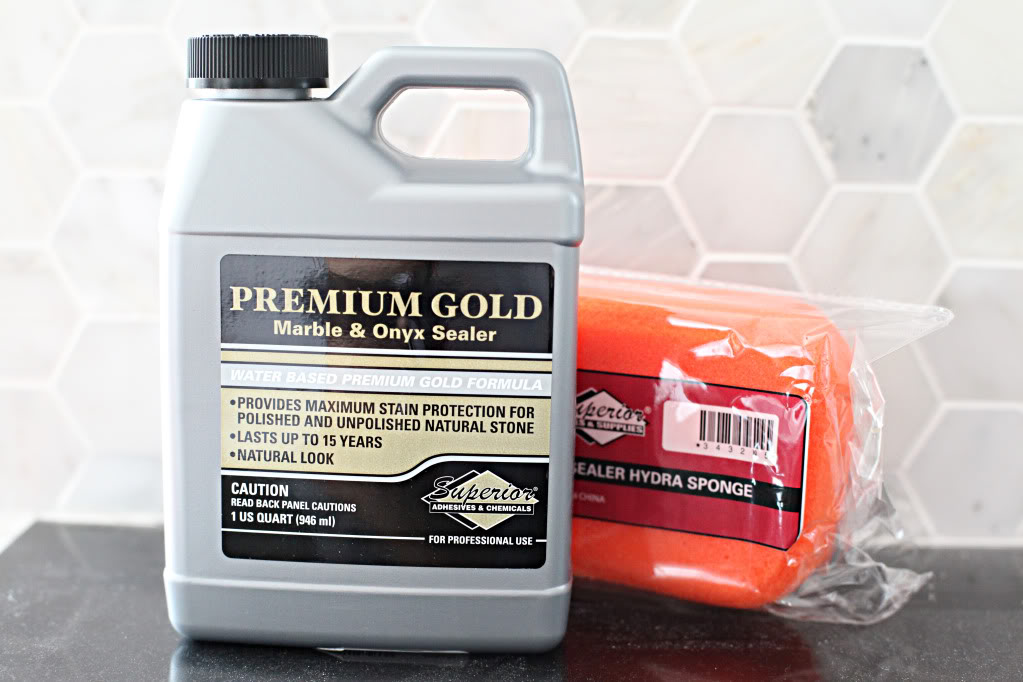 So there you have it folks…three different ways I got my kitchen just a smidge closer to being ready for it's certificate of completion.
Speaking of fun stuff, I found a bunch of old photos of Jer and I and am posting them on Facebook over the next couple days.  It's funny.  Everything from our single days to our dating years to behind the scenes adventures that we never shared here.  It's a glimpse into our personal photo album…warning, Jeremy was skinny and I made a lot of faces for the camera.  Click here to check them out.