Remember way back when?  Let's think about that.
What comes to mind?  Horse drawn carriages?  churning butter?  Marilyn Monroe?
Just wondering.
Well, way back when we moved into this house, we had this little kitchen desk.
And then one day I turned it into a desk.  You can read about that fun transformation here.
But life happened and it didn't stay that way.  When we painted the cabinets and the walls, it sort of got forgotten.  Like a lip balm that is your favorite but then it falls to the bottom of your purse and then you rediscover it a month later and it kinda melted and got all disfigured.  That was my desk.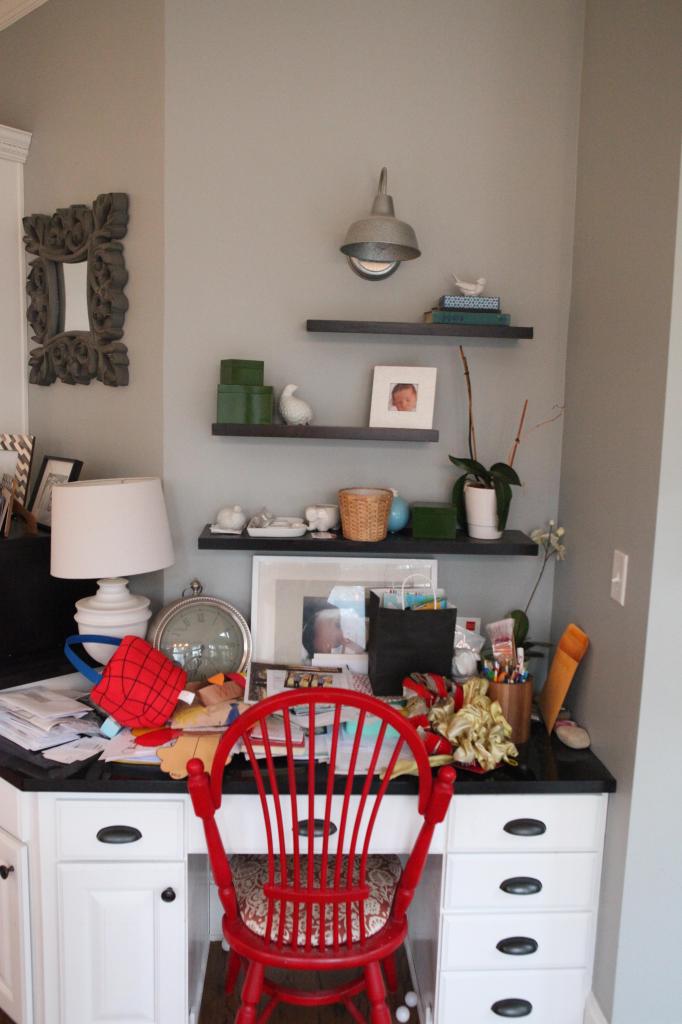 Part of the problem was organization.  Obviously I am awesome at that.
But part of the problem too was that this area no longer had a purpose.  I didn't need it as a desk because I have a desk in the office.  What I needed in this little space was two fold….a bowl or box for Will's schoolwork (I save it everyday to make him a book at the end of the year) and a spot for my Keurig.  The Keurig had been living under my kitchen cabinet on the counter next to the fridge but the issue I had was I couldn't open it to get the K-cup in.  The upper cabinet trim blocked it.  So everyday, I would go to have my cup of tea or mocha latte or whatever and I had to slide the Keurig out (note…Keurigs do not slide well because of the little rubber feet) and then I would curse my first-world problem.
After seeing an episode of Fixer Upper, I loved how JoJo made a coffee bar in one of the houses and I had a little light bulb moment where I was like "Joanna Gaines, you are my hero."  And she was.  And she still is.
So that was the plan….remove all the crap.  move the light higher because it is awkwardly low.  chalkboard paint the wall and then add some shelving.
Once we moved everything and patched the holes, Jeremy was happy to tackle the lighting situation.    You can see it was wired too low to be effective overhead lighting and too high to be true task lighting.  It was just awkward.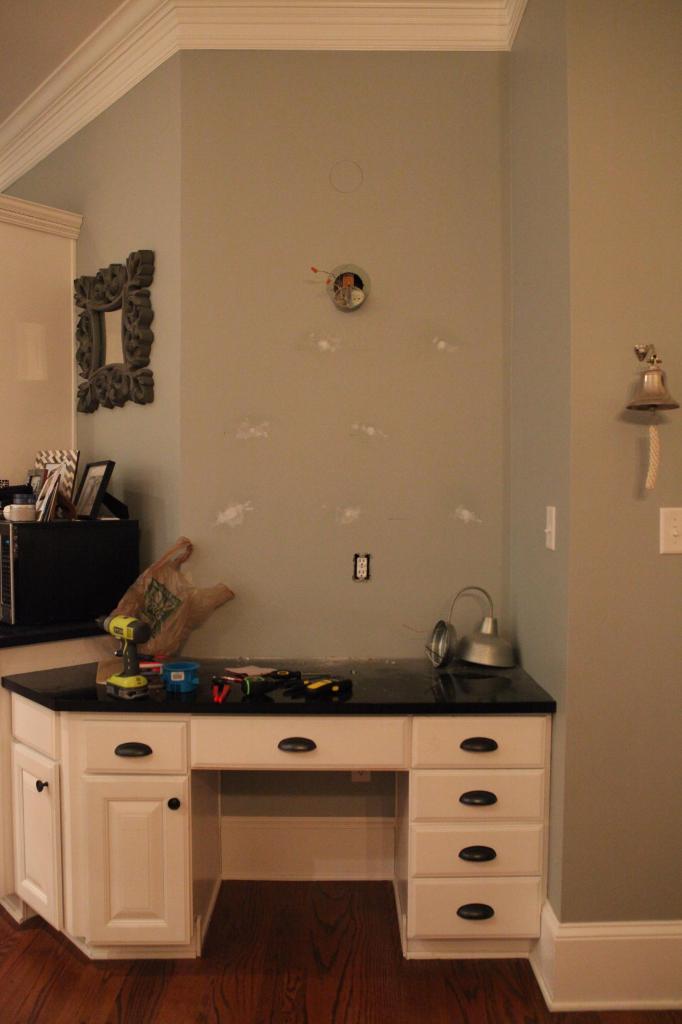 I wanted it about 18 inches higher (roughly even with the top of the cabinetry) and that's when we hit our first snafu.  The extra wire in the box was no where near long enough.  And the old wire ran from the light box down to the plug and then over to the light switch.  Basically it was stapled all the way down the stud and around a corner….meaning that if we wanted to remove the old box, we would have to redrywall EVERYTHING.  Um no thank you.  So I told Jeremy that I was totally cool with the old box still living there (with a plate of course) and that we could just have the new box up above.
He cut the new hole and ran the new wires to connect the old box to the new one and then capped everything off.
Next he installed the new box and the braces for the fixture…
And we were ready for the light fixture and the plate.  Some of you may be wondering why we didn't just stuff the wires back into the wall and redrywall over the hole.  DO NOT DO THAT.  It's against electrical codes everywhere.  Any time you have a junction (two wires meeting) you need to have a box….otherwise you could have an electrical fire inside your walls.   In layman's terms…you will die and your fish will die and your things will be gone.
Jeremy reinstalled the light and the plate and I started painting the wall with Rustoleum's chalkboard paint.  It was some spare paint we had from our chalkboard table project.  At first I was hesitant because I didn't know if the color would look good with the wall paint….but it did….thank the Lord.   The chalkboard paint was the color Moonstone and our wall color is Benjamin Moore's Metropolitan.
We built some chunky shelves and styled everything up and I think it looks amazing.
And see that top shelf?  Behind the picture frame is the covered electrical box and you would never know it.  Don't judge me…I need a new family photo with LJ in it up there.  Poor third child.
Overall, it totally suits our needs….and guests always love that they know where to get a cup of jo in the morning.  Oh and you can see I brought the red grid mirror down and put that over the microwave.  It's so much better size wise for the space.
My schedule is a little wonky this week….our friends moved into the basement a little earlier than expected, LJ had double ear infections and bronchiolitis, Weston then got his immunizations and got sick and Will has pink eye.  Hey fun times, I'm throwing the Bowers right at you!  But seriously, I hope to get a photography post up this week and a tutorial on those coffee bar shelves.  Stay tuned!