Disclaimer – This post is sponsored by Canon.  All opinions are 100% my own. 
Who has seen those giant oversized heads that people hold up for sporting events?  You know the ones.  They are HUGE and hilarious and basically $30 a pop.  Well, my friends, I am here to share with you the DIY version that is completely affordable and easy to boot!  The first thing you will need are some fun pics of the kids, yourself, your dog, or your face of choice.
You can remove the background in Photoshop or online with any free photo editing software.  Just select the areas that you want to remove and erase.  This will save you ink and ink is money honey!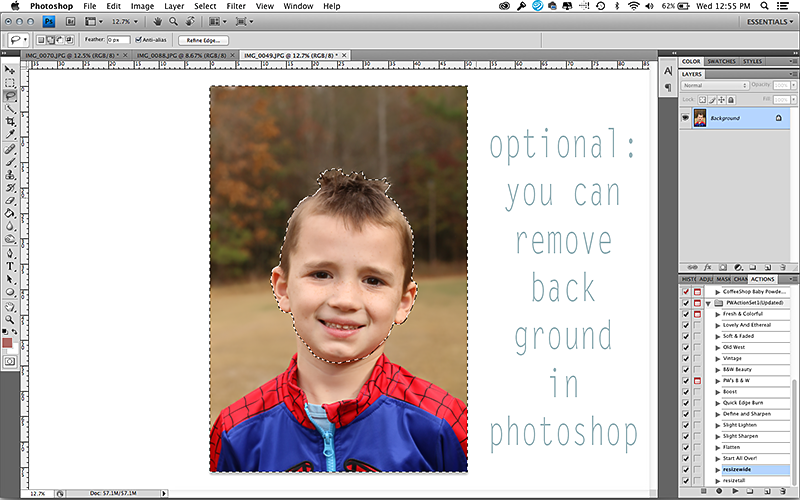 Once that area is removed, it leaves you with a floating head.  Time to get everything ready to print.
What I did was create a copied layer (it just copies the background but then allows you to manipulate it) and resized my background to fit the largest size I can print with my Canon iP8720.  This is my favorite crafting printer because it prints large.  I've been raving about it for almost a year now and it is amazing.  The largest size it can do is 13×19 borderless…and so I adjusted my background to be a 13×19 canvas and then I turned my copied layer on it's side.  I made sure the head filled up the whole sheet so that I could get the biggest size head possible.
Then I printed it.  After it was done, I simply moved the layer over till I got the top part of the head to fit on the canvas.  Then I printed that one.
This printer does not require a cord or anything so that makes it REALLY easy.  I am terrible at finding cords….it's why my phone is always dead 🙁
The great thing is – Canon has an EPIC Black Friday deal on this thing.  You probably have been waiting.  But WAIT NO MORE.  Just click the the "Create With Canon" button in the upper right hand corner of the picture above. You are gonna need giant heads in your life people!
Now it's time to trim those sheets up and get them on some foam board.
If you didn't erase everything in Photoshop, now is a good time to trim the faces to be the shape you want.
I got my white foam boards 2 for $1….they will be what makes this whole thing possible so don't get poster board which will be floppy.  Get foam boards.  Also pick up some glue sticks.  I got mine three jumbos for $1.  So far, this project isn't breaking the bank 🙂
I applied the glue to the back on one of the photos and then to the second half that overlaps.  It's really easy.
The kids were REALLY excited about their giant heads 🙂
I asked LJ if he liked it.  I think he thought I said "do you lick it?" 🙂
After they are dry, it's time to trim the excess foam board away.  I found the easiest way was using a box cutting knife.
Now are you ready for this?!  It's amazing.  It literally made my whole day.  Each kid is perfectly represented with their BIG HEAD!
Weston came up with this pose all by himself 🙂
Will's version of the heisman 🙂
And LJ didn't know how to do this so we told him to kiss the back of his poster.  He probably is still out there smooching it 🙂
I feel like I am gonna be taking selfies with these in the future.  You know like if I see something crazy happen….just whip out the LJ face and point to the drama.  It would be the ultimate emoji 🙂  These would also work for playroom wall art….which is probably where they will live now.  That is….until we need to have a party with big heads.  Because every party is better when you have a giant custom version of your face!
Oh and here is the info for the Good Friday sale so that you can get this printer at a huge discount….
(Hover on the photo below and a little red popup will appear in the corner.  Click on that to get your code!!)
Happy shopping y'all!