Spring Break this year was AWWWEsome.  We went to Pigeon Forge & Gatlinburg and hit up the amazing Dollywood.  Let me tell you something….this was an EPIC vacation for us and I could not be more excited to share with you all the amazing things we did and saw and ate!  If you have kids, you are gonna wanna take notes because I myself didn't realize how toddler and kid friendly this small little gem in the hills of Tennessee really is.
Be forewarned – there is about 100 plus photos in this post so get ready for a doozie!  Also – special thanks to those people that always give the best recommendations on where to eat and where to stay and what to do.  You guys.  You are the geniuses behind our trips and we really do listen and heed your advice.  You never fail to disappoint!  The hardest thing about this trip was that there were so many different places to hit that we are certain that we will go back and check more off the list in the future.
The day we arrived, we got there a little later than expected.  I had a hard time leaving Bear.  He stayed with my brother and his wife and their two dogs and when we got there, the adjustment period for his female pit bull was a little longer than we all anticipated.  Bear wasn't used to having another dog be on top of him and he would try to run and Layla didn't want him to escape.  So we ended up being a little more cautious about our exit.  The good news is – the little fur-cousins ended up doing just fine 🙂  The bad news is – Bear misses his new playmates!
After a stunning drive through the Great Smokey Mountains National Park (seriously though…breathtaking views!), we arrived at The Dollywood's DreamMore Resort.  At first we planned on staying in a cabin but I'm so glad we nixed that plan for this beautiful resort.  The perks of staying there are too good to pass up.
The grounds are gorgeous and very quiet and have some amazing views.  And what are those perks you may ask?  Well, if you stay here, there is a free shuttle every 10-15 minutes to Dollywood.  And you get a fast pass to park rides so you can skip lines.  OH and the entire hotel has this outdoor pool and indoor pool which is heated 🙂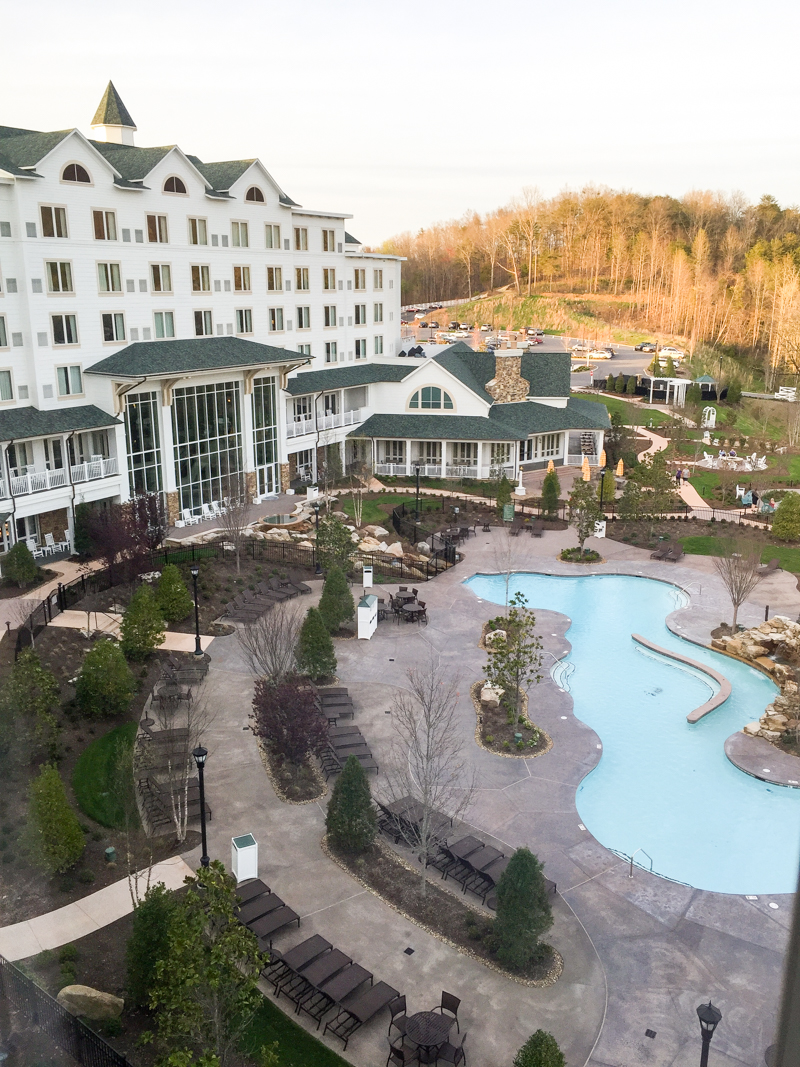 The place is very kid friendly and has a playground and an arcade room (the kids LOVED going in there while I was attempting to blog in the mornings) and even a kid zone where you can have your kids do arts and crafts.  They also have a restaurant (we did not get to try it) and a pantry (which was like a little grab-n-go type store with Starbucks which yes I did get to try) and we did breakfast from there a couple times because it was so convenient as well as pizza one night.
The other nice thing was the planned nightly activities.  In the lobby was a board with that evenings activities….whether it was a corn hole contest or s'mores by the fire.  It was really great for the kids!
We need to share an entire post about how we travel with four little kids….like the logistics of making that happen.  For this particular trip, we were able to get a "family room" (not a family suite which is bigger or a junior suite which would work for us when the kids are bigger).  Our room had a great king sized bed…
and a bunk for the kiddos.  Thankfully our boys are all small enough to share a twin so we had two kids on the top bunk and two on the bottom.  They all LOVED it.  In fact, they slept better here than at home.  Which, yes, makes me rethink our strategy.
The bathrooms were also really nice – I'm still obsessing over that mirror 🙂
And the little glimpses of Dolly everywhere were so fun for the kids.  They had a big portrait of her in the lobby and the kids had a great time looking for butterflies (the little logo was butterfly themed!).
My favorite part was seeing all her album covers in the downstairs hallway.  It was like a blast from the past!
Here we are one night when we did the smores.  Why is it that kids want to always light them on fire?!
The night we got there, we actually ate at Smokey Mountain Brewery.  This place was perfect.  The food was incredible (the kids woofed down those soft pretzels and cheese!) and the pizza was great….I got the brewmaster pizza and I still think about it! and even the chicken fingers were tasty.  I may or may not have stolen one of the kids 🙂
Seriously.  I need this pizza in my life all the time.
The week was calling for rain but we didnt let that slow us down.  We JAM PACKED the entire week.  I'm not even kidding.  I'm tired just thinking about it.
The rainiest day was that first full day and so we decided to do an indoor activity….the Ripley's Aquarium in Gaitlinburg.  Apparently all of Tennessee also decided to do the aquarium that day so it was really crowded.
It doesn't hold a light to the Atlanta aquarium or Chattanooga's aquarium….#spoiled….but it did have a couple really nice exhibits.
One of my favorite things was this large body with sharks and fish.  The ceiling was curved and it made it look like you were outside.
Also we got front row seats to a diver who was doing some fish tank maintenance.  The boys thought that was the coolest thing ever.
The 'under the sea' moving sidewalk was really long and so you definitely got your fill of all the fish and different creatures.
And of course, William loved the hands on exhibits where you could touch different things.  He had no problem touching all the little critters.
Overall….it was a perfect way to start the trip.  My kids like to do the adrenaline junkie stuff and will always opt for that so it was nice to have the slowest most observational activity first.
After we grabbed some lunch, we headed over to this place called MagiQuest for some more indoor fun.
It had stopped raining by then and thankfully the kids napped in the car on the drive from Gatlinburg to Pigeon Forge…so we were ready to go.
This place had a bunch of different stuff.
We all did the mirror maze, the mini golf that glows, and laser race thing.
Weston was our only hole-in-one kid and he got it twice!  Then we attempted the MagiQuest.
Eventually Jeremy took the two littles to the car (it was too advanced for them) and the big boys fulfilled their hour and were happy that they earned three badges each 🙂
For dinner, one of my friends insisted that we try Paula Deens and I have to admit that it was pretty delicious.
The brisket and the fried chicken was a favorite.  It's an all you can eat place and its family style….plus our three little ones ate free….so that meant a whole lot of food.  Also…ooey gooey cake at the end was unbelievable.
Everyone always says that my mom looks like Paula so I had to get a picture with her.  And when I say her….I totally mean a cardboard cut out 🙂 But that hood.  Seriously.
We ended the night with a ride that we all were a little nervous about.  All of us but Lj.  LJ was BEGGING.
Look at sweet Weston gripping my arm.  And my other hand was firmly whiteknuckling the seat.
As you can see….LJ was our little daredevil who loved riding the giant ferris wheel.  Every time the boys would shift their weight, both Jeremy and I were like "DON'T MOVE!" because oh man…heights are not our thing.
Paula Deens and the Great Smokey Mountain Wheel are both in The Island which is a grouping of games and activities and stores and restaurants in the downtown area of Pigeon Forge.
Who is ready for day 2?!  This cuddly dude is 🙂
The second day was our sunniest day and unfortunately Dollywood is closed on Tuesdays so we opted to do outdoor activities at The Island.
Can't believe we went up there.  We are losing our minds folks.  Losing them completely.
The biggest activity of the day was definitely the ropes course.  They had a large one that was very very high and then they had a smaller toddler friendly one closer to the ground.
Can't even handle this cuteness in that little harness!
William and Jeremy decided to tackle the big one together (I probably would have tried but you know….always pregnant.)
Weston really shined at this.  He usually doesn't like unfamiliar activities but for this, he caught on very quickly and didn't want to come off.
Jeremy snagged some terrifying shots from above 🙂 I love seeing Jer's grip on Will's arm.
After they conquered the ropes course, we went to another mirror maze (the boys begged because they liked the first one so much) and this was actually better than the first.  They would sometimes just turn the lights off completely which freaked us all out and made it a little harder.
They also did another laser maze – this time they all tried it….including LJ and he rocked it!
Lunch was at Dick's Last Resort….which was hilarious and fun.  They all do this shtick where they make fun of you and the boys thought it was the best thing ever.  Jeremy's dad came to meet us that afternoon and he was gonna help us with the kiddos the following day.
They also give you a hat with funny things.  Mine was "If Ignorance is bliss, I'm in heaven" which is ironically true.  Lj's said "I like to eat chocolates from the kitty litter".
After lunch, we headed over to what the boy's called the upside down house.  It's a fun museum type activity center with lots of science related things.  We LOVED it.  I only wish we had spent more time there.
Okay…so have y'all been in one of these light halls that mess with your balance?  It really works.  I almost fell over.  I was clear over the railing and even when I closed my eyes…I was so off.  It was NUTS.
Experiencing an earthquake….
LJ trying his hand at pitching….
Will went rock climbing and he would like me to note that he DID in fact get to the top and ding the bell 🙂
Then Jeremy and his dad almost killed themselves on this bike contraption.  Poor Jeremy did something to his back when he went upside down and so for the rest of the trip, he had the worst back pain.  He would waddle with me like we were twins 🙂
The exhibits were mostly above the kid's heads.  But it was really cool because I can see how they would be interested in this place for many years to come.
The kids LOVED the bubble exhibit where they could make giant bubbles…
And then at the end was an art exhibit with a Dr. Seuss display and some very cool art examples.  Check out this wall sculpture that makes shadows on the wall….
Right down the street we headed to dinner to see the HatField's and McCoy's Dinner Feud.
Honestly I don't remember if I have ever been to a dinner show before…so I was really excited….and also really tired.
The first thing they do is seat you and bring your table a bunch of food to share.  Jeremy and I sat at the table with the little guys and Jer's dad was with Will and Weston.
I only got a few pictures but it was because I was so excited to see it.  Right after the food arrived, they turned the lights out and I literally fell asleep almost instantly.  Jeremy was laughing because he had to get me up so I didn't miss anything 🙂
Apparently that sleepy head bug was contagious because these two were zonked!
Jeremy's dad left his insulin at the lunch place so we headed back to The Island and the boys begged to do a few more rides.  I mean….how do you resist that face?!
Also I got to try the Poyner's Pommes Frites spaghetti ice (it's ice-cream that looks like spaghetti with sauce and meatballs) and it was so fun.
Here it is after it melted a little (I ran out of memory….of course….so I had to spend like five minutes deleting stuff!)
Our group shot….and yes, Weston is doing that face because he thinks its funny 🙂
The very next day, we were SO excited because it was a very big day….it was Dollywood day!
I had no idea what to expect.  Honestly I thought it would be very small and possibly a little boring for the kids after all the big adventures we just had.  I was so wrong.  Dollywood is AMAZING.  Like I am a huge fan of Disney….but this might have been even better than that.  And for me to say that is kinda ridiculous.  They measure all the kids and give them bracelets for them to qualify for rides.
And they have NINE big rides….that's a LOT.  And Will was big enough for all of them….which is terrifying because dude stop growing.  Near each of the big rides, they also have some smaller attractions for little kids so that was super nice because we didn't need to split up.
The only thing we didn't like was the fact that the park closes at 7 pm.  That means that fast pass bracelet from the resort is PRICELESS.
William could not be more excited.  I mean – he LOVED the fact that he was big enough for all of the roller coasters (they remeasured him to see if he was tall enough) and Jeremy was in hog heaven too because he loves roller coasters.
Weston on the other hand, does not.  We only did one together and although the smile on his face survived, he told me later, "no more thanks" 🙂
LJ loved being our little navigator.  He would look at the map, look around, look back down and finally point to the thing he sees and would say "Yup.  This way." and direct us to the snow cones and cotton candy 🙂
Max was really attached to Gramps at the park.  And Will and Weston both wanted to be with Daddy the whole time.  So LJ was my little partner in crime.
He is in that pretend stage where he loves pretending things….so the Merry Go Round was his own personal rodeo.
He named his horse and would yell GiddyUp and Hi Ho Silver and Go Faster go horse…I'll give you a biscuit 🙂
We did see one show – Mother Africa.  It was full of really talented acts and the boys were mesmerized.  The most impressive thing to me was the two person juggling where one person couldn't see.  I mean…how does that even happen?!  The boys loved the acrobatic stuff and we all gave it a standing ovation.  It's definitely one for the whole family to love!
The biggest highlight for the little boys was a train ride.  They were all excited for the real ride and thankfully the weather cooperated so we got to catch the last ride before the park closed.
It goes all around the park and then through the woods too.  It was so beautiful!
We ate at Granny's for lunch (it's a buffet inside the park) and it was at this point that we started joking about getting tired of all the fried chicken 🙂  I wish I had picked up some cinnamon bread because everyone was raving about it….but the three little ones fell asleep after lunch so I sat on a bench and rocked Weston while the two little boys were in the stroller.  I got some mad people watching going on!
I wish that we could have gone back the next day because I know they would have loved it but we had other plans.  The kids said that Dollywood and the Island were their favorites…so if you are planning a trip….those two spots are must-sees.
The last full day we had the coldest weather and rain again.  It wasn't ideal spring break weather but it didn't matter to us because we were inside swimming at Wild Bear Falls.
This is part of a local resort that has a separate building with a big old indoor water park.
I admit that it was still very cold….but the kids didn't seem to mind.
We loved the super shallow area for the little ones….and of course the hot tubs 🙂
Also, we all did the lazy river for quite some time.  LJ was tall enough to stand which made it loads easier since he is our water bug and has no fear 🙂
We ate right there at the water park which made it easy but it was definitely just fast food.
The boys all crashed after that swimming time and when we got up, we had Bullfish Grill and then headed back to the room for the minions movie.
On the morning of our departure, we decided that we were gonna take it really slow (we had heard some bad weather had come through the roads and we wanted to give it time to melt!) so we stopped at one of those little mini ride places.  This was called Bear Country Track and we were practically the only people there.
William got to drive little go-carts….
The other boys got rides….
and even showed off their mad steering skills…
and did every single little thing until it was time to roll.
On the way home, we definitely saw the evidence of the colder weather and it made the national park even more beautiful.
William and Weston and LJ all were able to get out and saw the snow and we realized that this was LJ & Weston's first real experience with it.  They were hilariously cute and called it snow-dirt and were shocked when it melted in their hands and got them wet.  I will never forget Weston hitting a little snow bank and saying "Look Mommy!  I can make the snow dirt fly!"  I think it may mean we need to expose them to a little colder weather 🙂
Overall, this vacation was jam-packed and action-filled to the BRIM.  We felt like we couldn't have done anything more and we hope that the boys realize how lucky they are to experience so much but also to have family that is willing to come help and watch and make this happen.  We could not have done it without Gramps!  Also – we are so thankful that my hips held together during all that walking because it seems like as soon as we got back, my legs were so swollen and I'm pulling out my brace!  It just seems like it was perfect timing.  And we are super excited to go back….you know…for that pizza and to try out all the new things that we didn't get to do.  And who knows?  Maybe next time we will catch a glimpse of Dolly herself!