SPOILER ALERT – We got a TV for our garage.
I know.  It's completely obnoxious.  Just call me Kanye from now on.  I'm gonna start wearing fur from head to toe.  I even bought a fur bra.  A garage tv is completely over-the-top.  And amazing.  And ridiculous.  And unpractical.  And AWESOME.  And I fist pump every day over the fact that I get to paint furniture while watching Pitch Perfect.
So the story goes like this….Jeremy was looking for a CrossFit clock…it's nothing special – just a countdown clock…and I was all on board the buy-a-clock train until he told me how much a decent one cost….ONE HUNDRED FIFTY DOLLARS.  for. a. clock.
I about fell out.  And I was like um…isn't there an app for that?
Jeremy was cool with the fact that it was definitely an extra that only he could use and I appreciated that he conceded so quickly.  He started researching mounts for our iPad and suggested that I could even do some of my favorite sWorkIt workouts on the iPad too.  That's kinda when we started talking….wouldn't it be amazing to have a bigger iPad….something big enough to see if you were five, ten, even fifteen feet away.  So that my practicing of acro-yoga moves would be a little less dangerous to our device.
That is where the little nugget of an idea was born….what if we bought a cheapo big screen tv and mounted it with a Roku stick to stream our apps (like Jeremy's countdown clock) and were able to get my workouts and even educational shows for the boys (aka cartoons).  I told him if he could find one for under $200….I would SO be on board.  Jeremy did his research and we scored this that fit all the criteria!
We had an old mount that we used to attach it to the wall directly above the hardware station in our garage.
At first we were just going to have it hanging there and run the cord down the center of the wall….
But then we saw John & Sherry's post about hiding cords for their play room tv and I was like hey JER!
We already had an outlet at the bottom so Jeremy simply cut a hole behind the tv mount and another hole near the outlet.
I believe he used a two inch hole saw for that.  Then he removed a whole sleeve of insulation and snaked the cord down from the tv to the bottom hole.  Most tv's have cords that detach but ours didn't so he had quite the mission of holding the tv and getting the cord to go through the hole.
Then he simply hung the tv and bada boom bada bing….just call HeMan because dude is master of the universe.
See our sweet set up?
Even Tom Cruise agrees that this kicks A.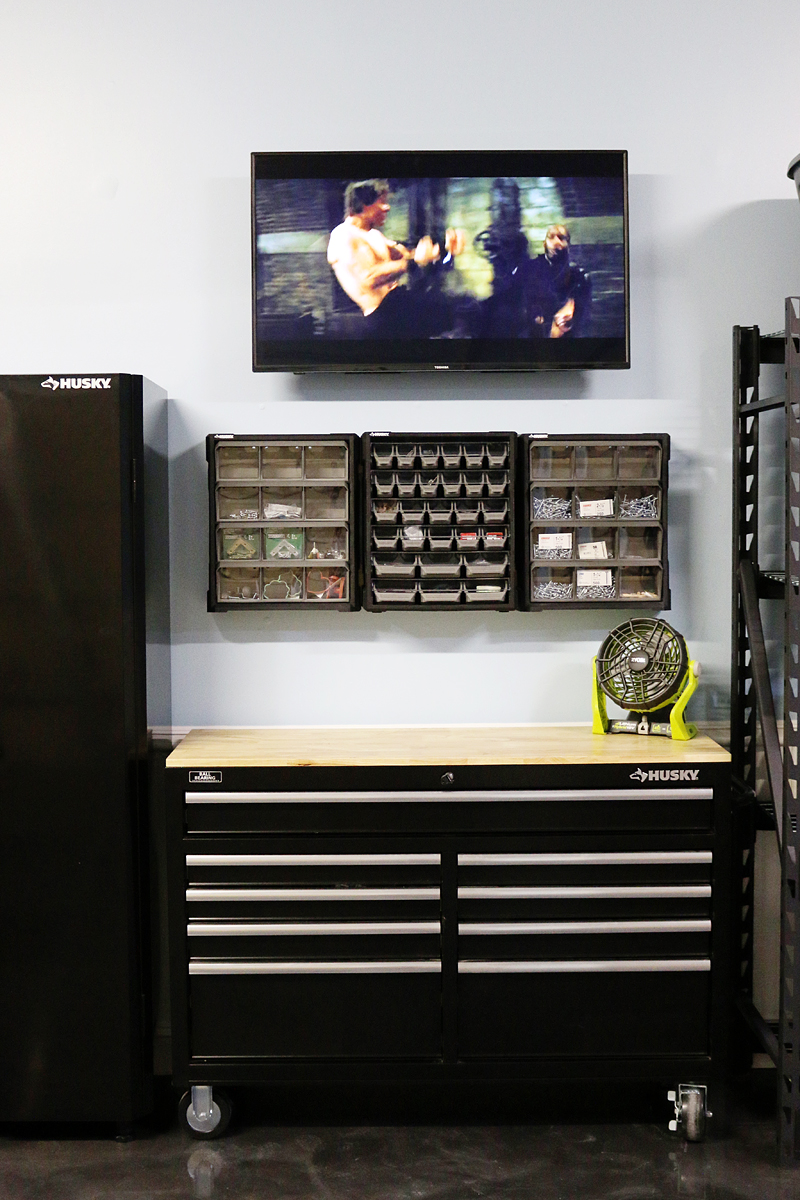 Is it weird that we are all obsessed with it?  I mean…it's like the world's cheapest tv but the novelty of having it in the garage has made it the funnest thing ever.  In fact, Will and his buddy Nicky ASKED to watch a movie in there….no air conditioning…no comfy seating….just a concrete floor to sprawl all over.  It's hilarious.
Okay so now that you know the biggest way we pimped out the garage to make it amazing in a ridiculous way….here are some of the other finishing touches that made this space just a smidge more awesome.
We bought blinds.
Jeremy and I fought over this HARD but in the end, Jeremy really felt the way to go was to replace the cheap cream colored blinds with these faux wood blinds.  We didn't remove the original brackets so everything just slid into place.  It was the fastest blind installation on the planet….because yes, blinds are one of those tasks that seems like it takes forever.
We also ordered some of these anti-fatigue floor mats for my achey legs.  Filming one video takes FRO-EVOH.  (yes, I may have fro-yo on the brain).  And these ones are ridiculously affordable and can be puzzle-pieced together to make one giant mat.
We used two to make this big cushy mat for behind the main table and all the sawdust blows right off.
We also dug this clock out of our stash.  We originally had it for our friend's deck remodel but didn't end up using it.  So it had sat in storage waiting for a forever home.  I didn't love the rustic silver look for in this space so I sprayed it black.
Doesn't it look striking?
And one of the best deals I got were two of these metal stools.  FROM KROGER.  That's a grocery store in our area and these puppies were marked down from $40 to $20 each.  It's a running joke in our family that you can send me into practically any store and I will come back out carrying a chair I just bought.  #gottabeprepared And this was no different….I was running in post-baseball-practice for apple juice and wipes and I came back out with a buggy full of groceries for a week and two bar stools 🙂
So aren't the finishing touches just the most fun ever?  I love how this space is shifting from oh-so-nice to whoa-thats-mindblowing-for-a-garage.  And why the heck not, right?!  I mean….some people have crazy awesome closets with those fancy wood hangers and some have expensive appliances that have touch pads on the fridge front….us?  Our nicest room is our garage workshop workout space and I couldn't be more proud 🙂
Next is the reveal so stay tuned!!!