Assault on your eyes!
You are welcome.
Today we are floating in the middle of the ocean on our cruise (so far, it hasn't gone quite as planned….as in, I didn't plan on getting seasick.  But hopefully these meds kick in soon.)  so this post is actually coming to you during naptime. Hopefully this works #fingerscrossed
So in our disturbingly messy garage, we needed some additional storage.  We already built a potting table to get the planting stuff consolidated into one area.  Now we are onto the fun part – creating a workshop for our massive amounts of tools, paint and other DIY paraphernalia.  Jeremy and I both are self-proclaimed tool junkies and we love gadgets, big and small, that help us build furniture, tackle room renovations and help us get things done around the house.  In this space, we imagined that we would have storage all the way to the ceiling so that our stuff would be easier to find.  Vertical storage is fun in the garage because we don't need to access the stuff up high all the time.
So we built these towers and they are way sturdier, taller and more purposeful than the plastic versions they sell at the store.  We figured out that each one costs roughly $50 and a lot of that is in the screws.  Who knew screws were so expensive?  #politicianjoke
Jeremy saw that they had similar versions of this at Ikea but they weren't nearly as tall as our version.  We made ours  eight feet tall and they have a couple shelves that fit plastic storage bins perfectly so that we can slide the seasonal stuff on there.  I already have bins packed down with swim gear that are begging to be up high and away from abusive little hands.
The four posts are just 2×4's and are eight feet long.  The shelves were attached at certain heights and one 2×2 away from the edge of the 2×4.
Basically the idea is to make a ladder-look-a-like.  Each rung or shelf will be the support.
Here are the distances that we did…in case you have a tall garage and want to copy this plan.
We found the easiest way to fasten two 'ladders' together is to lean one and then place the shorter side pieces in between to line everything up before predrilling and screwing them together.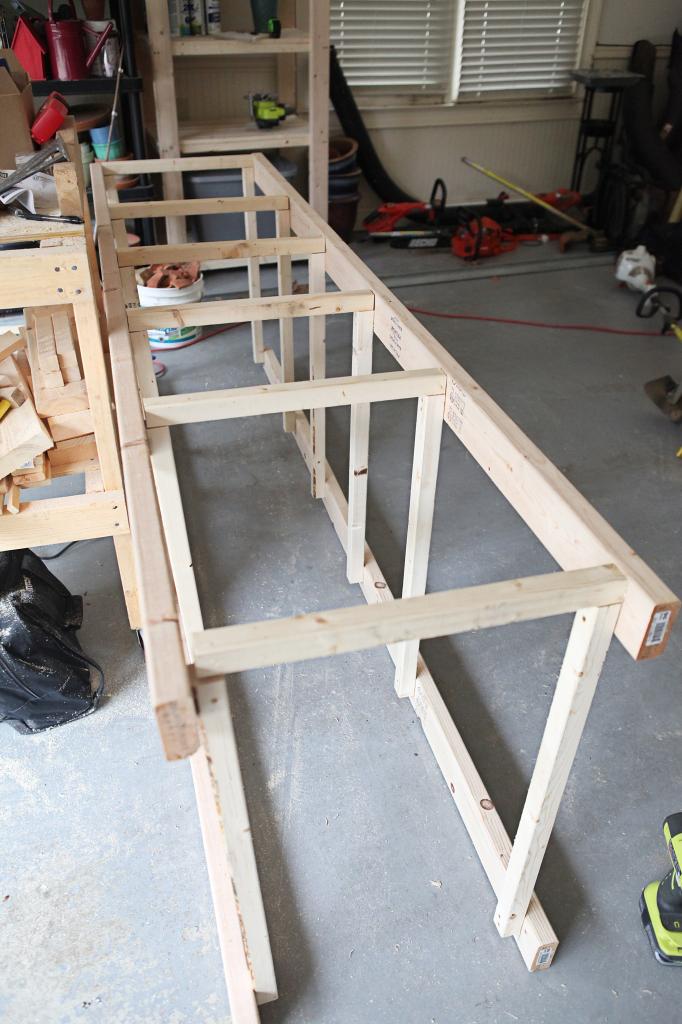 We used two screws…ya know…because Jeremy says that it is extra sturdy that way.
Once one side of supports is done, flip it over and do the same on the other side.   The four legs are 2×4's and the shelf supports are all 2×2's.
Again…double screw for max support.
After you are all done, you can flip it upright and see your basic structure.
This is not an ad or a sponsored thing…just a tidbit of DIY info…you need these Ryobi AirStrike tools.  I am addicted.  I love it to the degree of obsession.  If it had its own house, I would be in the bushes watching it cook it's mac n cheese.
Lay out the 1×3's and put a couple brad nails in each end.  We actually saved some money by buying 2×3's and ripping them in half.  It was much cheaper to buy one 2×3 than two 1×3's.
We built two and slid the old miter saw table between them.  Jeremy got a new miter saw that doesn't need a table (more on that later) so the old table will get a haircut and we plan on using it more as a worktable between the towers.
So a little progress in the future bower workshop.  Oh and big news – this week we get to share what our 'secret project' was!  It is so fun and exciting and I love being able to share things like this with you!
Update : Looking for more info on something you see in our house?  We have a Shop the Bower House page with paint colors and links to accessories, furniture and decor!