Fab invited me to share some of my favorite picks from their daily marketplace.  Oh you want me to online window shop?  In a place full of quirky and colorful designer goods?  And you want me to smile while discovering your fabulous goods?  Well, let me think about it for a secondYES!  That's pretty much how it happened. 
Seriously though…I spent a solid hour looking at 1% of their site and found some of the most fun and modern and well, fab stuff.  I know now where they got their name.  Here's what I found…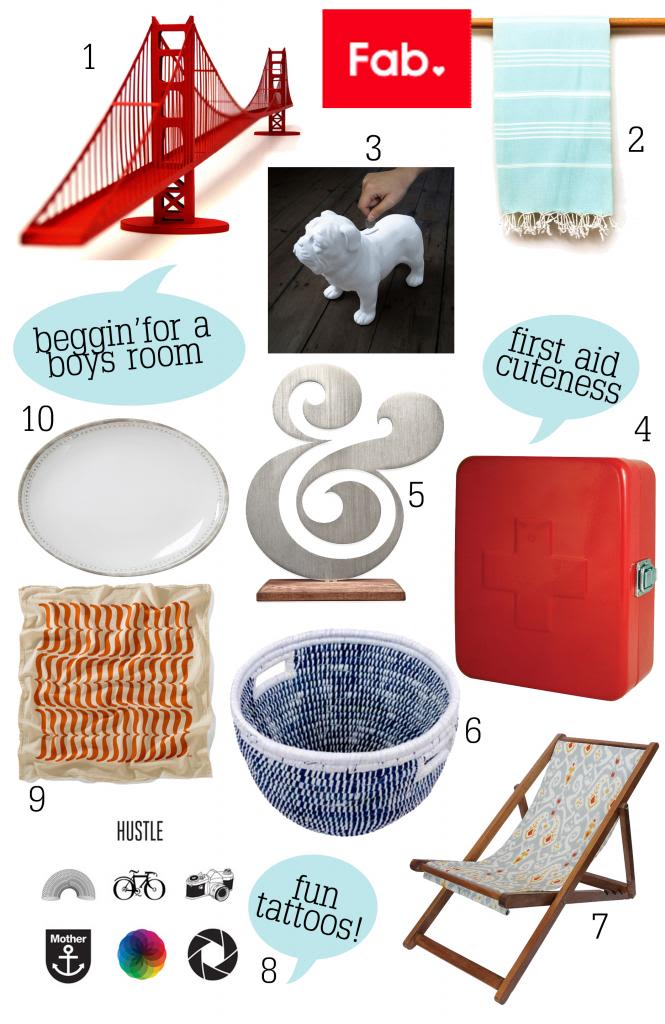 1. Golden Gate Bridge Kit – My dad has a slight obsession with bridges so naturally I am drawn to this.  This one would look ah-mazing in a little boys room or an office…the only question would be…how to keep Will from attempting to drive his cars over it?!
2.  Turquoise Beach Towel – Have you seen these towels?  They are lightweight and super obsorbent and dry in like two bats of a cats lashes.  I need one of these beach ones in my life because they would be a lot more flattering wrapped around my buttox than one of those bulky alternatives. 
3.  Guard Dog Coin Bank – In case you don't know, I attended the University of Georgia and their mascot is a very fierce bulldog named Uga.  So of course, I would be interested in a little white doggie coin bank.  It would be perfect for saving my pennies as a college fund for when my boys want to get their degrees in pre-med 🙂 
4.  First Aid Box – I'm obsessed with putting one of these on the wall in the boy's bathroom.  How cute and functional!  It's fun enough to appeal to them and puts the bandages out of reach so Will doesn't decorate his entire body with Scooby Doo bandaids.
5.  Metal Ampersand – I love this.  That's all. 
6.  Blue White Woven Basket – Ever since I found this basket, I can't stop thinking about it.  I think it would be perfect for a newborn shoot (stick a baby in it!), or for in a bathroom stuffed with hand towels or in a shelf for hiding all my random clutter junk. 
7.  Wood Fabric Beach Chair – This is gonna be an outdoor summer for us.  I just know it.  And being outdoors means that this mama is gonna need some portable seating.  This fabric beach chair is just lovely in that fabric…plus, I can fold it up and throw it inside for storage. 
8.  Tattly Temporary Tattoos – Will loves getting tattoos.  Not real ones of course.  We aren't that redneck.  These Tattly temporary ones would be perfect for the whole fam.  I'm just gonna go ahead and claim the camera one right now.
9.  Orange Flour Sack Towels – Recently I learned that a fun sack towel is hard to come by.  I'm lovin' the orange designs on these for a fun splash of color in the kitchen.
10.  White Oval Platter – White dishware literally forces me to buy it.  I have no power.  It stalks me, rips out the debit card and purchases itself.  I'm not kidding.  This oval platter is screaming at me as we speak.  I. must. own.
p.s.  This is a sponsored post brought to you by Fab.  I hand picked each of the items above and got to choose what to write.  Those jokes about my bum are mine 🙂