I love me a good mirror DIY.  It's in my blood.  In my bone marrow.  In my nerve sheath.
And over the years I have shared quite a few.  There was the red grid mirror….which I am still obsessed with.  And the Pinterest Challenge mirror that still hangs over our bed.  The ornate dining room mirror got a makeover and then Weston broke the top of the frame….so it's in our basement waiting to be Frankensteined back together.  I made mirrors look like windows in our old house.  Those are somewhere in the hoard.  Don't ask where.  And the gold shim mirror that looks like a starburst?  Well, it found a new home in our guest room….can not wait to show ya!!!  We chunked out our old bathroom mirror….back before the days of Pinterest and clip-on mirror frames.  And we used some fabric to make a cute black-n-white mirror outta something not so clearly cute.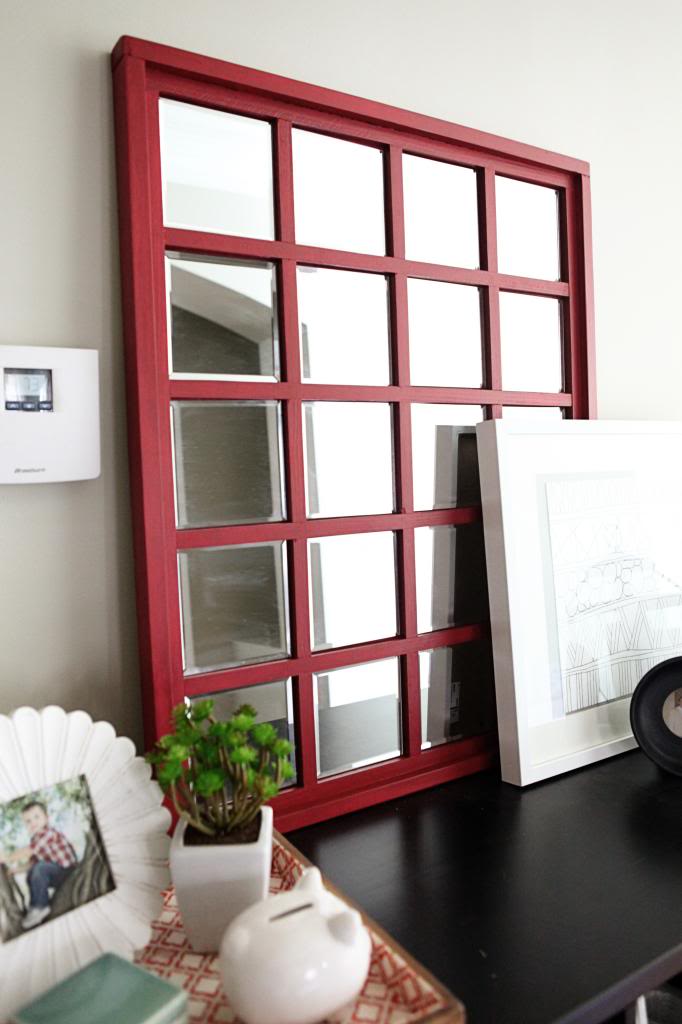 Well, today I wanted to share our newest member of our mirror family….
It's a leaning floor mirror made from a cheap door mirror that we peeled off the wall in the basement.
In fact, there were originally two.  Seven years of bad luck later….we have one.
So anyhoo….
I saw a bunch of projects on Pinterest  and other blogs that were boasting that they changed this $5 mirror with only two milliseconds of time and 57 cents of materials.  I don't know how they do that.  It must be regional pricing or something because every project that I do…it takes me way more time and way more money.  I have no idea how much this would cost because 1.  we used a lot of scrap wood and 2.  if you had to buy stain, poly, all the other materials, etc. – well….it would add up quick but I already have that stuff in my hoard.  The point here is…if you love this project…it probably is cheaper than buying something brand new.  maybe.  I make no promises.
So the first thing you have to do is take the mirror out of the frame.   First peel off the paper to expose the mirror guts.   I am not allowed to use box-cutters because of multiple incidents that involved my blood on the floor and a screaming phone call to a minute-clinic so I used a chisel instead to gently scrape the glue off the mirror….I hear most people just use a knife to slice the glue.
After it was carefully removed from the frame, I measured out my wood and made all the cuts.
I was going for the same boxed out look that I did with the grid mirror.  I figured that 'double frame' makes everything look really finished.  And the fact that it was all based around a piece of chunky plywood would allow it to be super sturdy.  The last thing we need in this house is easily-breakable-items on the floor.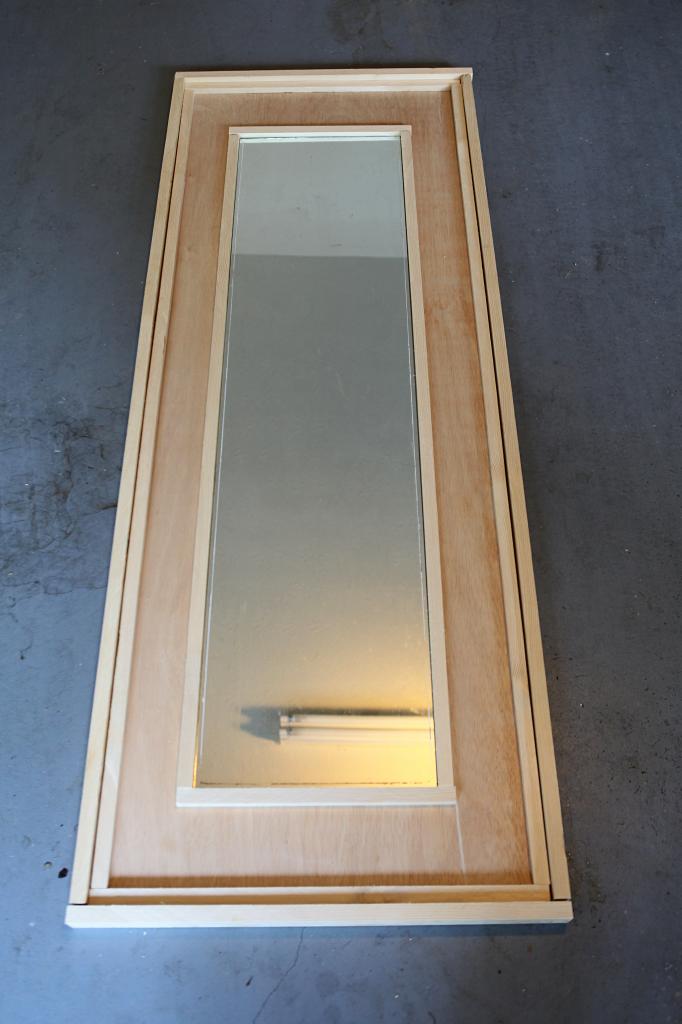 Once everything was brad nailed and glued together (the very outside frame was brad nailed onto the plywood but the rest was just glued)…it was time for finishing.  I sanded the entire thing down and applied a heavy coat of stain – Rustoleum's Kona.  I should make it clear now that I am OBSESSED with that color.  It's rich.  It's dark.  It inspires me to go to Hawaii.  It is everything I love in a stain.  My previous favorite was Dark Walnut but the Kona is even darker and richer.  It's like the difference between milk chocolate and dark chocolate.  After it is dried, I did a coat of poly and then 440 sanded and then polyed again.  Trust me on the poly….it makes a huge difference.
Then came time for the gluing.  I used Elmer's ProBond Advanced for this because it bonds to glass and wood – but I am sure other kinds of adhesives would work too…just read the label.
Pop that mirror in and hold it down for ten minutes with some heavy books and you are good to go!  Well…at least you are good to check out your outfit before going anywhere 🙂
So there you have it!  A fun little full length leaning mirror for your Friday.  I was hoping to get the Bower Build Off post up today but one of the projects is still drying and so it's gonna be a Monday morning post for ya….hope you come visit with your voting registration card ready!
p.s.  you won't require a voting registration card, a green card, a library card or any other type of card….just some eyeballs.  Please vote for me thank you and I love you.
Update : Looking for more info on something you see in our house?  We have a Shop the Bower House page with paint colors and links to accessories, furniture and decor!