Lately I've been working on two projects….1.  the office bathroom…and b. this hutch / china cabinet / dining furniture piece thingie (yes, that's a technical term).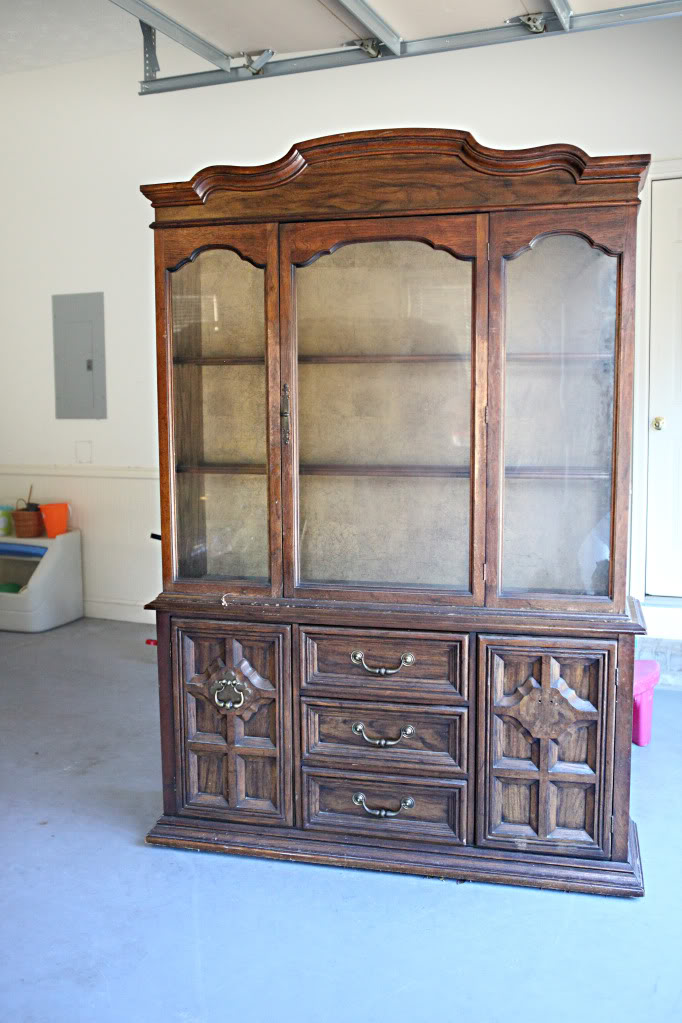 Yesterday I went fabric shopping…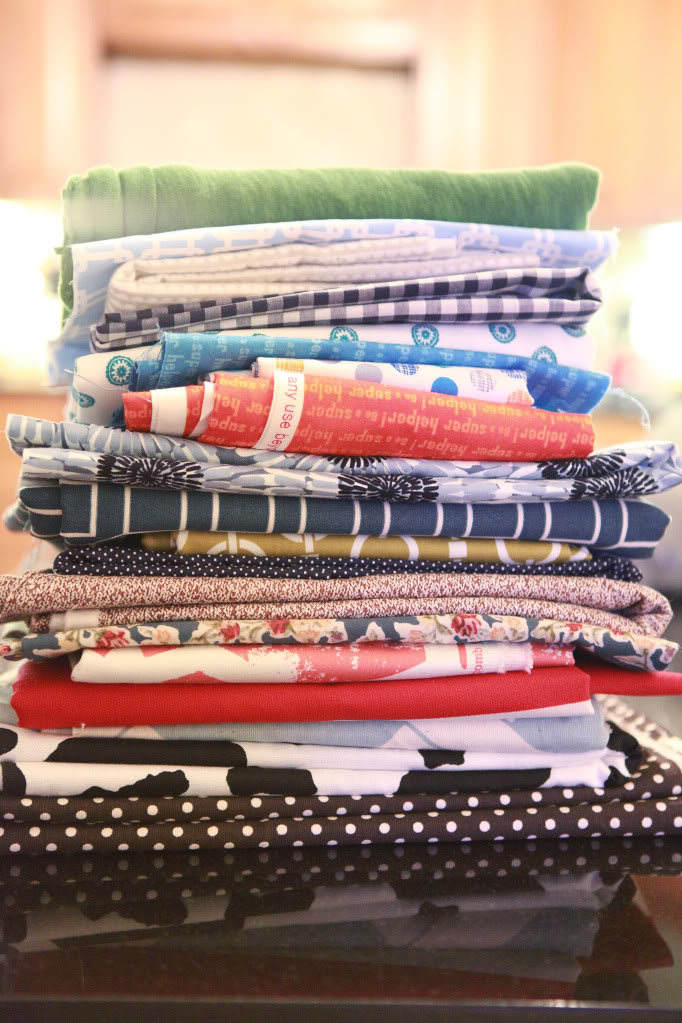 And when I go fabric shopping, I get inspired to get other stuff done.  It's weird.  It's like a Jolt Cola to my to-do list.
This piece is perfect for me for a million reasons.  First reason I love it – the cost.  I only paid $32 for it.  Yup.  Goodwill has senior discounts and I fully exploit my mother on Tuesdays.  So the original price was $50…marked down to $40…with a 25% senior discount…for this old lady 🙂
The second reason?  it's a little curvy, a little ornate, but not too much…the lines are strong and the trim is thick…it's like a nice thick piece of bacon 🙂
I love the top and I love the detail on the doors that mimics the lines.  I also love that it's not too deep but really tall.  Perfect.
I do not however love the back.  It's not purty at all. I also wish it was solid wood.  It's not.
So this is kinda some info on prepping a veneered piece of furniture.
When prepping any other solid piece for paint, you simply focus on one thing – making the surface with enough grit to get the primer and paint to stick.
When prepping veneered pressboard or anything that has just a thin piece of wood on top – it's important to grit it up, smooth out divots BUT not sand too deep.  And be careful on corners and edges – because they might already be worn enough and further sanding can expose the non-solid wood below.
After you have the entire piece done, it's very similar to painting a normal piece.  You want to wipe it down completely – eliminating any dust.  Make sure you pay special attention to corners…and don't forget the flat vertical surfaces.
After it is dry, lay it out for priming.
This is my favorite spray primer.  Zinsser Oil-based Primer cover stain is da bomb dot com…it's the bacon on my BLT…not that there is anything wrong with tomatoes or lettuce…and heavens knows mayonaisse is like milk from the breast of Jesus.
Then paint as normal.
So as my piece was drying from all those coats, I went to work in the dining room.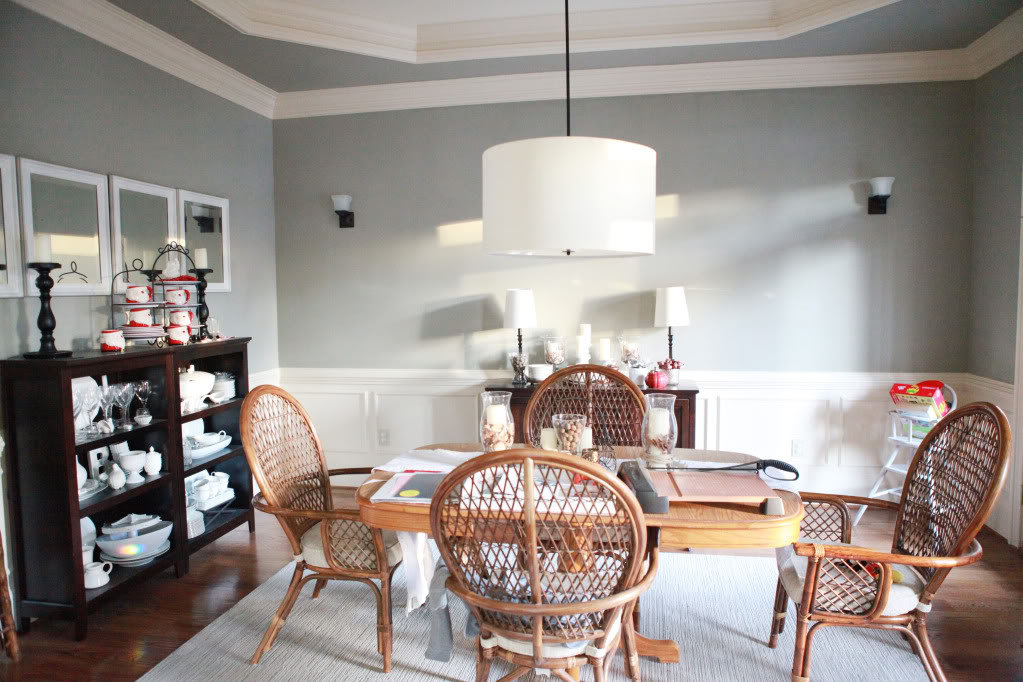 As you may recall, the dining room has some storage issues…or should I say, I have a hording problem.  same difference.
This little wall had two bookcases with the white dishes in it.  And as much as Will left them all alone, the dishes taunted his little friends with urges to touch, break and throw.  So I decided that making the house kid-friendly didn't necessarily just mean for my kid.
And the console that we removed from Will's room (we formally used it as his changing table) and put in the dining room, well, it was just too small for the big wall.  That wall is very wide and needed a piece with a little more substance.
Plus, if I put the tall piece on that big wall, I could balance out the dark brown by putting them on opposite sides.  Of course, that tall piece would provide more closed storage…so I could remove the bookshelves…so moving the console made the most sense.
See how unbalanced the entire thing looked?
And the mirrors would have to go too…since they would be wider than the console.
The overall view…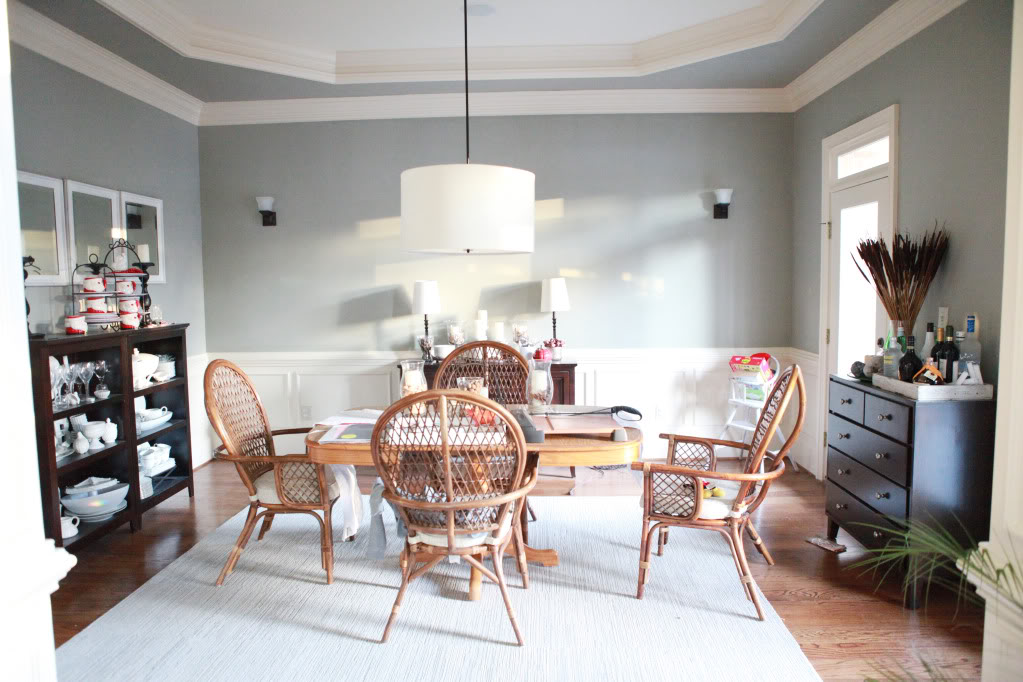 And this is the view from the front door…not cute.
So after I removed the bookcases and moved the console, instantly it looked better to me…and I still had balance.
Okay – now that you kinda got the dining room framework…
there was one thing I needed to do before putting the hutch in place.
The back was coming off.  Boo.  Hiss.  Spit.  (not really cause I don't spit in the house)
Don't worry.  It's not anything my staple gun can't handle.
Okay – so I moved in the painted piece to the tall wall and I love it.
The hardware is still drying so this is the best after shot I have right now.
Do you like it?
The outside is painted just plain white.  It's the pastel white base…ultra white base with no tint.  The inside I did in Martha's Kerry Blue…it actually looks more denim blue vs the teal color it looks like in the photo.
I also conned Jer into bringing up the crazy ornate mirror we inherited from his great aunt.  I think I might repaint it a fun color – because the gold is a little too much.
I think I'll probably wait till I figure out the fabric for drapes and possible chair cushions before picking the color.
Oh and I still plan on sprucing up this side of the room too…adding a couple wine bottle racks, curtains and curtain rods.
kinda like this: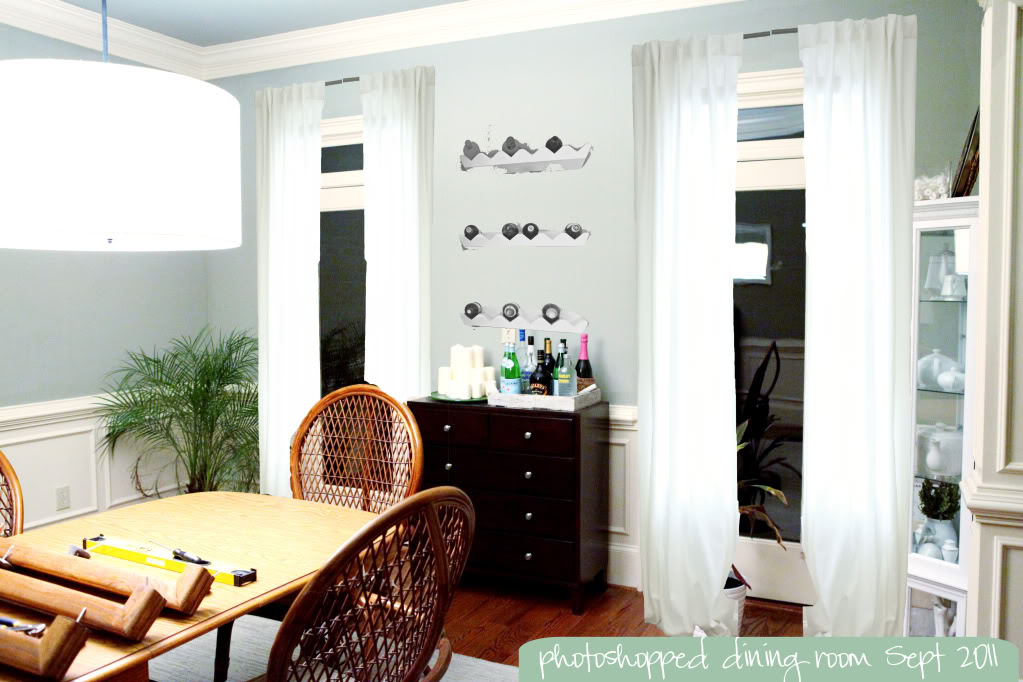 So that's where it's at.  Wish me luck with finishing up the hardware!
Oh and hopefully by the end of next week I'll have this place looking spruced up for a juicy styling and finished hutch post.  oohhh!  enter a visual of me doing the bike pump move while simultaneously kicking my legs out for joy here 🙂