HEADS UP!  Totally off subject but I am putting an email mailing list together!  There will be an annoying pop-up for the next week in the middle of the screen so my apologies if it drives you bonkers but I REALLY think you should pop your email in there….I will be sending out a weekly email update with extra content (BOWER POWER BONUS!) and I don't want you to miss out!  THANK YOU!!!!  LOVE YOU GUYS! 
My little sweetie is TWO!  Can you even believe it!?
I mean, it was just last Wednesday when he was born.  At least that is how it feels!  And now he is a full-blown mobile, always talking, sweet and rarely sour, and funny little toddler with a big personality and ginger hair that matches his fiery little spirit!
He may be small in size but dude, this kid has been known to beat on his bigger brothers and take on the scariest stunts.  Seriously – this one is gonna be the end of me.  I just know it.  But anyhoo….let's just celebrate that he has made it two years without breaking any bones!  Speaking of bones – he is all paws in for his favorite "movie" – PAW PATROL (or "awp-atrows" as he calls it!) and so we had to throw him a Paw Patrols birthday party!
This was just for family and a friend of LJ's choice.  He of course chose Talia – his 8 year old bestie from church that he LOVES and she is super sweet to him!  She calls him "her baby" and he eats that up  – following her around and letting her hold him like a baby 🙂
His shirt we found at Party City and he picked the red one with Marshall (the fire dog for those of you who aren't Paw Patrol regular watchers!).
So for this party, I decided we would set up one table of food and if it didn't fit on the table – well, it wasn't gonna be served.  This is the absolute best way to limit yourself if you are like me and would make everyone at the party their own menu.   The balloons are also from Party City and amazingly – it's been several weeks and they are still flying high!  The wall paws I printed on my big Canon PIXMA printer and cut them out.  I put the free printable for these at the end of the post!
For food, we did all themed dog-related food.  The menu included Fruity Kibble (fruit salad), Rubble's Rubble (Peanut M&M's), Pawtato Chips…
Pupcorn (popcorn), Chew Sticks (pretzels which are in the bottom of the cups – these I got at Walmart and the party blowers I got at Party City)….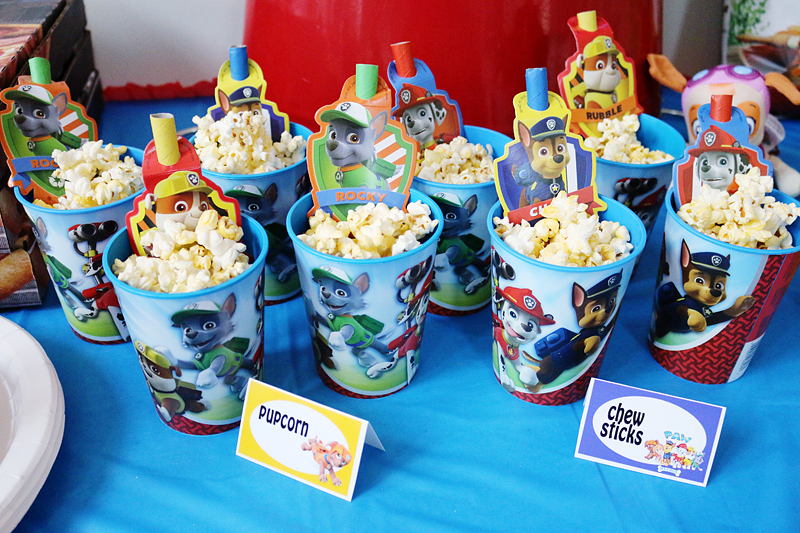 Paw-peroni pizza and cupcakes.  The little Sky (the pink dog) and the Rubble (the yellow dog) were $5 each at Party City for prizes for the little games.
It's always a good idea to add height to your party table and this time I did it with a red metal tub that I turned upside down to hoist up the cake plate.
We had our drinks in the kitchen in a big cooler (lay down a bath mat and put the cooler next to it so that people don't drip on your floor!)…but all the food was in here.
For the party favors I made these dog treat containers and filled them with goodies for the kids.
The dog treat containers were from The Dollar Tree and I stuffed them with Paw Patrol tattoos, candy, a Paw Patrol magic towel (also Dollar Tree) and Scooby snacks (we just said that Scooby was Zuma's great uncle! ha!).
I made homemade cupcakes for dessert and they were so simple to decorate….just some buttercream icing and an upside down Scooby snack to stick with the dog theme!
The kids were great – Natalia had all the boys rolling 🙂
At first the kids played outside but then it started to rain a little so they came in for a little coloring activity.  I got these coloring posters also at the Dollar Tree!
The absolute favorite activity was the one that I least expected.  Basically it was a bone race!  I had two doggie dishes from the Dollar Tree and I put the Scooby Snack inside it and the kids had to race crawling on their hands to see who could get there first and eat their bone.
Seeing them try to get the bone out was hilarious!
Once it was eaten, they had to pant like a dog to show me their clean mouths.  Whoever ate their entire bone (no crumbs in their mouth!) won.  It was hilarious to see them go and pant and act like little pups!
Most of the big kids loved the game – the little ones were shy but loved watching 🙂
Even the adults were challenged to see who could wolf down a bone first.  Jeremy took on Danny and LJ was their little race master 🙂
They had techniques 🙂  Danny ended up winning and I am sure he is gonna treasure that title forever!
Sweet little LJ really understood the candle thing this year and he didn't try to eat the cake without hands this time 🙂
SO ready for presents….he is basically begging me with his eyes here…
He got some of the most thoughtful gifts – a little folding chair so that he can sit with his big brothers, a dog kennel with Boo Bower (his first Chow doggie), lots and lots of soft balls, Lil' Chuck trucks and a wagon from his brothers.  He also got his first baseball glove!  Now he can play baseball with his "bubbies" in the back yard 🙂
In the end, it was a really fun and low key party and we really enjoyed having everyone come celebrate our big two-year old!  You might even say the party was PAW-some 🙂
Oh and I wanted to share some sources with you if you were gonna do a Paw Patrol themed party for your little one!  One of the best fonts I found was Grobold (CLICK HERE FOR FREE DOWNLOAD), the blog Delicate Construction has these free printables that I used as food labels and thank you tags – CLICK HERE TO GO THERE.
I formatted them for my big Canon PIXMA printer and so these are the paw prints and the printables with the food labels for 13×19 prints.  CLICK ON THE PICTURE BELOW TO DOWNLOAD THE PDF….
And if you are looking for more inexpensive party ideas, check out our past birthday parties by clicking the photos below: