Our dream house didn't have dreamy carpet.  Oh no, no.  It was more like a nightmare.  Like a nightmare on Sucky Design Street.  Every bedroom upstairs had a crazy non-neutral color that somehow matched and clashed with the walls all at the same time.
The guest bedroom has muted teal walls and the carpet was teal…but not so muted.  Oh and did I mention the stains?  Yeah.  The weird brown stains with unidentifiable sources?…they were there.
The stains matched the ones on the teal carpet in the master bedroom.
Apparently the previous owners had a thing for teal.  A very BIG thing.
The stains and color aside, the carpet was well worn in some areas.  Sorry I don't have a photo of it…but the carpet definitely was "well-loved".  The tread marks were in all the right spots…around the bed, down the hall, doorways, and the closets. 
In fact, the only carpet that wasn't noticably old was the blue carpet in the "Jack" room…after I vacuumed it, I told my darlin' boyfriend that we should definitely save it for any of our future random carpet needs.   
Of course the blue Jack room didn't hold a candle to the carpet in the Jill room (aka the Will room).  Seriously…someone was chuggin' the crazy juice when they chose this carpet.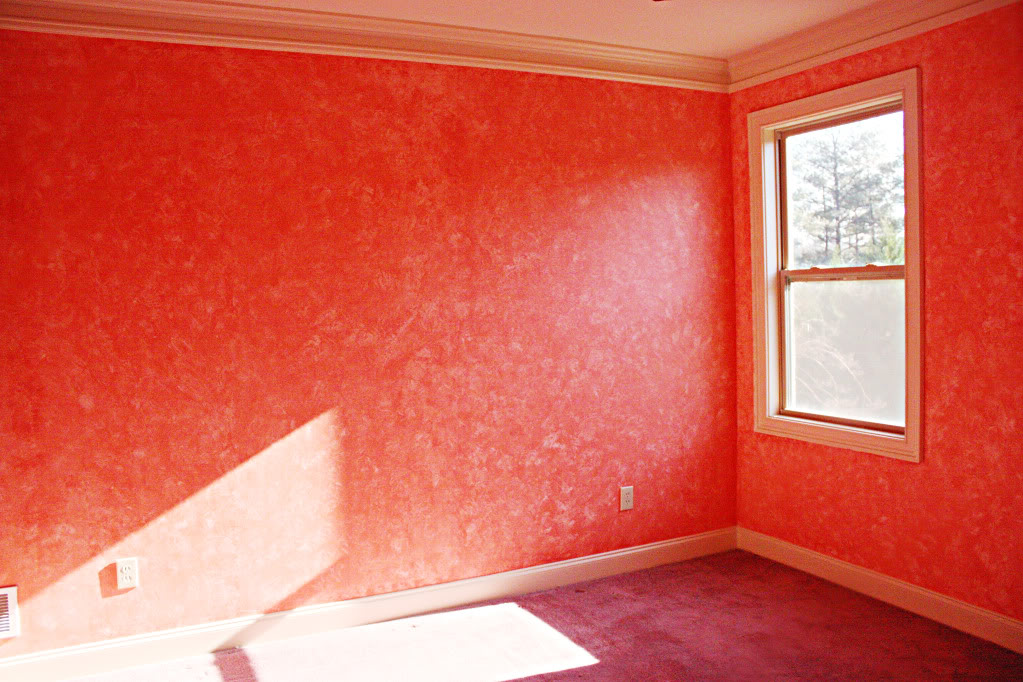 Crazy juice and wacky crackers.  Who picks out lavender carpet?  I didn't even know they made it in this color.
Jeremy & I decided that the best time to replace the carpet would be before we moved in.  That way we wouldn't have to remove any furniture or repaint (in case the carpet we chose didn't look good with a room we already painted).  And since we already had a move date, that meant we only had a week to get the carpet picked, ordered and installed. 
After many phone calls and shopping trips, we decided on the Martha Stewart carpet in the Winterthur design.  It looks like a trellis pattern and it was pretty much the only design that both Jeremy & I could agree on. 
We found out that Martha Stewart carpet (which is only available under that name through Home Depot) is actually created by Shaw Industries.  Shaw Industries is a vast creator of carpets and they are sold all over the place (Lowes, Home Depot, etc).  Since we live within a couple hours of one of the largest carpet hubs in the world, we even gave Shaw a call to see if we could get it at a wholesale price.  We were even quoted a lower price than Home Depot offered but then came the bad news…we would have no way of getting the old out and the new in within our time deadline.  AND there would be an even higher installation cost if we used our own contractor (vs. paying Home Depot installers the flat rate of $97 for all five rooms & six closets).  So because the overall cost would be pretty much the same and using Home Depot meant that we would stay within our timeline, we decided to buy directly from HD. 
All of our rooms totaled to roughly 1551 square feet.  That's a lot of carpet.  And in order to get the warranties through Home Depot it meant that we would also need to replace the carpet pad.  We had already planned to replace that…who knows how moist it got with those brown spots!  Plus, we learned that a good carpet pad can actually extend the life of the carpet and make the carpet much softer (which is great for little knees). 
Since Jeremy removed the blue Jack room carpet (because I am uber cheap and thrifty like that), we actually reduced the cost of the removal and haul away by $45 (hey…it's like the gift that keeps on giving…free carpet for random future carpet needs and an extra forty-five bones).  And we figured out that the local dump would have charged more for us to get rid of the old stuff anyway (they charge per pound) so the overall cost of $110 was a great steal.  It was like we got the removal labor for free!  
The carpet pad actually was a much harder choice for us than the carpet itself.  We learned that the 8lb carpet pads were priced only a couple pennies a square foot more than the 6lb carpet pads so we immediately gravitated toward them.  Plus, we wanted something recommended for our patterned carpet.  Then we heard the magic words "lifetime pad warranty"…they described the Nike Grind carpet pad.  The cool thing about this pad is that it is environmentally friendly.  Nike sends all their shoe scraps to the foam company who then creates this recycled carpet cushion.  We generally aren't wooed by all-things-green but in this case, we were oddly excited that we were helping out just a smidge in keeping a little less outta the landfills.   Here's a link if you are interested in the carpet pad info available at Home Depot.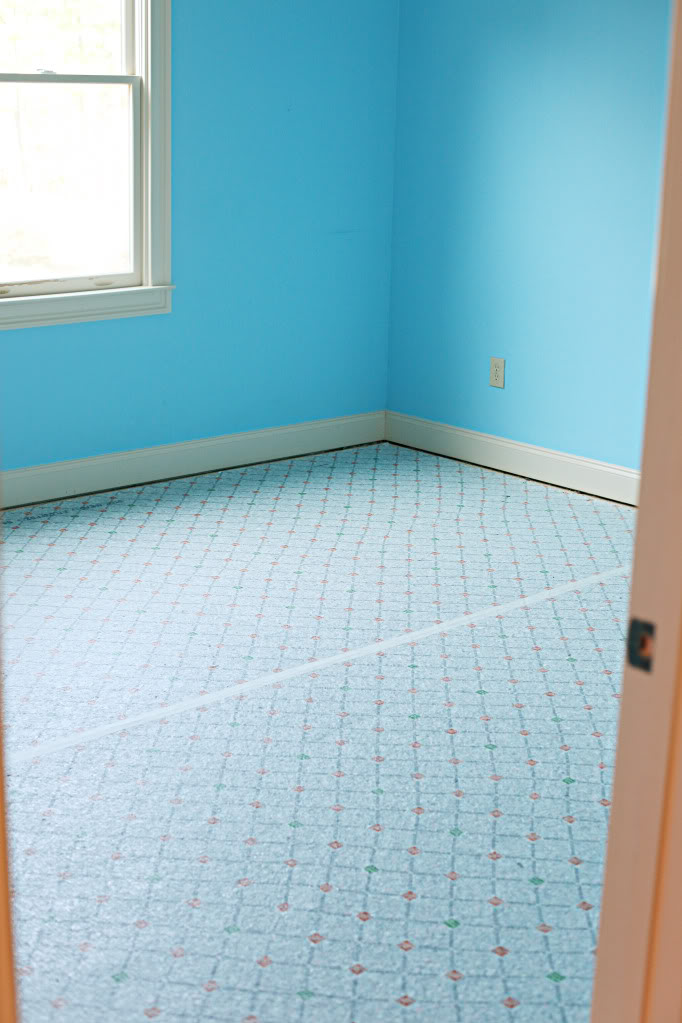 Yes, that is an installer's ba-dunk-a-dunk puttin out the carpeting vibe.
When it came to installation, it actually took all four guys well over 8 hours to get the old out and the new in.  They used our front circle drive as the layout space for cutting and prepping. 
I thought it was so interesting that they had to trim the edges before they cut it for our rooms.  I don't have any clue why that is interesting…but to a girl who ain't never seen carpet installed….it just was.
Each room required a seam.  This was one of the MANY reasons that we did not attempt to install the carpet ourselves.  We actually considered it (being avid DIYers and total cheapskates) but in the end, we knew that attempting to seam carpet together was one thing that we would have not felt comfortable doing.  We like to categorize things in brackets…there are $10 mistakes and there are $50 mistakes.  Ruining a bunch of carpet with bad seams would have been a $1000 mistake.  That's when we slapped down our credit card and said "Wewillpayforproperinstallationthankyouverymuch."
The carpet color is actually something that turned out to be my third choice.  At first, I was attracted to a much lighter, almost white color.  Most of you know that I like white.  I have a white couch, white dishes and towels…heck, I even have a white baby.  But I can't bleach carpet like I can with all my other white stuff (baby not included).  And being a very dirty girl (heehee) I knew that we needed the rug to hide any future dirt smudges.  So I changed my choice to go with a darker more green based brown.  It was very similar to this color but the undertones were a little more olive.  Then I got to thinking about future paint colors.  And I decided that the green undertones weren't as neutral as I may like.  That is when I chose this – it's called Ash Bark.       
I love that it is a beige with gray undertones.  Not too warm…definitely not too pink.  Just right for my whole go-with-anything&hide-dirt idea.
And here it is after it was fully installed (you can see we had immediately brought furniture up into these rooms…that's how tight our deadline was!):
 From the angle above, you can see where the seam is…but I promise that after the carpet was vacuumed, it pretty much disappeared. 
The other great thing about the neutral infusion was that it actually made the crazy teal rooms a little less crazy.  In fact, if I had a bucket of touch up paint, I would totally keep them this color forever. 
Obviously there are some paint colors that just need to die though. 
 And yes, I let my baby sleep in this room.  I am hoping that it doesn't scar him for life.  If he has nightmares as an adult about getting trapped inside a can of salmon, we'll know why.
This photo is probably the closest representation of the actual color…not too shabby, huh?! 
Plus – it is soft.  OH so soft.  Like sometimes I lay down on it just to rub my face on the carpet.  That is not a joke.  It actually happens.
Okay – and now for the detail info…for anyone who is in the market for new carpet:
Carpet – Martha Stewart's Winterthur in Ash Bark
Carpet Pad – Nike Step Ahead Carpet pad
Cost Breakdown:
CARPET   172.33 square yards (1551 square feet) x $16.70 per square yard ($1.86 per square foot) = $2877.91
PAD 172.33 square yards (1551 square feet) x $6.21 per square yard ($.69 per square foot) = $1070.17
INSTALLATION $97.00
REMOVAL / HAUL AWAY  1105 square feet x .10 per square foot = $110.50
TOTAL $4155.58
Ouch.  That number still hurts.  But in the end, I am so glad that we went ahead and got it done.  It would have truly been a pain in the furniture-haulin-forearms to have to move everything in each room.  Plus now Jeremy doesn't complain about any smells (he has this hyper-active nose that drives me crazy) and I don't have to worry about whether or not it was a brown spot from Will or one from a previous owner.
So that's the whats-what when it comes to our new carpet!  Looks good, right?