This past month we celebrated Max's first birthday and I couldn't wait to share it with you!  A lot of you may be confused.  Yes, Max was born in June.  And yes, we waited till October to have Max's first birthday party.  You see…back in June, on the big day, we did have a little birthday celebration for him but we were eager to have a legit party.  Then he got sick.  He had colds.  And summer colds are amazingly awful.  And then the following month, we had a big conference that we were preparing for and my folks were gone a lot so we postponed it till August.  Then in August, Max got sick again and then had seizures….which scared the living daylights out of us so I basically put life on hold and did nothing until he was 110% again.
Long story short….by the time we had a free weekend, with family that was all available to come, it was the beginning of October.  BUT the weather was amazing…so I consider it a win because he was old enough to blow out his candle and still enjoyed smashing his cake to smithereens.  Here is our official birthday recap!
Max's first birthday was Where The Wild Things Are themed and it was perfect for my little guy.
I printed off a little welcome poster on my Canon printer (the one I rave about) and it was seriously the fastest party prep ever.  I just taped it to the easel for a little confirmation to guests that yes we are having a party….and yes you are at the right house.
I got this little woven crown for him ages ago from Etsy…it hardly fits his giant head now 🙂  And his shirt was also from Etsy.  I'll link to the party props at the end of the post if you are looking for your little guy!
As far as decorations go, I did one big decorated area with these fun mylar balloons that spell out WILD ONE.  That's totally a play on words 🙂 It's where we put the goodie bags and the book and the cake too.
The book we ordered off Amazon and had everyone sign it.  I love having different traditions for each boy and I can see Max's being that every year it is a different book getting signed!
The goodie bags were filled with colored water balloons….for being wild at home.  The other moms hated me 🙂  And chocolate….just in case the kids weren't wild enough.
The baggies themselves were from Hobby Lobby and I made the tag with my Canon printer again.  I used the same method that I did for the baseball baggies.  Click here to read that.
At the kitchen table, we set up a crafting station for all the kiddos.  This was where you could make a Wild Thing Mask!  It was a hit with the little ones and they LOVED having that spot to sit and create.
I cut out everything prior to the party because I was a little nervous about being able to monitor lots of little ones with scissors so having hair and eyes and noses and teeth all ready to go made it easy.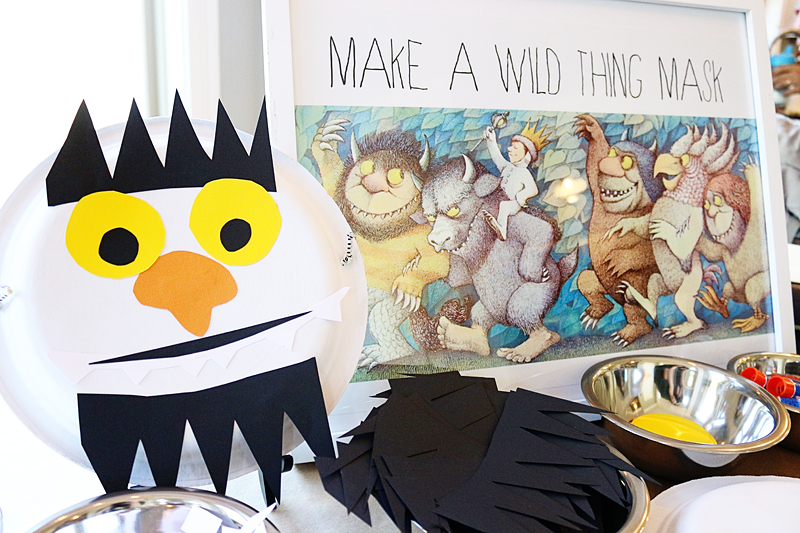 It was also nice that the kids kind of did this activity in shifts….the little ones went first and then some bigger 3 & 4 year olds went next and then the 6 and ups.
I will say that if you decide to do this at home, don't underestimate the amount of glue sticks you need.  I thought I had overkill with the six that I had but apparently kids know how to really lather it on.
The best part was seeing the creative results.  My mom would poke holes in the eyes for them to see but they were more for fun than actual usage.
We did manage to get a bunch of adults to pose with them.  Aren't they cute?!
Jeremy really wanted to keep the entire thing low-key so we let the kids play in the backyard and he just cooked out.  And we watched football 🙂
My mom helped by bringing some foods…dips are always a good idea at parties…and it really did help tremendously.  In the past I always kill myself trying to get everything ready and usually I forget to actually enjoy the event….so this time I felt like I got to have conversations and really see everyone.
Oh and here is my sweet Baby D.  This is Max's closest cousin and she is just the sweetest thing ever!  Doesn't she look like me?  (the correct answer is OF COURSE!)
We didn't manage to get many photos of the kiddos outside but we did snag this one before the chaos of the cake began.  Also – something to note…I am not pregnant.  This will be the first time since Will that I had a baby turn 15 months old and I wasn't popping at the seams….or just had another one.  That's nuts, right?  I mean…I forgot how nice it was to take a break in between! ha!
Speaking of cake….I didn't even think about baking this time around.  I headed to Publix so fast that your head would spin.  I had no problem shelling out money for a smash cake perfect for my Maxi Knight and the sheet cake for the masses.  I've come a far way people 🙂  And yes, that is a homemade crown.  I just cut it out of card stock!
Maxi Knight may have had a little birthday celebration on his actual day but we did make him wait those extra three months without a taste of REAL cake….so needless to say….kid was ready.
I love how serious he is 🙂
And he knew just what to do!  He blew it out himself and everyone cheered!
We were laughing at how slow and methodically he tasted the icing.  Each boy is so different here!  Will took some, tasted and just started heaving it in his mouth.  Weston cried and didn't like the attention at all.  LJ went face first.  And Max….
He went little by little until it just seemed right to smash it.
The other kids got regular sheet cake and it was delicious.  Next year I will bake 🙂
My mom always is like….why do you let them make such a huge mess with it?  My philosophy is that I gave them a cake to smash…so I want to see the whole thing SMASHED.
The biggest tips I can give you to deal with smash cakes are:
have a washable drop cloth under them
do it outside if possible
have a high chair and table that you can spray off outside
be ready with milk in a sippy cup
have a second outfit ready after the bath
And just get ready to get messy 🙂
I love it when it gets EVERYWHERE.  It's just glorious.
After it got dark, we headed inside and opened presents.
we call him Winona from Stranger Things 🙂
Long story short, we had a really great time and it was exactly the kind of family time that we needed.  I love that little stinker so much it's crazy.  And now with the birthday letter to Max….
Dear Maxwell Knight,
Oh sweet boy, you are literally the best surprise EVER.  Not just for mommy and daddy….but in the whole world.  You are oozing with love and sweetness and we can't imagine having a boy more perfect for our family than you.  Your brothers adore you and fight over who gets your kisses first at bedtime.  You love saying "wook" and pointing at things you think are curious.  You are brave and try so hard to be gentle and you love grilled chicken and broccoli.  You love balls and getting dirty and you love cuddling mommy and you always are so curious about animals.  I love that you do things at your own speed….watching your brothers with so much focus but doing it all on Max-time.  You are so observant that Nana says you must be very smart 🙂  We all love getting to know you more and more and we can't wait to see what a big boy you turn into.  You make us all feel very loved and that is a really special quality.  We are so thankful that God gave you to us Maxi and that we get to teach you about Jesus and about how people need Love in this world….you will be really good at that.  I love love love every bit of you my little wild one and Mommy & Daddy promise to always be here for you…no matter what!  Happy birthday to the apple of my eye.  my sweet delight.  I love you so.  from head to toe.
All my kisses – Mommy.
SHOP THIS POST –