I've never officially introduced you to my family.  Let me remedy that right now.
My parents are Lil Debbie and Dad.  Both former school teachers…extraordinary parents….and just plain amazing, loving and salt-of-the-earth-kinda people.
My older brother is Brad.  Sometimes I call him El Gorila.  It's a joke.  Mostly about the hairiness.
His wife is Tara – she's smokin' hot and like ten feet tall.  Seriously.  The girl has legs that go for a looong time.  That's why we call her Legs McKracken.
The kids are Braden (aka Bubba – yup, it's true) and Clara.   They live in Alabama…and here's a tidbit you need to know – Brad is hands down the funniest guy I know or have ever seen or heard.  true story.
18 months after Brad arrived in this world, Ma & Pa spit out this here little lump-lump.
That's me.  Just in case you had no clue what a lump-lump was 🙂
And you should know Jeremy and our little main attraction here – Will.
Almost three years after I was born, my curly-headed sister Lori joined the family.  We all call her Nornie.  Or Norn for short.  It's a very short very boring story how that name came to be.  I'll spare ya.
When she was 19, she found out she was going to be a single mom.  Cole arrived 9 months later and literally has changed all our lives for the better.
This past September, she married Andrew…aka Boots…bought a house, and most importantly, became kin to me (heehee…i know you are rolling your eyes, Andrew!)   Important tidbit – Boots was warned about what he was getting into with our family.  And we love him for marrying Norn anyway 🙂
And then there's the baby….TIMMY!
Some of you call him Hot Tim…(skeevies)…and he works with cars.  That's his first love…anything with a motor.  But he's probably the secondmost funny person in our family…tied with my mom…equal funniessness, those two.  Random info – right now he's buying his first house.  cool, huh?  OH and he's single 🙂
This post is all about them.  All of them.
And a little idea I had.
Yeah, that last sentence is a little scary.
So here's the thing…at Thanksgiving I wanted to get a family photo…like always…and like always, it was met with grumbling and complaining and the overall attitude of "AGAIN?! DIDN'T WE JUST DO THAT LAST TIME?"…
And yes, if you look through our past two years of family photos – they are all pretty much the same.  same semi-boring pose.
except the kids get bigger.  And sometimes a new kid arrives.
Not that there is anything wrong with family photos.  Nope.  Love them.  They are hanging on the wall.
But I just felt like we needed to have FUN together.  We kids were homeschooled together for three years.  That's over 1000 days of togetherness.  And it was anything but generic or remotely boring or like-everyone-else.
So I had this idea…that we throw a theme in the mix.  that we dress up like we did in our fine arts programs.  that we laugh.  that we HAVE FUN TOGETHER (resolution #24).  and that when I look at the photo on the wall, I remember how magnificently splendid that moment really was.  that I remember how much I laughed and truly enjoyed my family.  that I smile at the very thought of that photo.
So this past holiday season, I called everyone to remind them that we would be doing our themed family photos..and to bring whatever you had to fit the bill.  And being that we live in the south…the theme would be "redneck".
I LOVE THIS PHOTO.  I love this photo more than a redneck loves his favorite huntin dog…and that's sayin somethin.
And to answer your frequently asked questions…
No – there was no alcohol involved.  All the bottles are still capped and the moonshine jugs are empty.  Makes it kinda scarier that we can act this crazy sober, huh?  And our cigarette's are actually rolled up paper because we don't have any smokers in the family.
My mother was dying laughing.  My parents are such good sports…especially when your children are yelling things like – PUT YOUR HAND ON DAD's BELLY.  and SWING YOUR LEG OVER THE SIDE OF THE CHAIR.
And my mother will have you (and all her music students) know that she does not promote smoking and drinking.  Or poor oral hygiene 🙂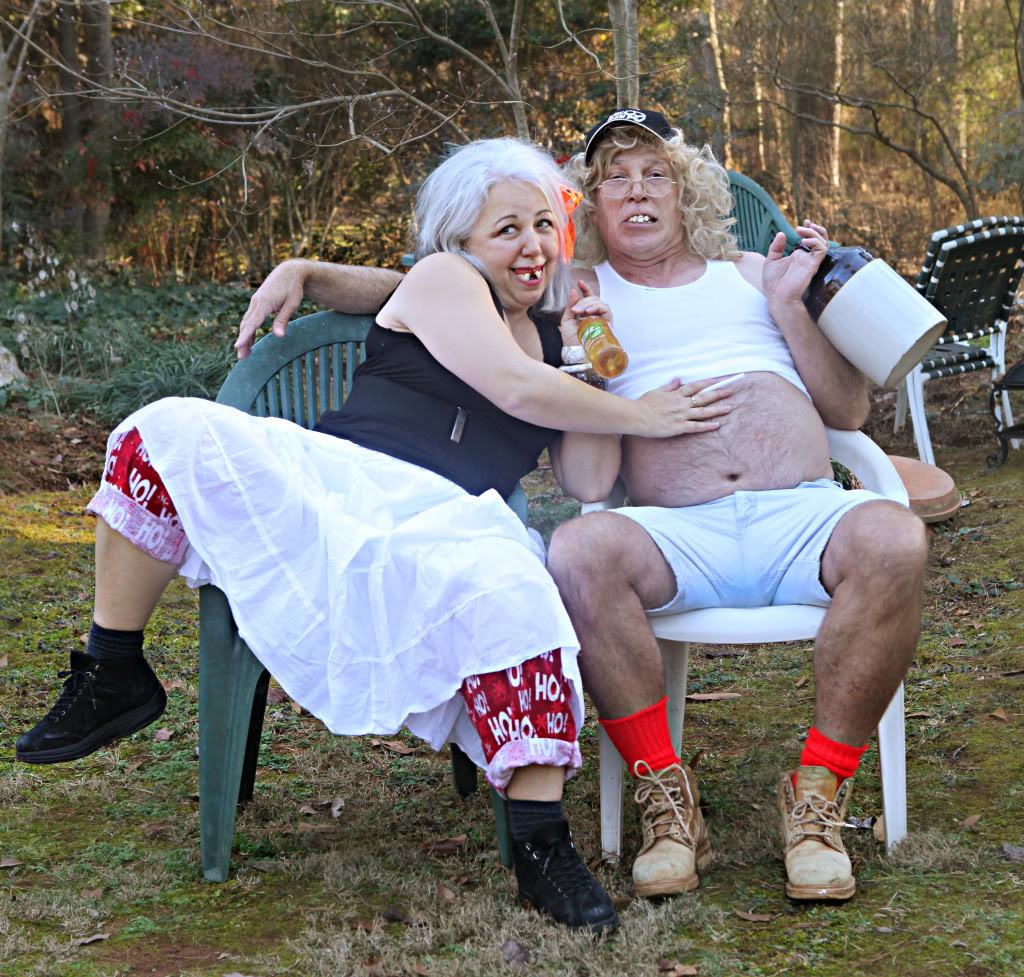 And no – that hair is not actually my dad's.  At least the stuff on his head isn't 🙂
The teeth are fake too.  My mom had a giant bag of them.  Don't really know WHY….
The belly however is real.  All of them.  Not photoshopped.  Not pregnant.  Just too small jeans and the ability to push out the muffin.
Did everyone plan ahead on their outfits?  No.  Some of them were literally thrown together minutes before hand.
The chainsaw is real.  And it was in action like ten minutes before these photos.  And the lawn chairs are actually real too…and were there prior to the shoot and probably still there right now.    And my sister's shirt was a Native America yelling at some wolves or horses or somethin awesome like that.
The boys all shaved that day to make their chops and 'staches.  Jeremy was voted as most authentic…and he wore it like that till the next morning 🙂
Timmy cleanin his toes…
I have literally never laughed as hard as I did when I saw everyone's outfits.  We talked about it all day.  And when we saw all these outtakes, I laughed so hard my sides still hurt.  and I wanted pork rinds.  but mostly I laughed.  to the point of tears.
I peed my too tight jeans twice.  I wish I was kidding.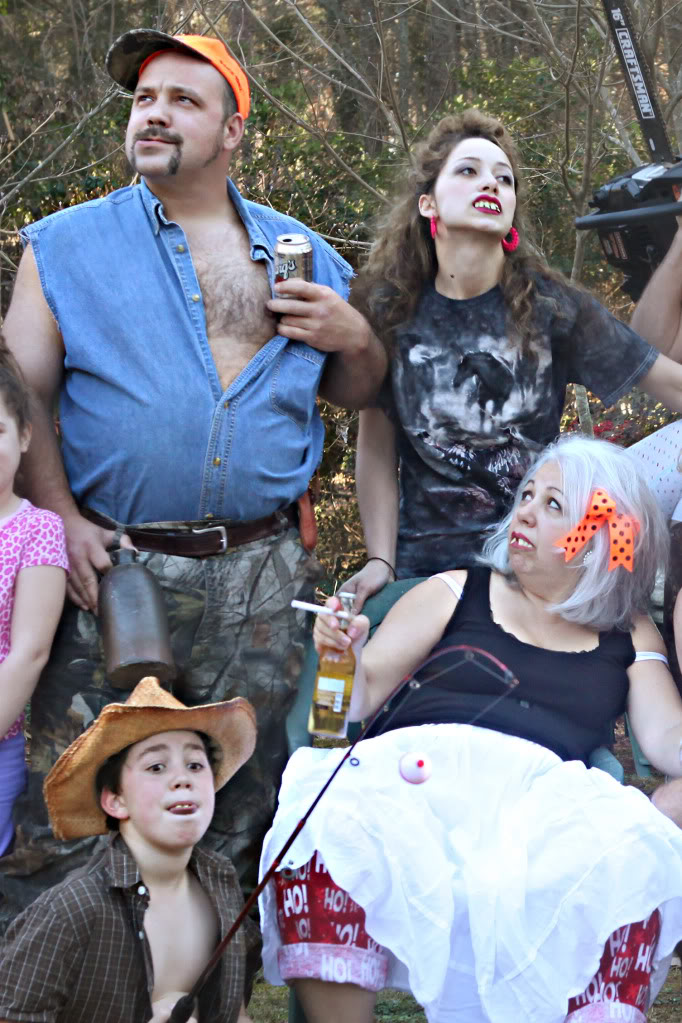 And then…in the middle of our shoot…the neighbor's starting watching.  It was hilarious.  And then we went right back into character and continued shooting.
Will was yelling at the dog.  He isn't a huge fan yet of big doggies.
And yes, we will be doing a theme next year.  We are already talking about it.
So that's it…that's how we spent Christmas.  Oh there was presents and food and shopping and all that…but all these moments I will definitely remember.  I will treasure them.
Do you do anything memorable or fun or just plain crazy with your fam?  Anyone dress up?  Or make memories that you'll never forget in a way that may look nuts to everyone else…but to you, they are literally priceless?  Anyone else able to convince their folks to dress up?  Well, whatcha waitin fer…put er down rite ther in the commentin section….