Will is five months old and I am just now showing you his nursery.  THE SHAME.  Please forgive me.  I know not what I do.  Please forgive me.  I'll never stop lovin' you.  Totally made up some of the words to the song.  And yes, I am a crooner.  But the point is clear: I am a loser for not finishing earlier.  But now that it is FINISHED (yeah! virtual bootie shake!) I am super pleased to share with you the littlest Bower's room.  So without further ado…our nursery:
You may recall that we were going for a cabin-in-the-woods-meets-modern theme.  And every cabin needs log walls, right?  Well, instead of chopping down some trees and attaching them to our drywall, we decided that the best way to make it look woodsy without actually harming any woods would be to recycle palletwood and make an rustic accent wall.
You can read all about how we created the accent wall here.  I love the texture and rough masculinity it brings to the room.  And it perfectly ties in our different wood hues from our furniture and our over-the-bed-sign.  Also over the bed is a deer head.  At first, I wanted to create a deer mount from paper mache…but after a little brainstorming (and several nightmares where I had near death experiences with giant pools of glue and disappearing life rafts made of newspaper), I realized that there is a simpler solution.
I ordered a faux deer head from ebay and spraypainted it (I'll show you a before & after sometime soon).  Dontcha just love the modern look to it?  Especially in contrast to that rough wall…I hate to admit it but I am droolin' over a deer.  Plus, there is no possible way that I could have made a deer that looked that good (while still making me feel that it was secure enough to hang over our babies bed!).
The crib was a craigslist find and even though Will has yet to christen it with his nightly presence (he still sleeps in a pack n play and cosleeps) we know that it will last through all our children.  The bedding is actually just a simple white crib sheet and a homemade bedskirt which hides storage bins holding clothing.  We also have a few throw pillows in the crib for now…until Will makes the transition which will probably happen when he turns 14 🙂
Over the bed we wanted to a personalized sign…something that would make a large statement (pun intended) and also be something Will would think is cool in fifteen years.  Our solution was to make a simple sign out of 1×8's and handpaint "Watson Creek" with some leftover sample paint.  How is this personal?  Well, it just so happens that Watson Creek is the place where I did my maternity photos and is a branch of the Yellow River (which runs behind my parent's house).
After I stained the wood and painted the words, the sign only required a bit of wearing-in.  A little sandpaper and a good beating was all it took to make this sucker look worn and old.
Under the window, we stuck a leather ottoman for extra storage and for additional seating.  It actually works perfectly for Jeremy to have a seat while I read to Will or nurse him in our rocker.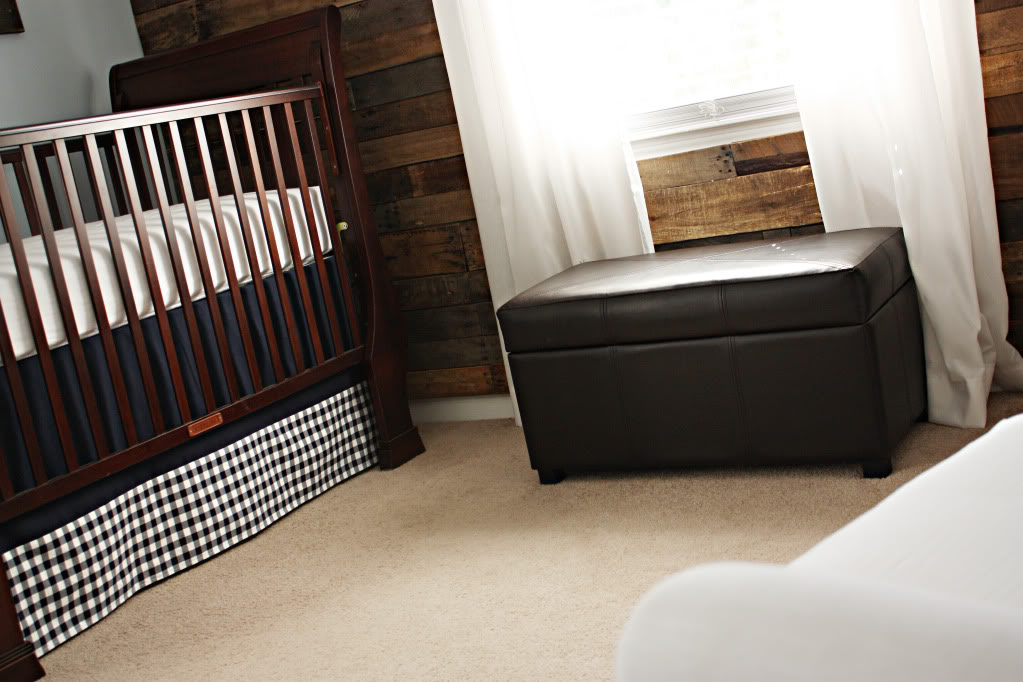 Next to the crib, on the back wall we have our changing station.  The dresser is actually a buffet from Walmart.  It works great now as a place to switch out Will's diapers and later, we will use it as a television console.
Above the changing station we have a round mirror from Ikea that Will LOVES looking at while we wipe his bum.   It's like he's showing off the goods to that other baby.  Cheeky little buggar.  And the changing pad got a quick makeover with an easy drawstring style cover that matches our crib skirt (the fabric is from Ikea for those asking).
Above the mirror I created a modern-lodge themed art wall.  The gallery of art and photos is perfect for pointing to Will and saying DEER…OWL….and WOOD.  And of course, my favorite piece is the twist on the "I'll love you forever" book.  You can read more about the gallery wall here.
The buffet itself is perfect for storing all of our necessary baby gear.  It's amazing how much stuff comes with such a little baby.  And I love compartmentalizing all the accessories for easy cleaning, dressing and feeding.
I would be remiss to not show you our little trashcan.  I got it at Goodwill for really cheap and I love how the texture is just like the woodsy accent wall.  Since we are cloth diapering it really cuts down on the amount of trash we accumulate so really a little trashcan is all we need.  Innnit cute?
On the other side of the room is our rocking chair, shelves and wardrobe.  This is also a good shot of the light.  The pendant light is the crowning jewel in this space.  After much debate, I finally decided that I wanted a giant drum shade to make a statement.  But I also wanted it to be simple and versatile enough to be used in another space later.  This chandelier answered my lighting prayers.
The shelves are actually one of my favorite things in the room because they can be totally personalized.  Not only are they ideal for display and storage, but I feel that they can grow with Will as his style changes…like when he is four and collects bugs…this would be the perfect place to put their dead carcasses.
On the top shelf we have this piece of art that my friend Brook painted for me for my birthday.  I was thrilled to see it (she actually gave it to me immediately after Will was delivered!) and the owl is something I will cherish for a long time.
On the left side of the owl is a fabric covered W I picked up in the clearance section of HomeGoods the week I found out I was pregnant.  I didn't know it was a boy at the time but I loved the design and obviously we would have a boy named Will at some point (yes we would have kept trying until we had a boy) so I went ahead and spent the $3.  Next to that is a little silver hued tin bucket with some stick crayons.  I actually picked up these crayons in Peru when I was 24.  That was before I met Jeremy.  I just knew in my heart that one day I would have a little boy and I NEEDED these woodsy art supplies for him.
Flanking the other side is a little stack of books that were gifts from friends and family topped with a concrete owl I found in Goodwill.  Originally it was black…obviously I am addicted to white spraypaint.
The bottom shelf has a framed photography piece as a backdrop to a stack of books (from the collection of Jeremy & mine as children).  I actually took the photo and it is stones that were found in Watson Creek.  On top of the books is a wooden box (which was a gift box snagged from my old work after the christmas goodies were eaten) that I stuffed full of mini cardboard books – a handmedown from Cousin Cole.  Will's closest cousin also gave him the two ceramic owls as a gift…he told me he picked em because they have nice eyes.  Isn't that the cutest?
The other side has a couple frames and a wooden Goodwill owl as well as a silver teddybear bank.  The bank was actually my brother's as a child so it really is very special to me to have a little bit of him in Will's room.
Under the shelves was the perfect spot to place momma's perch…the rocking chair.  It actually is an old Lazyboy armchair rocker that desperately needed a makeover.  So with a bolt of white linen, a bit of upholstery foam and a whole lotta staples, I was able to recover the entire chair just in time for Will's birth.  Good thing too because I used this chair every couple hours breastfeeding.
Oh and you see that blanket hanging on the back?  Yup…that's actually belonged to Jeremy – his initials are WJB just like Will's.
And the sidetable next to the chair is the perfect place to put a glass of water and Lansinoh – plus my favorite mommy books and our burpclothes.
Yes, that is a beanie baby owl.  Can I get a HOOHOO 🙂
The last piece in this room is the wardrobe.  I had help making over the cedar beast way back in December and now it is used to hold Will's clothing.  Granted…we never repaired the missing trim piece that goes over the right foot…whoopsie!
The hanging owl was actually a gift from my boyfriend's mom…it was handmade by an artisan in Chattanooga.  That makes our owl count NINE 🙂
The inside of the cabinet is the perfect size for Will's clothing.  Obviously his clothes are just for three to six months at a time so we constantly rotate the outgrown ones out and the next size in.  We also found two baskets that were the perfect size for sliding in under the hanging rod to contain the onesies and sleepers.
Lastly we have the details from the top of the wardrobe.  The globe was at Goodwill for $5…and I love it.  I love globes.  If I ever had another little boy…I might decorate his room with globes.  Every kid deserves the whole world 🙂  Oh and those little cd boxes?  They hold the cards that we received in congratulations of Will's birth as well as little knick-knacks that didn't make it into his baby book.
Are you glad that I finally showed you the finished room?  Geez Katie it took long enough.  Still so sorry about that.  But you know…life with a baby can be kinda crazy…and since decorating is a constant evolution – this room was continually changing.
So now that it is done, do you think I nailed the cabin-meets-modern theme?  Or was it really off the mark?  I love it.  I love it so much…and I know that is what counts.  Hopefully Will loves it too.  He does smile when he is in there.  But that could be just gas.