This makeover has been a rollercoaster.  and I screamed the whole way.  not literally because I have a toddler to do that for me 🙂
Let's do a short recap for all you folks just joining us…
Lowe's Creative Ideas Magazine has bequethed upon us a $500 giftcard to makeover a bathroom.  We decided to go with the flesh skinned, chocolate trimmed, gilded office bathroom…which doesn't get much action because of the nightmares it can induce.
The entire thing hasn't been touched…short of hanging a leftover mirror I had in my college days…just so that it wasn't awkward for the two guests who go in there to blow their nose and might have a cling-on.
The bathroom has 99 problems but a cling-on ain't one 🙂
Speaking of problems, the vanity was too close to the wall, the gold was waving the white flag, the paint colors were begging to be put out of their misery and the entire space lacked any style.
I told ya all about our plans for the space here….but in short – change, well, everything.
There were a couple things that we couldn't afford to change…one being the tile.  The slate shower and the creamy marble floor were going to stay.  The toilet and the vanity also needed to stay…just simply to stay in budget…and also because as much as I would love a new Kohler throne, this one really does function just fine for the limited tinkle-time it receives.
The fixtures needed to be switched out though…including the shower, the sink faucet and the lighting situation.
And we needed a little more function…as in, at least a place to put a damp towel or two…you know…for the folks that aren't Rod Tidwell and choose to not air dry (name that movie).
Oh and the paint colors absolutely positively needed to go.  I'm pretty sure that this color combo is a reason unto itself for anti-depressants.
Now that you got the 360 degree view…you probably will agree that this bathroom was anything but fierce….unless you count fiercely fugly…which I do.
I challenge you to notice the little things…the dingy outlets, the brown register cover, the ill-placed toilet paper holder, the random holes in the wall, the gold, the gold, the gold.
And now I would love to introduce you to our newly madeover girl-next-door-ready-for-the-prom-and-her-first-kiss….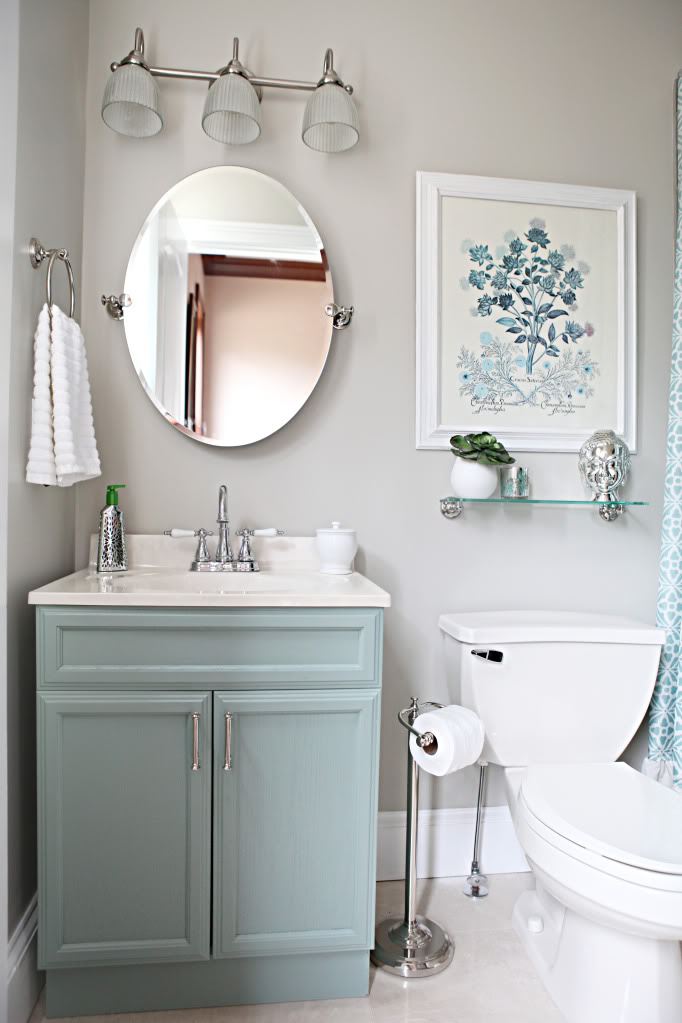 Armed with our $500 gift card, we first decided on a color scheme and a plan.  Once I saw the Allen + Roth shower curtain, I knew.  We were gonna go with the feminine turquoisey blue.  Based on that, I was able to choose paint – a neutral "Marble Tile" for the walls and "Park Place" to pop the vanity (both Allen + Roth shades).  The trimwork also got way too many coats of white paint  (and I ended up with a claw).  I felt like the only way to make bright white trim and cream tile get along was to mix both through out the space…and the wall hue was simply an extension of that to me.
Unfortunately, our shower curtain was too short.  Yeah.  So I broke out a remnant of linen I had in my sewing stash and added a girly gathered skirt.  Now she looks like a tailored professional in Nashville 🙂
Once I picked the textiles and the color scheme, it was simply the Irish luck running through my veins that lead me to the polished nickel accessories.  I scored a great deal on the mirror, towel hooks, shelf and toilet paper stand.  (you can read all about it here)
The art was actually something I got a  long time ago at Goodwill (here's when I debuted it) and have been waiting for the perfect spot to put it.  It just so happens that it picks up the colors in my plan and is feminine enough to tickle my ovaries.
The faux succulent was 18 cents in the Hobby Lobby discount aisle.  I love me a good succulent…especially since I can't kill it.  I just popped it into an old Ikea vase and paired it with a Target's christmas votive holder (it cost me a whopping 40 cents) and a mercury glass head from TJMaxx.  This particularly beautiful lady (she told me she was a girl) wanted me to let you know that she may look like a Buddha head but in fact, she is a very conservative southern Baptist….which makes sense, since we live in the Bible Belt 🙂
I love the sparkle of the head and the shine of the chrome and the simple color scheme.  It feels girly to me.  It feels like a feminine bathroom…and that's hard to do with slate in the mix.
The toilet didn't get anything done to it.  Nada.  Maybe one day I'll switch out the lever.   I did clean it.  First time since we moved in.  Don't judge.
I really dig the curtain rod and the little rollers…they jingle when you move the shower – which apparently makes Will squeel…so I did it for about twenty minutes before I decided he should breathe.  Consider these quality control tested 🙂
You probably already know what's hiding behind the hand towel…a new outlet.  I showed y'all how to switch it out…and it just so happens that the perfect place for the towel ring happens to be right in front of it.
I would be remiss to not mention the new faucet I got.  It is a far cry from the gold monstrosity that previously resided here.  And the $39 pricetag is something most everyone could handle.  (haha…punny)  It's the Pfister Sonetrra in polished chrome.
Not only did the vanity get a new coat of paint, but it also got some new handles.  Aren't they dashing?
Did you notice I also switched out the register cover on the floor?  The new vent is bright white (to match the trim) and I think it draws a whole lot less attention than the old brown one.
The little space between the door and the shower was too narrow for even a small 18″ towel rod, so we opted for a couple of hooks instead.  The towels were a wedding gift from my grandmother – and I love that they have flowers and a bit of silver thread at the bottoms…perfect for this space, dontcha think?!
I also threw together a linen shade for the window.  It's a simple double layer with a tension rod at the top.  I used clothes pins to pin it up for a bit of light…simple but effective.
Also, I had no idea what kind of doorknob to get for the room – since the office isn't done yet and it would be visible in there – so I left it open for now.
Another unfinished piece of this puzzle is the shower head and faucet.  I ordered them from Lowes.com earlier this month but I am still waiting.  The delivery time was estimated to be yesterday (giving me just enough time to install it) but I've learned that sometimes it's best to just roll with the DIY punches.   Also, don't tick off your delivery guy….cause they can leave tire marks in your grass.  that tip is free 🙂
The glass shelf is perfect for narrow objects.  I love shelves over toilets.  It makes for a spot for accessories.  And girls love accessories.
Last but certainly not least is the light fixture.  It's a Portfolio 3 light in brushed nickel.  I know.  I know.  But Katie, all your accessories are POLISHED!  Isn't that light mixing wine and beer in the same glass?  I have no idea.  I am no designer.  Or a mixologist.  I am a girl that liked the brushed light fixture more than all the polished ones…and honestly because they are not right next to each other, you don't notice the difference that much.
The light fixture was bought separately from the shades….and I am so glad I did.  The fixture could change completely with the shades.
The shades I went with were the most feminine.  I loves the little gathering pleats…the mini glass beads that were glued to the inside make it glimmer like an Oscar red carpet.
Oh yeah, this pretty girl is dancing tonight…
And because I know how much we all hate burning those calories scrolling our pointer fingers up – here are some side by side before and afters: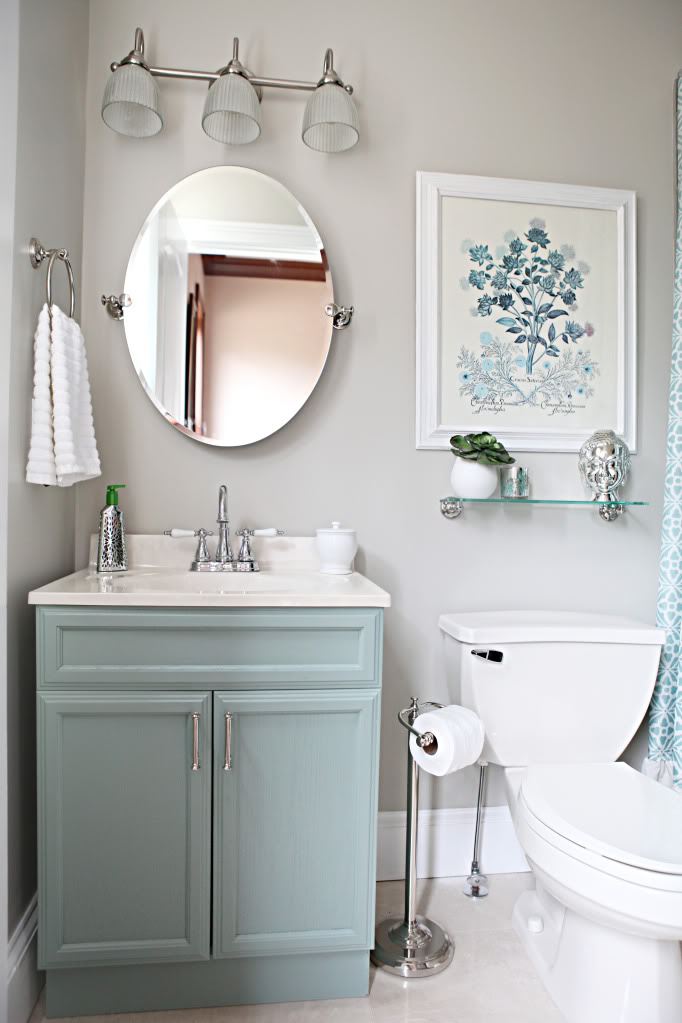 Jeremy even loves it (even with all the girly touches)…and is very excited to get started on the office next.  I'm thinking we might need a paint sprayer for all that trim 🙂
Because some of you all ask for the real nitty gritty when it comes to moolah – I broke out the receipts and tallyed it all up for ya….
Budget Breakdown:
Wall paint – $31.98 – $5 rebate = $26.98
Trim paint = $28.97
Vanity paint = $2.94
Vanity hardware – 2 @ $3.34 = $6.68
Vanity faucet = $39.00
Oval mirror = $51.79
Portfolio 3-light fixture = $29.98
Clear glitter glass shades = 3 @ $10.47 = $31.41
Shower fixture (not pictured) = $86.24
Ashbury shower curtain = $19.98
Shower curtain liner = $8.98
Curtain tension rod = $11.98
Roller hooks = $7.98
Glass shelf = $28.34
Robe hooks – 2 @ $4.49 = $8.98
Toilet paper stand = $7.49
Hand towel holder = $5.99
Electrical stuff = $18.91
Register cover = $6.74
Additional supplies = $30
Towels – already owned
Art – already owned
Accessories – already owned
TOTAL : $459.36
My strong suite is not math – so hopefully that was correct.  If not, blame my mom – I was homeschooled 🙂 Oh and everything that I didn't say where it was from – it's from Lowe's 🙂
A very heartfelt thank you to LCI for making this bathroom possible…we couldn't afford such a transformation right now…and I am so grateful to them and my readers who keep this blog going and for your constant support.  You all are the glimmer in my toilet paper holder….and knowing how much I love my toilet paper holder, that's really saying something.
Update : Looking for more info on something you see in our house?  We have a Shop the Bower House page with paint colors and links to accessories, furniture and decor!