It's hard to live in a Pinterest world….one of shiny new things, imagery of perfected home tours, and snot-free kid photos where the children apparently don't create drool in their mouths because there isn't even a slightly damp collar in sight.  It's hard to not feel the slightest bit of confusion or jealousy or feel like a bit of a failure.  It's perfectly normal to feel SOMETHING when you see those spaces….even if it's just the natural inclination to compare or contrast the difference with your own situation.  One of my friends told me that she was asked by someone that doesn't know me personally if our house was "actually that way all the time"….my friend laughed at the question and replied "no….they are normal".
And that is what I want you to know about us…we are normal.  Maybe not in all ways (um, there are pictures of my family dressed up like rednecks on the internet, ya know?!)….but when it comes to our house…yup, completely and utterly and messily normal.  It's the reason we haven't posted a house tour in so many years….because with four little boys, it would surely look different than our staged rooms in our house tour page.  Which is why I am so excited to have Chelsea from the blog Two Twenty One ask me to share some of my spaces in their natural state and explain why they look the way they do.
Welcome to the Bower Power edition of the Keeping it Real Home Tour.  I will be sharing some random shots from around my house as well as my perspective on what I see.  This might be a little TMI but we are going with it 🙂
First up is the playroom.  It was actually one of our half-year resolutions (perfectly normal thing to make resolutions in the middle of the year) to keep this room cleanish.  So this is super clean.  The cleanest cleaning-up-job that the kids can do.  You might see toys on the ground, shelves with randoms and picture frames that are obviously not supposed to be leaning on the kids art table.  But what I see is my 3 year old learning to clean up his matchbox cars.  I see a space that we are SO FREAKING LUCKY to have.  A room COMPLETELY DEDICATED TO FUN AND TOYS.
Next up is our Garage.  You may remember it looking something pretty perfect in our reveal.  But lately it has housed leftover projects, a ton of tools, some upcoming projects and a lot of randoms.  You may see a dusty floor and a bunch of boxes but I see opportunity past and future.  I know what is in those boxes – leftovers from our Haven experience…where we had the biggest honor of creating a legit booth for a legit company that we legit love.  It may look like a messy garage….but to me, this looks like success.
Our dining room is next and this is exactly the state it is in right this moment.  Filled with boxes, random table junk and no art on the far wall.  The boxes on the left are new pendants and the boxes on the right go to the Pedraza kitchen.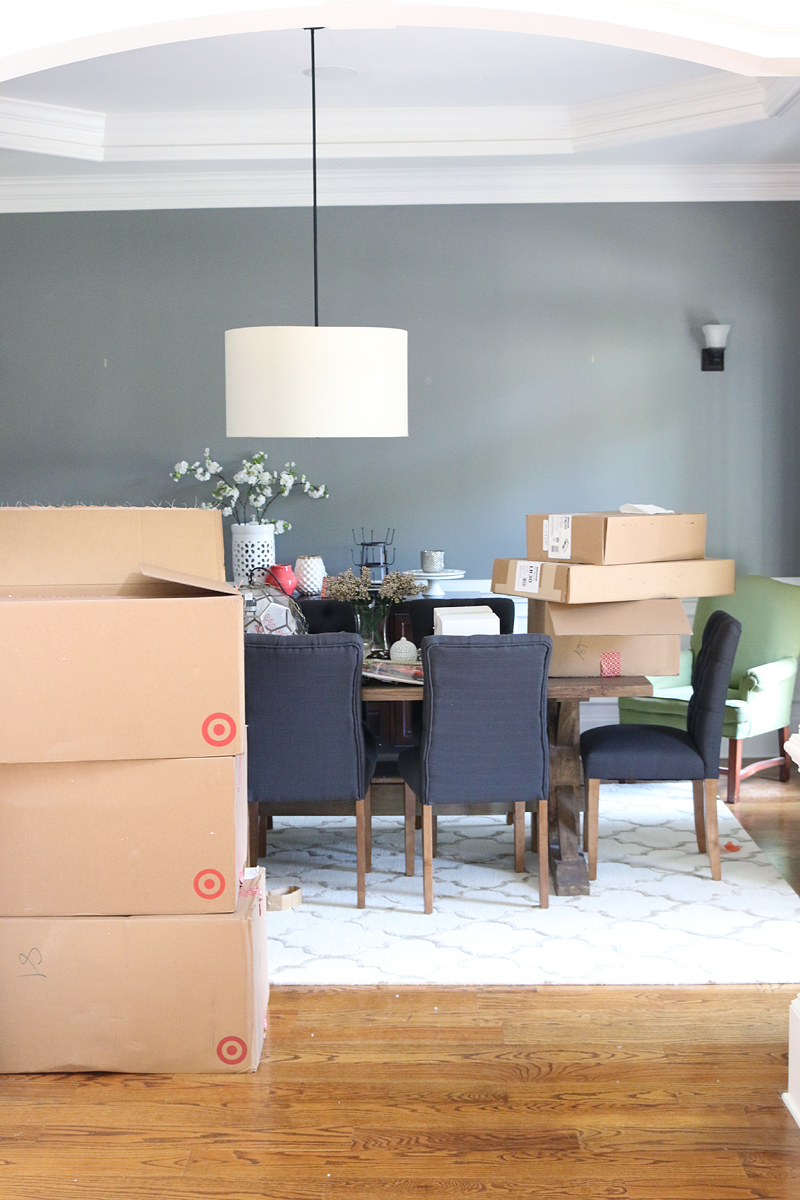 No it's not exactly pin worthy.  But it does make me excited.  I have big hopes and dreams for the lighting situation in our dining room and I know once we have a free moment to figure it all out, it will be a space I love.  And the Pedraza project is something that we are RIDICULOUSLY excited about.  To see a friends house come together and create a space you love for people you love is priceless….so you may see a whole bunch of Target boxes but I see the opportunity to serve others….and that is WAY more beautiful to my eyes 🙂
Ugh…my office.  It's constantly rotating messes.  The desk can not stay clean to save it's life.  The plants are struggling to not die.  My mom even told me….Katie, I feel really sorry for your plants.  Like I spend time thinking about them.
Those were actually words in her mouth.  And this is while she is watering them…because she knows I forget.
The desk is always loaded down with fabric (I just can't stop!) and photo equipment (I just can't stop!) and yes….things for my fifteen month old's first birthday….that we just haven't stopped long enough to celebrate.  In our defense, he was sick frequently this summer so we didn't want to throw a party for a sick baby.  You may see this and think #momfail….but I think I GET TO THROW MY KID A PARTY!  Some people don't get to do that!  And I have dust on my desk crap because I get to play with my kids and bake freakin' delicious cookies (not from scratch but dang it, we added the eggs and butter!).  And I have photography stuff everywhere because I get to capture my kiddos whenever I want.  And so yeah…it's not perfect looking but I know that it's fugly because other things…well, they just can't wait.
The most messy room in the house has to be our kitchen.  Nope….our zombie fridge still doesn't work.  And we don't have time to fridge shop because our weekends are filled with baseball and family and a very exciting birthday party (hopefully very very soon!).
The desk is just something we CAN'T get a grip over.  Jeremy likes to pile.  I like to keep every scrap of the kids homework.  My mother in law likes to send us duck visors.  It's just always our problem area.  If my house was a female body, this is it's thighs.  And ya know what…I'm okay with it.  Sure it bugs me.  But on the flip side….we don't have any collection agency bills in that pile.  That's awesome.  We get to send our kids to school for FREE.  That's awesome.  We have parents that care so much about our family that they send BOXES them of fun things all the time.  That's beyond awesome.
And yes…our sink….it's always in a state of overflow.  Jeremy says that it's because I am a pan user.  I like to use a lot of pans when cooking.  He jokes that I could be making a one-pan meal and use seven 🙂  #overachiever
But the simple fact is – THAT IS A BOWL OF MEAT.  A freaking large bowl of protein…boston butt to be exact….and we get to eat as much as we can stuff in our pork-lovin faces.  And those dishes?  We have a magic machine that does the cleaning for us.  And I get to look out those spider-web filled windows at my kids playing in the backyard.
Speaking of kids…this is our cleaned family room….complete with one pant less kid and one half done ottoman and a kiddo eating a deck of cards (fiber anyone?!).  This is normal.  And yes I would consider it clean.  It's not completely destroyed and at least nobody is crying.  The thing is – its not picture perfect to anyone else but me….and to me, it's pretty much amazing.  I mean…just look at the joy in his face over a two of hearts.  Nobody gets that excited over a deuce!
Last but not least is our garden.  A long lost project that we spent a great deal of time on before it screeched to a halt.  There were plumbing issues.  And when I say plumbing issues…I mean…we don't have plumbing out here.  So the grass we had removed is grown back in, our garden beds were never finished and the fence was never built.  I never even got around to planting the tomatoes.  One rogue plant was stuffed in the corner of the bed and somehow grew through the pot into the bed and now is fruitful.
I'm gonna end our tour on that note….a rogue tomato plant who just didn't give up.  Isn't that the message with these messy-real-life tours?  To me….it doesn't matter how your garden looks….whether it be imperfect or picture ready….you can still thrive.  There will be weeds to pull and plumbing issues and sometimes it looks like everything else in the world around you is progressing.  You may feel stuck in the corner, with broken appliances or a cluttered kitchen but let me promise you….through it all, there is fruit.  There is progress.  There is a silver lining (or a juicy red tomato) at the end of this thing.  These homes we have…they are meant to be lived in….they are here to SERVE US.  To give us a safe haven.  To give us a spot for a bowl of meat or rice or ramen.  To give us a place to lay our heads and rest.  And most of all…these places we call home….they are wonderful not because they are pinterest ready but because our hearts are.  Our perspective can change how they look and make them more than beautiful…it can make our homes PERFECT.
To see even more home Keeping It Real Home Tours – check out these awesome blogs who are also participating!
Chelsea from Two Twenty One
Jenna from Rain on a Tin Roof
Chelsea from Making Home Base
Taryn from Design, Dining, & Diapers
Charlotte from Ciburbanity