I'm so excited to have a new regular feature here on Bower Power!  It's the start of Photoshop Tutorials…and hopefully (fingers and toes officially crossed) it will land here every Tuesday morning.  See me and my bad scheduling self!  Yup…Mondays will be a project post of some sort and Tuesdays you can expect to see something photography related…this time, it's something for Photoshop.  If you don't have Photoshop and aren't interested in photography related bizness, may I suggest a whirl in the Project Gallery?  It's chalk full of yummy goodness like DIY projects and arts & craft stuff and an entire section dedicated to tablesettings.  Pappap get on that 🙂
Today our Photoshop Tutorial is for the girls.  Not just the female gender…but specifically THE GIRLS on us girls 🙂  Yup…we are talkin' boobs.  Hollah! Twinsies!  Yup…you get to see me giving myself a boob job.
After you fish your mind outta the gutter, let's go.
First open the file you would like to edit in Photoshop.   I have CS4 so that is what I'm working with today folks.  And this photo is straight outta the camera (SOOC)  so please disregard the bald spot, undereye darkness and cool white balance.  I first made a copy of my file by grabbing the 'background' in my layers box and dragging it down to the 'create new layer' icon on the bottom.  Let go of it with your mouse and bam!  background copied.
Then I select that copy of the background (indicated below with a red arrow) and go to FILTER down to LIQUIFY.
A new liquify window should pop open.  First I select the BLOAT tool on the left (indicated with white arrow) and make my brush size roughly the size of the boob I wanna plump.  I keep my brush rate in the low 20's so it doesn't bloat too fast (nothing can ruin a boob job like rushing).  Then I click on the very center of my flat boob until it looks about right.  Sometimes, you gotta fill out the sides.  Go slow.  You are playing doctor.
You can see that the image gets stretched (or bloated) and the pixels get pushed around that circle tool to make it look more natural.  If you make a mistake, just click the RECONSTRUCT tool and paint over the area that got funky and it should return the deflated boob once more.
Now before we go on, let's talk Tata Responsibility.  Let's be perfectly honest.  In a land full of Instagram filters and photoshop, there can be an urge to make yourself look like a Real Plastic Housewife of Barbie County.  You might have the thought of giving yourself huge ole boobies that are so perky that your chin is resting on them.  Don't.  Everyone will think you are weird to virtually modify your boobs and crazy that you believe yourself to be 14 again.  This is a tool for enhancement…make the girls look age appropriate and believable.  The key here is to make it completely unnoticable that you pumped up the funbags.
After you have bloated the jugs, time to make the background look unbloated.  Time to click on the little box with an inner circle on the bottom of the Layers box.  This is ADD LAYER MASK.
Now see the part that got bloated that looks weird?  The purple arrow is pointing to the bit that has the bushes bloated too.  It looks like my chest is having some sort of radiation effect on the shrubbery.  Not cool.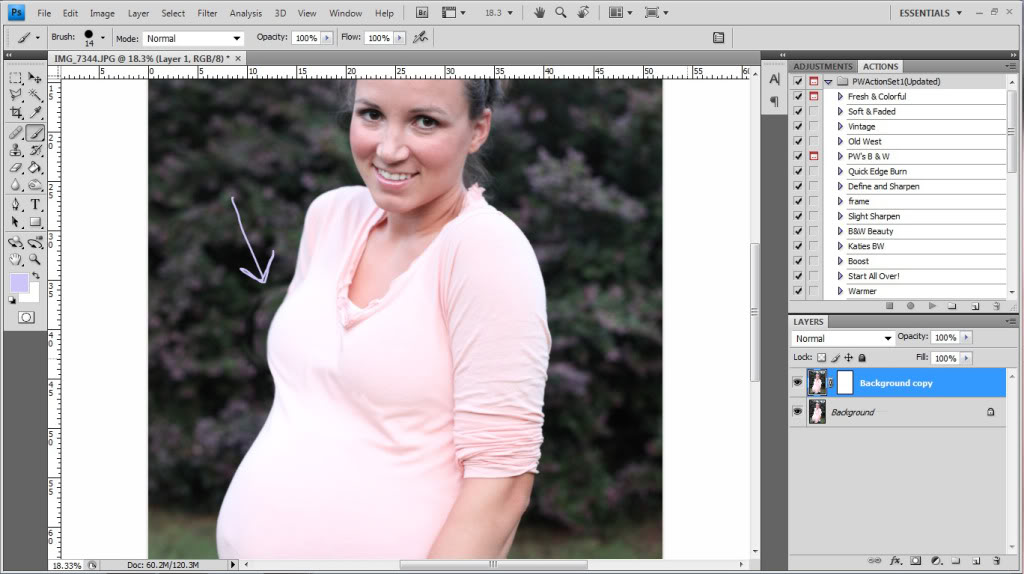 So you are gonna first select the Layer Mask by clicking on it (circled in red) and then use your paintbrush to paint the bloated-but-shouldn't-be area in black.
Now the background isn't bloated but the boob is.  Nice, eh?!  Flatten your image down and BAM.  Instant boob job.
The best part?  You don't have to pay a plastic surgeon 🙂  May the Facebook profile picture editing commence!
p.s.  Please like me on Facebook.  I'm asking very nicely and I did just give you new chimichangas 🙂  also…it's my birthday 🙂