If you haven't seen this 3 ingredient pumpkin bread on Pinterest, well, you aren't spending enough time on there. 
(see how generous I am with your employer's time?)
I wanted to do it with Will.  He's sortof obsessed with cooking.  like bad.  like the Food Network could be our babysitter.  And I want to make him a kid's kitchen (umlikeonyouknowwhere).  but a manly one…not a ruffly girl one.  one meant for an Iron Chef…not a pansy that wears a polka dot apron 🙂
Since we made this when Jer's mom was in town I had the chance to actually be in the photos.  It was a rarity that you would think I would put on makeup for.  and perhaps brush my hair.  fat chance.
Basically this bread is just a can of pumpkin…
(some people get weirdly excited about that)
and a very agressive box of spice cake mix.
My little man also added some pumpkin spice….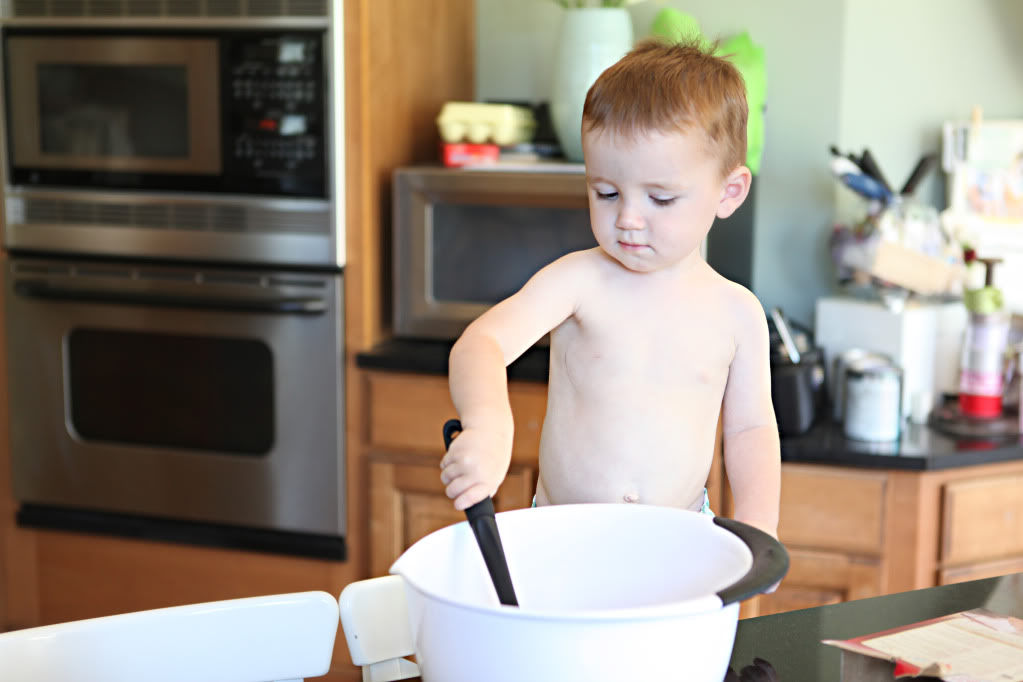 It's kinda mandatory to make a mess…and use your 'trying real hard' face when mixing…(my sister makes fun of me for pursing my lips like this but she totally does it too but won't admit it!)
Will totally starting eat the raw stuff…which I was cool with cause there are no raw eggs in this recipe.  So this is officially the first time that I've let him partake in the time honored tradition of "licking the bowl"…
Boy did mama proud!
and he rewarded me with some love 🙂
After we made our mess (next to my gorgeous anniversary roses), we mixed and mixed and mixed.
because to an 18 month old, the mixing is the best part. 
mmmm…..
It wasn't out for but a minute till the little man (sans pants) starting picking his bits.
We saw a glaze on Pinterest that you can make from Apple Cider but we just ate it with a bit of butter.
The verdict….
of course, this is the only pumpkin bread he's ever had…
but he loved it and so did I.  I think the key was not overbaking it…because oooh baby, it was like a loaf of pumpkin cake.
Have you guys made anything pumpkin lately?  We are planning on carving our 'kins this weekend so hopefully we'll have lots of roasted seeds.  MMm….I love me some seeds.   Hopefully my little Emeril will too 🙂