This is a sponsored post brought to you by FrogTape for Bower Power's FrogTape Fridays.  AND CAN YOU BELIEVE IT?  It's actually happening on a Friday.  That must be some kind of miracle.  All opinions are mine.
Iiiiiisland.  I am your lovahhhh.
(say that like "Luuuuke.  I am your fathahhhhh.")   (seriously.)  (go back and say it.  R2D2 would.  ya know…if he could talk without beeps and whistles.)
I am thrilled (THRILLED) to be able to finally get the island done.  I can't wait to wrap up the kitchen posts.  I am so happy with the final product and just want to make sure I have this process completely covered.  So speaking of covered…let's get painting.
As you may remember, we started with brown cabbies…
and then we primed the cabinets for white.  Then the island went to the dark side…
Well, the plan all along has been to build out the island to be more like a piece of furniture…and make it more symmetrical and chunky in the process.  ya know…make it my dream baby.  I like babies chunky.  and symmetrical apparently. (?)
You can read all about that process in this post.
Yes, we needed to remove all of the knobs and doors before starting this next phase.  Just in case I forget to mention that.
On the far end, we also added a shallow shelving area.
So before we got to the painting, we had to do a lot more prep work.  I went to work with my favorite wood filler.  I highly recommend this stuff…it's called Elmer's ProBond and I've been using it for years with no complaints.
I usually use a putty knife and just smear it all over.  I'm not perfect…that's what the sander is for.
You have to just fill everything really well.  I'm generous.  and messy.
If the hole is really big and the wood filler might just push through, I put a piece of tape on the other side and then put a thin coat over it.  Layering thin coats over the hole makes it a completely new wall.
After the putty dried, Jer draped the entire island with drop cloth and hid under there with a sander and a light until the entire thing was super smooth.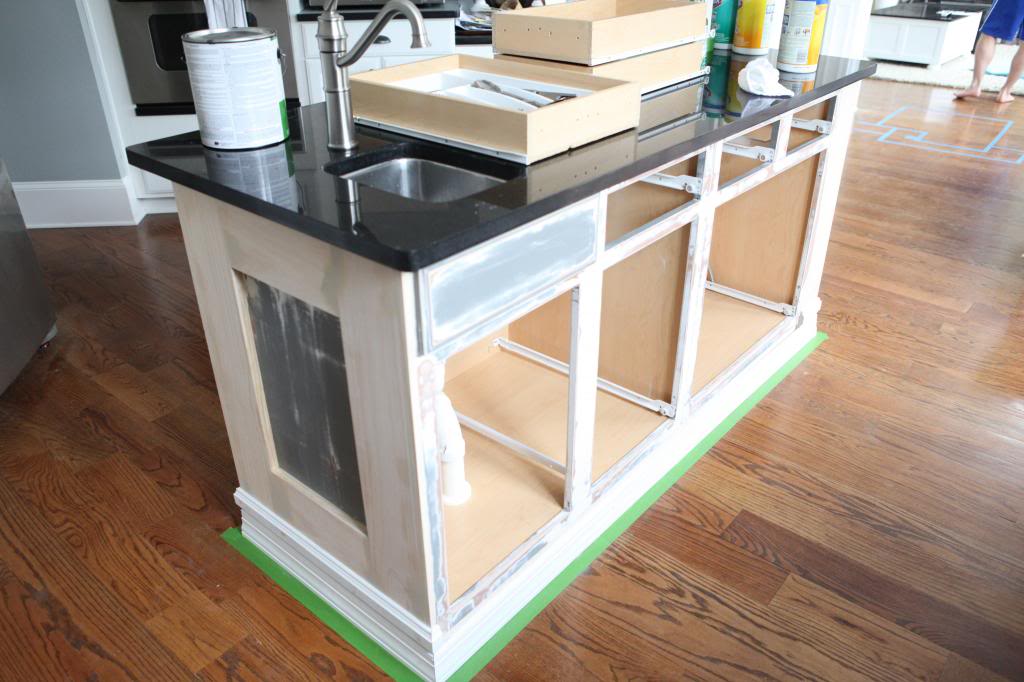 The corbels came sanded and paint ready, so he didn't need to sand them but most everything else needed to be prepped to grab the primer.
The doors also got sanded.  This took the most amount of time…maybe about 45 min per door.  It was hard to remove all the dark gray out of the nooks and crannies.
Both Jer and I love the way it looked after the sanding…if we had a tv console with doors that needed a little texture, we would totally rock this three tone look like a shabby chicster.
After the surfaces were perfectly wiped clean, it was time for the primer.  If there is something that I learned from the whole Benjamin vs. Sherwin experiment, it's that primer can be a reason that perfectly good paint can become chippy.  So this time around, I got out the Kilz Clean Start primer (like it!) and went to town with the full intention of giving it one night to dry and putting on the paint the next day.
Here's it post-primer pre-paint…
And this wouldn't be a kitchen post without a shoutout to Frog Tape….you knew it was coming didn't you!?  Are you fully aware that I'm a fan yet?  After this kitchen is over, I'm gonna have to stripe Weston or something.  Kidding.  Sortof.  kinda wanna see that now 🙂
Not only did it help keep paint off the floor (yay for me not having to scrape paint off the hardwoods) but we used the sensitive surface YELLOW FrogTape for getting the perfect shelf holes.  Here's how I did it.  First I held the shelf up exactly where I wanted it.  Jer kept it steady while I leveled it and then put a strip of tape right under it.  Then using a scrap of wood the same thickness as our shelves, I marked the lines on either side of the shelves for the correct location of the shelf holes.
I got the perfect depth hole for our shelf pins by wrapping some more tape around the drill bit so that I didn't drill too far into the wood but the pins would go in just right.
Yes, I was shaking like a leaf while drilling into the marks.  But the tape helps keep things from splitting and splintering.
I made the holes about 1 inch from the edges.  It just made sense.  And gives you some perspective on how truly shallow these shelves really are.
Then came painting.  My little assistant was right there in my lap for part of a coat.  My mom always tells the story about how I would sit in her lap as an infant while she DIYed furniture and redid her first home.  Needless to say, I am really excited to pass that story down our line.  And most excited that this time, the paint is lead free and has zero VOCs.  It explains a lot though 🙂
After the three coats dried it was time for a little caulking and we were done.  (!!!)
LOOKY!  LOOKY!  So freaking much better.
And the little shelf on the end…well, such a prettier view than what it was before.
A lot of you asked if Will messes with the stuff.  No.  He doesn't.  It's not to say that Weston won't try…or any future kids…but for right now, the little dishes and nicknacks are safe.  I just threw them on there…nothing is styled…so put that down as a to-do list item.  If we ever have grubby little fingers want to mess with the stuff, we may just put a little basket there with non-breakables like napkins and pretty plastic plates.
Also, we added the hardware back on.  AND…we added that fourth cup handle to the last faux-drawer on the end.  It was the right call…I'm obsessed with the contrast.
The crazy thing is the before and after.
I'm really loving the little splashes of color too.  I knew that it was way too monochromatic in there before…but the little bits of yellow and orange and green and blue here and there make it feel so fresh to me.
One of my favorite details is how the corbels on the island match the corbels on the open shelves on the tile wall.  So much better than the lion foot corbels from before.
My favorite before and after…
OKAY!  Now that the major projects in here are wrapped up, I can not wait to share the details of our Tile Shop photoshoot.  They came, they saw, they conquered.  And hopefully, fingers crossed, the end result will be stunning.  All I know is that there was a giant vase of limes and awkward poses involved.  Apparently someone feels like they need to alter their height whenever someone taller or shorter or the same height stands next to them.  Let's just say it was weird and call it a day, mmkay!?
p.s.  yes, there are fake oranges and real cuties in that photo above.  don't judge me for my affection to fake fruit…they are just so freakin' real looking.
Update : Looking for more info on something you see in our house?  We have a Shop the Bower House page with paint colors and links to accessories, furniture and decor!