It's been a long time since I shared a good ole fashioned thrift store/Goodwill shopping post and by Georgia, this is just that!
Basically I just go into my local thrift stores and Goodwill and snap some photos of what I am digging.  Then I might share why and what inspired me about that piece and perhaps even an idea of how you can tweak it to make it look a little more updated.  Let's just get right to it!
GOLD ANIMAL LAMP
One of my favorite sections of thrift stores is the lighting section!  I love how simple changes can totally give these pieces an updated look.  Always test them in the store!  This one has a fun whimsical owl tree carving as the base and I just think that it was well worth the $16 price tag.  It could be updated with a white shade from Target or Walmart for cheap and give you a look that is similar to Anthropologie.  Here are some examples of that animal lamp trend in gold…
SMALL ORNATE ITEMS
I am always on the lookout for smaller ornate items as these can instantly change the look of your bookshelves, table top gatherings and even centerpieces.  I start by grouping generic items (white plates, stack of books, etc.) and then put this on top as the 'dazzle'.  Since it's small and inexpensive (this chinoiserie style tin was only 99 cents) but insanely beautiful, it can add so much personality to the simple things of your home and if you ever decide to switch it out, it costs very little so no guilt involved.
HIT UP THE PLASTICS
One of my best tips when it comes to thrift store shopping is make sure you hit up the plastics aisle.  Sure, there is a certain amount of digging involved, but a good plastic container or melamine plates for kiddos, they can cost a whole lot more brand new.  And we all know that they are gonna get worked OVER by your toddler.  So save the moolah and always be on the lookout for the indesctructibles that can seamlessly fit into your life.
LOW PROFILE ITEMS
I know this sounds weird but I always look for wide and low items.  They make great centerpieces and always work well on squatty shelves and take up space visually under art without blocking anything.  This vase is a great example.  I loved that scalloped edge and the crackle finish (that was probably unintentional but whatever – it's cute!) and even the color could work in spring and summer decor.
FABRICS
Shower curtains, bed sheets, even large skirts are great for fabrics.  This large shower curtain is under $4 and that is much lower than the actual cost of having that fabric cut at the store.  If the design is cute, think of other ways you can use it with a little tweaking.  I have turned things like this into table runners, pillow covers, even napkins and it is at a fraction of the cost.
BEDDING
Speaking of fabrics – make sure you check the bedding section.  I have loved getting thrift store bedding (especially plain and simple designs) for extras in my linen closet.  Most bedding is easy to wash and reuse and some is even bleachable.  I loved this king sized duvet cover because it was all navy and still in great shape.  And $13?!  Um.  duh.
SIMPLE CHRISTMAS ITEMS
I always always always look for simple christmas items at the store because they are soooo much cheaper than buying in season items.  I snagged these glass christmas trees and since there were over ten of them, they charged me the price of the lowest one for all of them regardless of the size.  That means I got twelve for $6!  I love how the simple lines of them are so beautiful and fully plan on filling them with christmas candies and having them double as a display.
BAGGED ITEMS
Ever see those bags of things on the Goodwill shelf and think…heck no…that's broken in there.  Well, I know that is my first impression.  They put that crap in a trash bag because it's garbage.  But nope – it's really not.  I have gotten everything from silverware sets to kids toys in a big bag that is drastically marked down.  I got an entire bag of matchbox cars and transformers for the boys for $4….over fifty matchbox cars alone!  And since we lose those ALL THE TIME (I swear there are probably fifty cars buried in our yard in various places), this was well worth it.
KIDS CLOTHING
I buy probably 50% of my kids clothing from the thrift store.  I steer clear of the t-shirts and light weight items and look for jammies, sweaters, and pants (those tend to cost more brand new and everything in most thrift stores is the same price).  Jackets are also a big win for me in thrift stores or Goodwill.  Also – it's not brand-spanking-new looking, don't buy it.  It must be in great condition to make it into the cart.
SPECIALTY ITEMS
Ever see something in a store and wish you would have bought them?  I do that all the time with specialty items like these Star Trek mugs.  How fun?  I could have gotten the whole set and gifted them to a superfan or split them up with candy and Starbucks cards and a cute card that said "May You Go Boldly Where No Man Has Gone Before"….perfect for graduates or someone on a new adventure (ahem…parenthood!).
BOOKS
It goes without saying that you need to look at books in thrift stores.  It's much cheaper to buy them there than ANYWHERE ELSE.  I love getting biographies and reference books especially because they are both fun to read and also look great.  Just toss the jacket and stack them together in similar colors to get a 'set' look.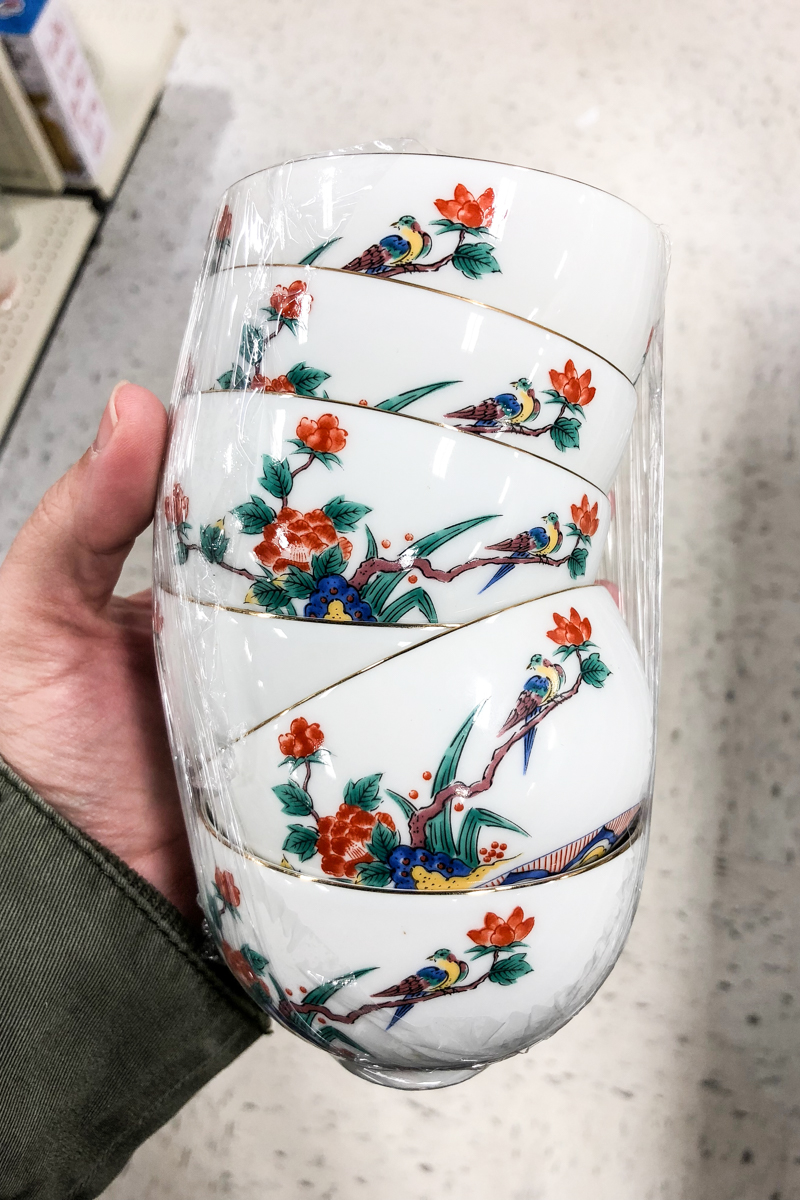 MULTIPLES FOR TABLES
I always look for multiples for table setting ideas.  This set of small bowls would look stunning for a spring or summer tables cape and is fairly timeless with it's simple bird and lotus flower paintings.  Since it has so many colors, it would be easy to draw inspiration from the blues or greens and let the other colors be supportive players.
HANDMADE ITEMS
You know me…I can not resist a hand made pottery item.  Even if an item is mass produced and LOOKS handmade, I'm in.  I loved this set of salt and pepper and spice containers that doubles as the cutest decor.  It can sit out and be ready for any seasoning need!
SEASONAL & HOLIDAY ITEMS
I get that this pink basketweave pottery doesn't necessarily scream holiday – but to me it would be justifiable because it would look sweet for a Easter tablescape or shelf decor.  I don't have pink in my home (not yet anyway!) but this would be still a cute find for a bouquet of flowers or to group Easter eggs into or hold an Easter tree!
ANYTHING WITH WOOD BEADS
Wood bead garlands are a trend right now and I am all up on board.  I am driving (?) that train….steering?….conducting?….whatever the terminology is, I am blowing the whistle and saying "ALL ABOARD!".  Look for old chair massagers (remember those from the 70's and 80's?) that you can take apart and restring.  Yes, Millennials, people used to sit on wood beads for comfort 🙂  I actually bought a back massager….not one for the car….and all my insta-peeps saw exactly what I did with it.
WHITE BOOKSHELF
I almost brought this guy home with me because of the price alone.  I had no need for it but at $9 it was just such a good price.  It's this exact one from Wayfair that runs $250 (which is still a fair price for how well it is made) but was missing some shelves.  If you see something like this at the store but it is missing a shelf – just remember that those can run about $10 a pop at Home Depot and they will cut it for you to length.
So those are some fun tips on how to shop at Goodwill and thrift stores to uncover fun treasures.  I love sharing these tips – takes me back to when Sherry and I would do thrifting adventures.  Here is one that we did that cracks me up 🙂  And I would love to make this a quarterly event….would you love that as much as me?!