This is a sponsored conversation written by me on behalf of Floor & Decor. The opinions and text are all mine.
Shopping for tile is kinda like this….
until you realize you have to make decisions.  Then it becomes a little more like this….
and then this….
It's exciting!  The choices!  It's overwhelming!  The choices!  It's a big part of the makeover budget!  Did I mention the choices?!
When we start planning for most room makeovers, the choices are dictated by fabrics and textiles.  But for bathrooms, the choices are dictated by tile.  Tile is the BIGGEST influencer when it comes to style, color, and decor.  It is semi-permanent….you can definitely remove it, but it's a lot of work and usually a huge part of the bathroom budget so installing the right tile the first time is your best bet to long term bathroom happiness.  Second to that is a good probiotic 🙂
There are a lot of different ways to pick out tile….by need, by style, by the seat of your pants.  For our downstairs bathroom, I picked out the tile based on two things…need and adjoining rooms.
My biggest need in this space was to have a dark floor.  I have a house full of little boys and this bathroom is always the muddiest, dirtiest and most used bathroom in our home.  Dark floor with lots of veining would definitely be my friend.   And to complement that I wanted to go lighter on the wall tile.  Then the adjoining room (technically it's across a hall but the sight line is the same) is the kitchen where I have a carerra marble backsplash.  So the natural choice is to go with more marble but maybe in a different design.  That is how we came upon our plan that I shared a while back….
On a free day, we headed to Floor & Decor to check out the options.
Sometimes I get asked the question "Katie, you have used tile from lots of different tile stores….where is the best one to shop?".  The answer to that is…first look at your budget.  Then pick your tile.  I personally do choose to shop Floor & Decor first because they are an entire store dedicated to tile, stone and flooring.  And they have a low price guarantee.  And they have everything IN STOCK….so when I'm ready to walk out with tile, it's there.  And they are constantly coming out with new inventory.  That a lot of solid reasons to check it out.
If you fall in love with something that isn't in a Floor & Decor store…sure, nobody is twisting your arm….but just remember, that exact same design might be coming to your local Floor & Decor next week and you could be paying double the price.  Just sayin.
For our bathroom, I first scouted out some of the marble options.
Check out these drool worthy options…
Once I pulled samples of ones that I thought would work in my space, I headed over to snag a couple large format porcelain tiles for the floor.  I knew I wanted porcelain because it is hard wearing and cleans up well.  It also is scratch resistant and more resistant to stains.  Basically it's a tile for a home full of boys 🙂
We got to gather up the options and head over to one of the helpful Inspiration Stations.
They are design desks that allow you to lay out all the options to see what plays nicely together.  I narrowed the options down to these two for my decorative marble.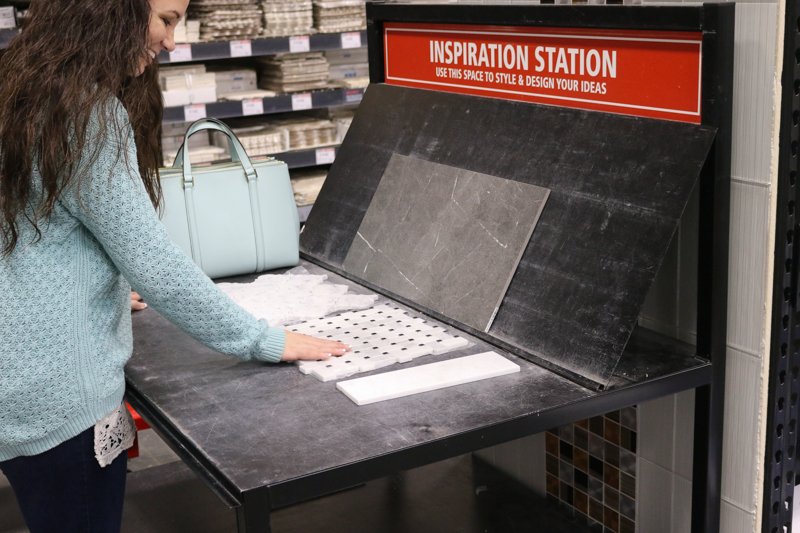 In the end, we finalized upon the arabesque marble tile for the wall and the veined dark porcelain tile for the floor.  Done and done!
But doing it yourself is only one way to make a decision about tile combos.  Another way is to get help.  Floor & Decor has designers that are always available and know what is trending and what works together.  They are right there in the store!
And if you need help seeing finished spaces, they have that too!  We love exploring their examples of bathrooms that they have set up right there in the store.
Even the boys love the spaces 🙂  But for education purposes….check out the combo of large format tile and a smaller decorative wall tile and then lastly a shower floor tile.  They all work together!  That's always a good combo for a bathroom.
And once you get help with the tile picking, you can move on to getting all the right installation materials.  I highly recommend going to the Pro Desk for installation help because those guys are awesome at knowing exactly which adhesives work best for your tile picks.  They also can help you pick the exact color grout.  And yes, that is a huge wall of grout behind these dudes.  A WALL OF GROUT.
So whether you do it yourself or get help from a designer, picking tile is always more manageable when you narrow down the choices, lay it out together and stick with your overall design scheme.  As a bonus, I created some really fun combos to show you how your style can inspire your tile choices so that no matter what vibe you are going for, you can feel inspired and not like Steve Urkel when you go shopping.
veined gray tile, white irregular subway tile, coral, towels, pebble tile
The coastal vibe is laid back and casual.  It can have clean lines and cool colors that speak to the beach lover in us all.  I recommend looking at bringing the colors from outside into your space.
linen tile, herringbone tile, pebble tile, blanket ladder, towel
Farmhouse is a style that makes you feel all the fuzzies.  It's warm and inviting and like the perfectly broken in pair of boots….the right fit for a comfortable home.  I like using loads of opposing texture (pairing honed and polished) and a lot of monochromatic hues so that nothing seems too bold.
mirrored arabesque tile, concrete tile, marble decorative border, marble tile, towel, bath salts
Glam is a fun spin on traditional that feels a smidge more fancy!  It can involve classic picks like marble and combine those with metallics, mirrors, crystal chandeliers and high gloss finishes.  Imagine what Elizabeth Taylor's bathroom would look like.  That's Glam.
slate hexagon tile, metallic subway, brown porcelain tile, bathroom accessory, striped towels
I love the modern vibe.  It's a little more masculine and perfect for young, hip (did I just say hip?!) folks that want a minimalist style that screams industrial meets clean.  I like to imagine I am making a loft space for a guy that wears tighter jeans and likes midcentury modern leather chairs.
navy penny tile, beveled edge subway tile, gray tile, navy towels, bathroom art
Speaking of young and hip, nothing is more hip than a bathroom full of bold contrast and affordability.  I love these tile picks for a youthful space.  The use of penny tile in a kid's bathroom is EVERYTHING and pair it with classic subway and a veined gray ceramic…it's perfection.
So those are some of my favorite combos for any space.  Hope that you can gain inspiration for your next bathroom project and know that it's not intimidating if you can put everything together in one space and see it come together….whether that be an inspiration station or a moodboard….it really can help you make the perfect match for your lifestyle and space.  Happy tiling!
This is a sponsored conversation written by me on behalf of Floor & Decor. The opinions and text are all mine.