A little over a year ago we had a really fun adventure to visit our favorite tool brand headquarters and I realized that I never told you guys about it!  So it is not a secret that we love Ryobi tools.  We aren't paid to say that.  This is not sponsored.  We genuinely love their products and think that it is a perfect fit for 90% of the folks out there….not just because of the price point and availability (although those are GREAT) but because the quality of tool.  Obviously our garage is outfitted with all green and we are always super pumped to share those new-to-the-market tools with you!  (click here to see our full garage tour!)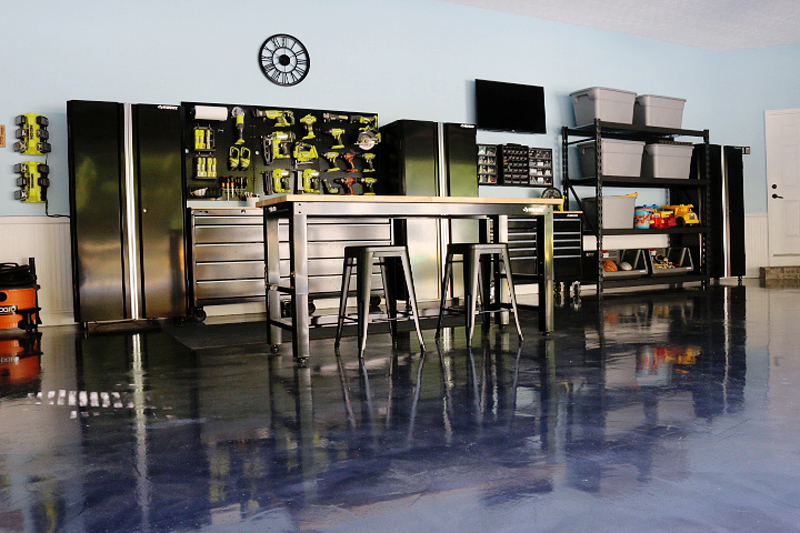 And when they invited us up to South Carolina to see how the tools were made, a tour of their facility and even an interview of us, we were not only amazed and so flattered but we walked away feeling that we couldn't be more proud to use their gear.  Sure – there will be naysayers and fans of other tool brands out there that want to argue but of one thing we are sure….we personally believe that in general, the Ryobi tools are the best tools on the market right now for the avid DIYers like us.
So last year we ditched the kids with Jeremy's dad and rented a truck (yes, we are a one car family and when we need a second car we usually just rent!) and headed north to Anderson, South Carolina.  The headquarters of TTI (that is the company that owns Ryobi) welcomed us and our luggage (it was actually clothing to try on to see how the cameras would view us!)
Look ma!  My name is on TV!
The building has this cute foyer with tools and even bits as vase fillers.
They had invited us up there to visit, tour their facility and to film a short interview as well as a tutorial on how to make my k-cup holder.
Toolin' Around is the name of their tool show and they have a whole studio set up.  It's VERY cool.
The green room (where everyone off set is viewing what you do and say) has televisions everywhere and we got to work, visit with our friends from Rogue Engineer and HomeMade Modern.
And now I am sure you are dying to see these videos right?!  I mean…who wouldn't want to see me confess to not reading books and wear a very aggressively red lipstick #whoa.  Also keep in mind that this was filmed when I was pregnant with Ella but had not revealed it yet!  I was sick every day of that first trimester and it was no joke….so if I look like I'm gonna vomit…I probably was 🙂
We also shared a very fun build – this easy K-Cup project and we love this little project!  Here is the link to the post where we show all the details on this one!
Interview & K-Cup Project
And if you were wondering about behind-the-scenes – Jesse was our host in those videos and we had a blast working with him!  The funniest part was that build project.  We did a first run of our instructions and lines (we had to make sure to say certain things like the part about the hearing protection….SAFETY FIRST!) and then when we did it live, we all got the giggles and lost our lines so many times.  The best part is when we finally got all our lines and Jeremy went to use the Airstrike and had the safety button depressed for too long and so the safety kicked on and he couldn't fire.  We were like "OK, TAKE #27!"  Overall it was just such a fun couple of days to learn all about our favorite brand and how they are constantly improving their technology and upping their tool game!
A very special thanks to Ryobi and if you are wondering what tools we LOVE, check out this old post where we share ALL our favorites!