Disclaimer – This post is sponsored by Canon.  All opinions are 100% my own. 
For Valentines Day, I love receiving flowers.  I love getting candy.  And foot rubs and sleeping in and love letters and all the sweet nothings.  But nothing…NOTHING…tops a reminder of who I really love.  And so for a little self-gifting, I made myself a sweet little present that does just that.  I made this Valentines Day photo plaque and it's basically my favorite gift ever.  Thank you self.  You are welcome 🙂
Okay…so all the materials are from the store.  I didn't use a single tool.  Well…except a hammer…to hang the whole thing up.  But you can get away with doing it with a rock 🙂
First, you will need a six pack of wooden heart frames.  These are from Hobby Lobby and cost $6.99 – and were marked down to 50% off…so $3.50 for all six.
The backside looks like this….you are gonna wanna rip that standing-up-frame-leg-thingie right off.  I don't condone violence….but rip off the leg.  Let out the aggression.
Next you are gonna need some decorative paper.  I chose this pretty Birch Wrapping Sheet from Rifle Paper Co.  I ordered a 3-sheet pack ages ago and have been slowly using it on small projects that make me SO happy.  Here is the link to where I bought mine.  Cut out a square slightly larger than the frame.
Simply coat the front with a moderate layer of Modge Podge….hey, did you know that the Dollar Tree sells them it in little bottles now?  I found them in both matte and gloss finishes and if you aren't into a lot of crafting…this could be a good way to save some dough.
Then lay your paper on top and smooth it down.
I flipped over the frame and popped out the plexiglass insert so that I could cut out all the parts.  It helps to break out the cutting board and an Xacto knife for this part.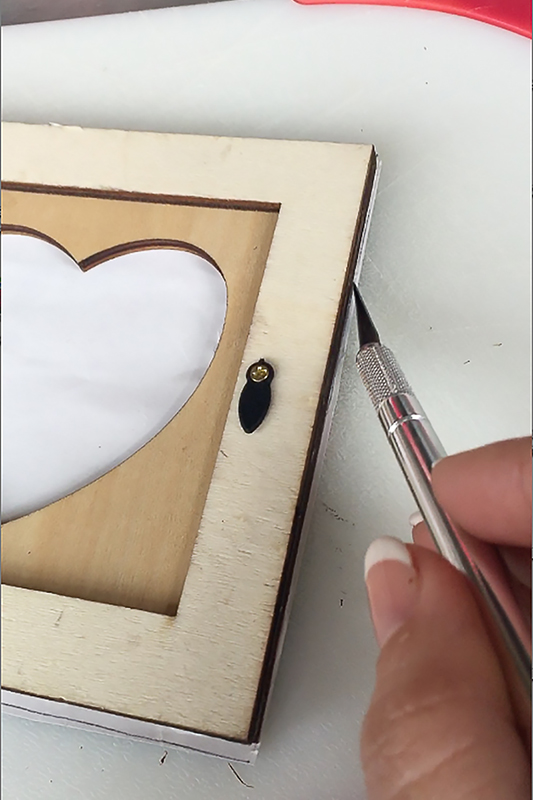 Trim along the outside and then use the knife to cut out the heart shape from the inside.  You will have to clean up the edges possibly…but this does 99% of the work.
To make it hang, I simply got out my picture hanging kit and glued these little tooth-hangers to the back.
Then for the background part, you will need a wood plank plaque from Walmart.  I got the one that is $14.97.  It's a great size for the project because it ties in all these smaller frames and makes it feel like a big art piece.
Then I got my pics.  WITH MY CELL PHONE.  I know….you probably are thinking….why are you taking your pictures of your loved ones with your cell phone?  And surely you wouldn't want to use those for your wall!
I'll get there.  I'm trying to prove a really important point here.  A point that you will LOVE.
So the point is….we all take photos with our phones.  I mean…it's easy, it's available, it's instagrammable.  And if you aren't PRINTING them from your phone….you are missing out on a very valuable reason to take photos in the first place.  Sure likes-per-post on IG are awesome….but photos of your loved ones hanging up in your house is even better.  Enter Canon printers.
You knew that was coming.  But it's confession time….let me share something with you.  The reason I first fell in love with Canon printers is because I could print wirelessly directly from my phone.  It's a game changer for any mom…or person with a phone….so basically anyone and everyone.  I snap a photo of a kid.  Edit it right there on my iPhone.  And connect to my printer wirelessly to have whatever size I want waiting for me inside….all while I watch my kids run around in the yard.  It's UH-MAZING.
And when Canon came out with their new lineup of printers for 2017…I WAS ALL IN.  Like in their business…completely ignoring personal space…there was salivating…I believe I tried to high five someone on the phone.  And then I got the new  Canon TS8020 wireless printer….in white of course.
It's definitely got all the great functions that I have loved about my other Canon printers…and it produces awesome results (especially for photos….I mean, can you expect anything less from Canon?!) but it's more compact, still comes in great color choices and a huge LCD touch screen.  It still rocks out my prints from my phone through the app.  And my new favorite feature is one that I am COMPLETELY new to….it's got filters built into the printer.  So basically I can print from my phone….OR I can snap a photo from my Canon DSLR and pop in your memory card, the printer can pull up your photo and then EDIT IT RIGHT THERE.  Incredible.  Honestly for you to understand….you are gonna need to watch this video with Amber from the blog Damask Love.
Game.  Changed.
So when it came to this project, I decided to edit my iPhone pics and then just go for the black n white prints.
Still a little confused?  So you open the Canon PRINT app on your iPhone and it accesses your camera roll.  You select the photos…and crop them in the edit function.  Then you pick the printer – in this case the TS8000 and your media type and size.  Then click print.  It's really that easy.
And I love how they turned out.  They are crisp and casual….nothing pretentious….it feels like real captures on a real day in our lives…because that is just what they were.  I trimmed the photo to fit in the frame and popped them onto the plaque for a very precious collage of photos.
And if you can't find paper that you love, consider painting the heart frames or printing out a pattern on your Canon printer to personalize this even more.
My favorite photo is Weston.  He was so happy to take a photo with me (that never happens) and he gave the ultimate squinty eye smile.  It's my favorite when that happens.  It reminds me of him as a baby!
I hung the plaque in my foyer and created a little vignette around it with similar colors.  It feels so lovely and fresh.  Perfect for Valentines Day!
Of course, there is probably no way that I could convince my sweet boyfriend to make this for me….but it would be perfect for a mom or sister.  And don't get me started on craft night….this would be the ultimate girl's craft night project.  It can literally be done while sitting done (requirement #1).  You can be two glasses of wine in and not mess it up (requirement #2) and it costs less than $20 for everything included (BOOM. Call your girlfriends!).
Just make sure you have a wireless Canon printer on hand and don't run out of chocolates 🙂
As if falling in love this month wasn't enough…Canon wants you to give a little love this Valentines Day with a giveaway!   

PRIZE: (1) Canon printer in color of choice
NUMBER OF WINNERS : (1) ONE
TO ENTER :  Enter by visiting the new Canon TS printers and check out all the options…CLICK HERE.  There are four fabulous options to choose from in a variety of colors.  Then come back and tell me your choice of printer and color with the words "I'm falling in love" in the comment sections.  Also…I'm gonna need to know what you plan on crafting with your printer….if you wanna win this thing, you will spill the details 🙂
PRIZE SHIPS :  Continental U.S.
NITTY GRITTY :  This giveaway closes on Friday, February 19th at 11:59pm EDT.  Only one contest entry per email address.  The winner will be chosen using Random.org and will be announced in an update to this post the following Friday morning. We will email the winner directly, so please make sure you use your regularly checked email address.
GOOD LUCK!