Disclaimer – This post is sponsored by Canon.  All opinions are 100% my own. 
Every morning Will asks me if I found our dog yet.  It's not because the dog is lost…it's because we are hunting the right little pooch to join our crazy family.  Ideally we would be able to find a rescue pup that is a poodle mix (allergies!) and is non-shedding (cleaning!) and already house trained (poop! sorry had to!) and was raised with aggressive and loud kids.  A girl can dream right?
But until Fido Bower comes along, we love to visit my mom and her new kitten Bootsie and our friend's dog Bella.  Which leads me to this post.  I shared the moodboard plans for the Pedraza laundry room (yup, we are currently eye-ball deep in a kitchen and laundry renovation and going to be sharing the entire thing soon!) and one of my very favorite things was a watercolor pooch picture from a very talented watercolor artist.
It just isn't in the budget for the Pedraza's to purchase a real pet painting of their beloved great dane right now so I decided to come up with a watercolor pet portrait hack.  There is always another way to skin the cat…err….um….get pet art while keeping all cats fully furry….right!?
Let's begin….
First you want to take a photo of your pet…
Or a thousand.
I have never really done any pet portraits so thankfully Bella was patient with me.  I just simply took her outside onto the front porch and took her photo in front of the white front door.
Then pick your favorite picture and open BeFunky.com – click photo editor (it's all free so no worries!)
You will want to upload your favorite photo and edit it with the generic tools till it looks alright to you.
Then you will want to open the ARTSY tab in the left hand side and scroll all the way down to select WATERCOLOR.
There is only one free watercolor option and after you select it, you will definitely want to tweak the little sliders to make your picture look how you like it.
Then click the save to your computer option.
You can do these next steps in BeFunky but I decided to do it in photoshop because I am faster in there.
Select the quick selection tool and then select the background and slowly erase it with an eraser set at 30%.
This is how the finished product looks….
Isn't she so pretty with watercolor!  Like she is Elsa waiting for coronation day!  I printed this one out on my Canon PIXMA iP8720 crafting printer – it's the BIG printer that gives off GIANT 13×19 prints that look like something you would have to special order.
The colors and finish is perfect.  It's exactly what I was going for!
It looks like real watercolor but nobody could deny that it's Bella!
I also decided to give it a whirl with Bootsie.  She is my mom's new kitten and she is REALLY hard to photograph because she is fast and tiny and basically like a fuzzy blur of activity.  I got this one of her and I love that she is near the grass (her favorite hiding spot).
Obviously this is a photo when you zoom in…
And after the BeFunky watercolor treatment, I saved it to my computer and now it looks more like a painting when I zoom in with Photoshop…
I also like the texture that you can add in Photoshop with the brushstrokes filter.  You can select the crosshatch and it looks more like a faux canvas type texture….
See this is the zoomed in version with the crosshatch applied…
Both are very pretty – one is just more smooth….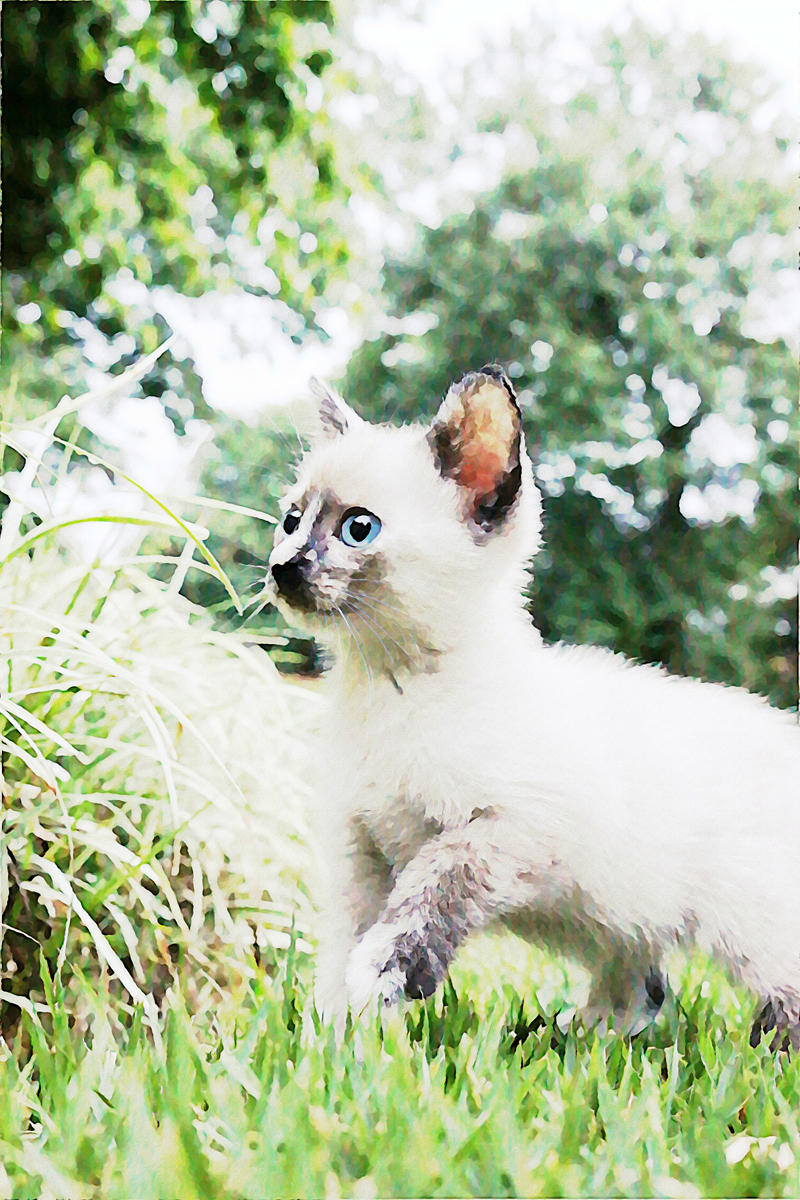 and the other has more grit to it…
I also printed this one on my  PIXMA iP8720 but this time just used normal glossy photo paper in an 8.5 x 11 size.  It was super simple….just put different paper in the back feed and click print.
It will be so fun to give to my mom as a little gift.  And inexpensive too! I know she wanted a good picture of Bootsie and this way it is pretty enough to put up as artwork.
So if you are an animal lover but you would rather hang artwork than photos everywhere – this is definitely for you! And I'm sure your fur babies wouldn't protest – modeling for a photo always deserves an extra treat 🙂
Are you guys just loving these Canon printer posts? I love them so hard! I have about thirty other ideas on ways to use photos, display pictures and craft your home to be a place you love! The challenge is what post comes first! ha! Here are some of my favorite past posts where we partnered with Canon craft printers…(CLICK ON ANY PHOTO TO GO TO THAT PROJECT)
Happy crafting y'all!