Welcome back to Tutorial Tuesday!
It's kinda ironic to me that I am teaching ANYTHING.  I mean…I'm a homeschooler…who went to college to be a teacher…realized VERY quickly that I am not cut out for it and will praise the fine educators of the world till kingdom come…took up a camera less than five years ago and photoshop after that….to be here, attempting to teach you little tricks with no real training myself except a whole lot of trial and error (emphasis on the error!).  That's irony people.  At least I think it is…I was homeschooled afterall 🙂
So today I am going to show ya a VERY easy method to make a silhouette in photoshop.  Basically you can take any photo and make it into one of those cool personalized gifts or artwork.  I love the idea of doing it for newlyweds or as a baby shower gift.  But first, the things to note….I use Photoshop CS4…not all photoshop is created equal.  This method works but there are several ways to skin a cat…not that I condone skinning anything.  That's like Silence of the Lambs creepy.  It rubs the lotion on its skin.  Let's get started.
This time around I am gonna make a silhouette out of a picture of me holding Will.  Jeremy took this photo and it was late in the evening and we were moving a bunch so the original was blurry…but that's okay!!!  This is a silhouette!  It can be done with a blurry photo!  That's one of the best parts 🙂  I did edit it so that it was artsy fartsy because I loved our expressions…so that is what we are working with.
And we are making this…
First things first, you wanna open your file in photoshop.  I like to look for profile shots – they show the face so much better.  Also I like it when the legs are separated a little…and when there is little overlap of limbs.  It just produces a better image.
Now you want to select your pen tool.  (shift and P are the shortcut)
Make sure your color is on black and the shape layers box is selected (indicated by red arrows below).
Next thing you want to do is start your dots.  Basically we are outlining the entire picture with little dots….it's like connect the lines.  Also, you may want to adjust your opacity till it's down near 50% (I circled it in red)…that way you can see what you are outlining.
Make sure you give hair and faces a little more life by using closer dots and showing the separation.
Once you connect all the way back to the beginning – the dots should disappear and you are left with a solid line around your image.
(Oh and yes, my shoes were disappearing into the grass so I created some – remember that if your original photo doesn't show it, you have to remember to create it!).
Now adjust your opacity back to 100% to see your silhouetted image.
Now we are gonna open a new layer.  (shortcut is Shift + Control + N).  Make each window smaller so that you can see them both.  Remember that you are gonna see the different layers of your window in the sidebar but only for the selected window….so click on the top bar of the window to make sure you are on the right one.
So what we are gonna do is click on the top of the original image and select our shape layer.  Then you are gonna hold a left mouse button it (this grabs that layer) and drag it onto the other open layer (our window that is untitled!)….this copies the layer onto the new window that has a white blank background.
After you resize the silhouette to fit the background (just grab the little boxes on the corners to stretch it bigger or smaller), you can move it around to your hearts content.
If you are trying to make artwork, you can add words…
It ends up looking like this…
Or you can change the background with another layer to make the silhouette over words.  Wouldn't this be a cute project for a childs birthday or for fathers day?  Or for a thank you note to someone that helped watch your kids or a friend that that needs some cheap personalized art on their walls?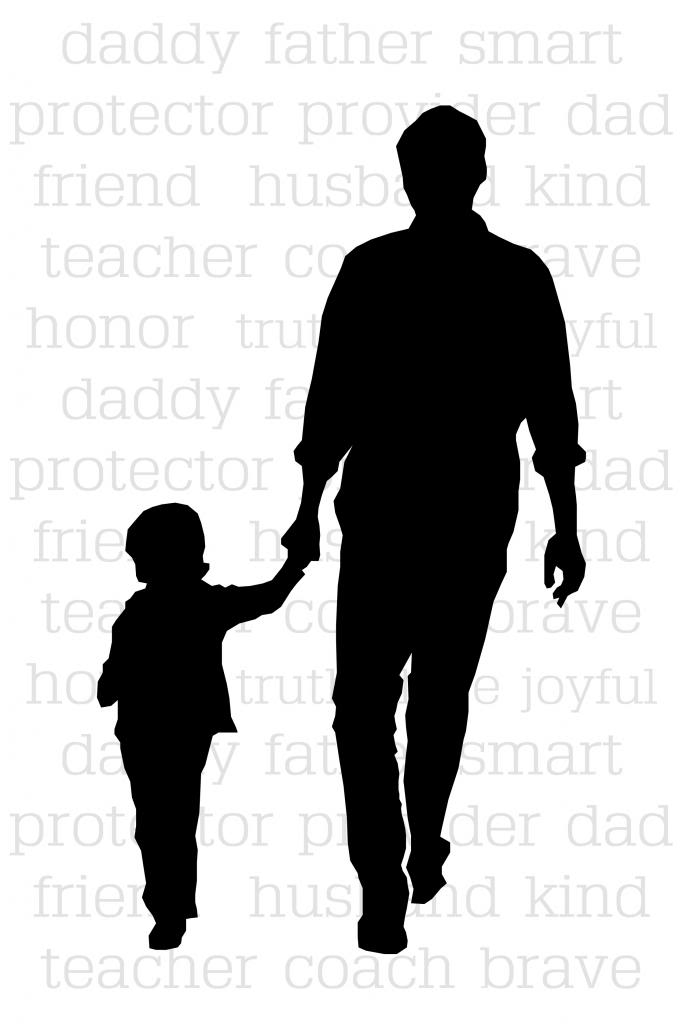 Happy photoshopping!
p.s.  We only have two more photoshop sessions left!