DISCLAIMER : This is a sponsored post and giveaway brought to you by Simpson Strong-Tie.  All opinions are 100% my own.
I'm just gonna say it now….this post took about 52 hours to produce.  not even kidding.  This is a beast of a post.  But I think it is worth it.  It's introducing you to an awesome product…showing off a much loved new garage build….contains a video, a SketchUp drawing (completely a first for me so it's definitely not perfect), a cut list and a giveaway.  Whew.  As a blogger – that is exhausting.  As a reader – I hope you will be excited….because I am really proud to share all this with ya.
When I introduced our mess of garage, I mentioned that we needed more storage.  Part of the black storage shelf that we had in there was completely taken up with pots, gardening supplies and stacked next to it there were bags of soil but no actual spot to do potting.  So when Simpson Strong-Tie challenged us to build our own spin on a workbench…I wrapped myself around Jeremy's legs and shouted "POTTING BENCH!  POTTING BENCH!  POTTING BENCH!" until Jeremy gave in.  Like I said before…I'm very subtle and meek.
The first thing you are probably wondering is "What the heck is Simpson Strong-Tie?"
It's a company that has this crazy awesome kit that helps you make the perfect shelving unit or workshop table.  Let me just tell you right now…this needs to be under your husbands/dads/uncles/father-in-laws/brothers/handy sister's Christmas tree.  It's the perfect gift for a DIYer – expert or novice.
Each shelving kit comes with 8 Simpson Strong-Tie connectors and the instructions to build a standard workbench or shelving unit.  Since we already have a workbench for our miter saw…we tweaked the plans to create a potting station.  The basics of this beauty are just out of 2×4's.
And here is the cut list if you want to tackle making your own potting bench….
So the first thing you do is attach your connectors to the 2×4 legs.
Basically the 2×4's will make a basic box with a back that goes higher.  This is very similar to the workbench instructions that comes included in the box.
After that – you add the slats.  But wait…instead of me telling you…let me just show you with this timelapse of Jeremy building 🙂
The main difference here is that we added a special trap door on the top slats.
Did you see it?!
No?  Well maybe you can see it now…
Still no huh?!
Well you know it's a good trap door when you can't see it.  #thingsyoulearnfromthegoonies
The best part about this trap door is that it holds extra potting soil and Miracle-gro!
I can fully remove the door if I had lots of different pots I needed to fill or just lift it up and scoop out just enough.
The trashcans are just plain black Rubbermaid trashcans from Home Depot that sit on rails made from 2×2's.  Those 2×2's are fastened to the frame under the 3rd-7th slat.
The other difference is that when you construct the potting station, you want additional storage for the pots, right?!  A regular workbench is geared more to storing tools….and pots are completely different.  Duh Katie.  So in the original plans, we nixed the pegboard back and went for a slatted back and two shallow shelves.
The slats for the back were added for purely aesthetic reasons but they do help keep the pots on the shelves.  Otherwise, the pots could just fall off the back.  Jeremy just added those with a Ryobi Airstrike.
The goal was to create this thing on the cheap…so we decided to use 1×4's that were in the clearance section (70% off!) and inexpensive trashcans ($5 each) and really cheap shelf brackets ($1 per piece).
Jeremy spaced those back slats with a regular 2×4 scrap.  It kept everything really equal and spaced evenly.
In order for the top 2×4 to be screwed into place, we Kreg Jigged it but you could use just a drill and a screw drilled in at an angle.  Since this is the back, you can do what you want.  You are the boss of you.
After the top piece was added, Jer chopped off the remaining 2×4.  We didn't know exactly how high it would be and to cut it off after the fact allowed it all to be perfect.
It's so nice to have the cute pots up high out of the reach of the boys.  I am constantly looking for a specific pot or a particular pair of garden gloves, or even a flat surface that I won't ruin by putting a dirty pot on.  This is it folks.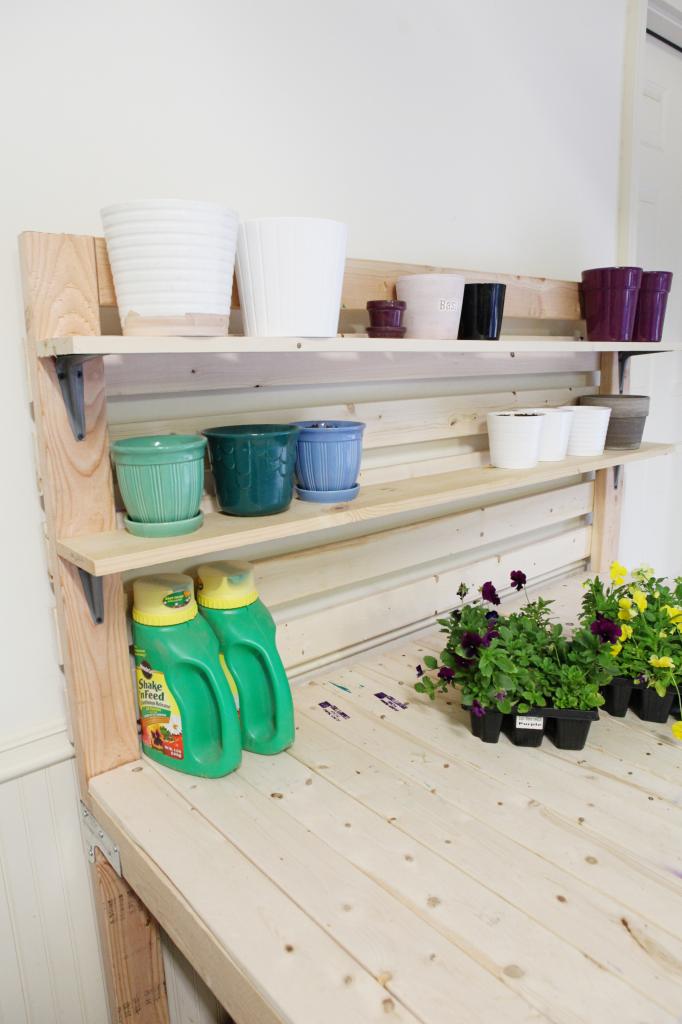 We already put it to use by planting some fall flowers and I have to admit…it almost felt TOO pretty to get dirty.  Then I got over myself and made  a Weston-size mess.
On the bottom shelf, underneath the work surface, is the terra cotta pots.  I love these clay pots and my mom gave me quite a few in different shapes and sizes.  They are really great for potting plants for various reasons and I had read an article about taking care of them….ashamedly didn't do it…but now with the potting bench, I can.
My largest pots do fit in the bottom shelf but if the pot was oversized, I just stack it next to the bench.  I also have a few mini plastic trashcans that I scored at the dollar store to hold my little gardening tools.  And I do like to put my watering can under here.  I chose not to put the sprinker items here (we have a couple different kinds) because if they were within viewing of the kids, I think they would be too tempted to play with them.  So instead, we keep the sprinkler stuff in the basement.  Also…if you have kids, like kids, have seen kids before…you won't want to store pesticides on this bench.  Just pulling out my mom badge to remind ya 🙂
Overall, it is the best little addition to our garage space and we have plenty more to build in here to make the garage super functional and organized.
For more DIY project inspiration, check out DIY Done Right.  The kit is also being stocked in select Home Depot stores, but you can buy it online at Home Depot too.  And here is the best part – you can score the Simpson Strong-Tie Workbench/Shelving Unit Kit yourself!  The possibilities with these connectors are endless.  Seriously.  Without end.  It's like saying 'go west'.
Here are all the details on how to get your hands on it….
PRIZE: (1) Simpson Strong-Tie Workbench/Shelving kit and a $50 Home Depot giftcard
NUMBER OF WINNERS : (1) One
TO ENTER :  Enter by commenting on this post with "DIY Done Right!" and tell me what you would build.
PRIZE SHIPS :  Continental U.S.
NITTY GRITTY :  This giveaway closes on Friday, October 31st at 8pm EDT.  Only one contest entry per email address.  The winner will be chosen using Random.org and will be announced in an update to this post the following Monday morning. We will email the winner directly, so please make sure you use your regularly checked email address.
GOOD LUCK!