One of the tips I shared with you guys about saving time is the most simple – breaking out the ole slow cooker and making your meals ahead of time.  Well – things just got better because now the
Crock-Pot Brand
is taking the prep work out of your dinner and saving you even more time and energy for the things you love!
Yup.  It's true!
So this is a brand new program and we honestly had no idea what to expect.  We have ordered cook-at-home meals before but this particular idea had us excited because there is practically NO PREP.  As we all know….Jeremy doesn't cook.  He attempts.  He will do it if a starving child is screaming DADDY DADDY DADDY and wiping tears and boogers on his leg but in general, he doesn't enjoy anything about it….except the eating part.  This had him particularly thrilled because it all arrives frozen….and it takes about two minutes from start to cooking.  The box arrives in a styrofoam cooler box packed with dry ice to keep the meals frozen.
(We should also note that these styrofoam cooler boxes are awesome to reuse for baseball games or for the lake or beach!)  
And Jeremy really liked that it was practically fool-proof but you get a meal at the end of the day that is so much better than a frozen pizza or a peanut butter sandwich.  And we get to eat at home….which as a parent of four kids ages five and under….that is priceless.
We actually picked out a meal from their site that would be something completely different than what we would normally eat….Creole-Style Andouille Sausage and Chicken.
It came in three different bags and two of them were added at the beginning…one thirty minutes before it was done.
It was ridiculously easy – I mean, my three year old could have made dinner.  Just cut the bags open, dump them and add some water.
Then push your slow-cooker button to high, cover and BOOM….next thing you know, my kitchen smelled like we were in Lousiana!  Seriously.  I even considered wrestling a gator 🙂
My number one concern was the price on this particular program.  I thought it was a little high at first.  But then I realized how much time I actually saved by not having to go to the store, prep the ingredients, follow recipes and it is really nice to not stress about having a meal that could possible burn.  I mean – sometimes that happens!  I swear I burn pancakes EVERY SINGLE TIME.   And for all the Crock-Pot slow cooker lovers out there  – just imagine the idea of having everything ready to go for your non-chef hubbies!  That is amazing!  And yes, you could prep all that yourself…and spend the time doing it….but for me, it was such a nice treat to be able to spend that time doing OTHER things like comforting Weston who pretends to go to sleep to avoid chore time….
I spray painted a light fixture…
I found a shelf cabinet at the thrift store….
I pushed Maxi Knight on the swing…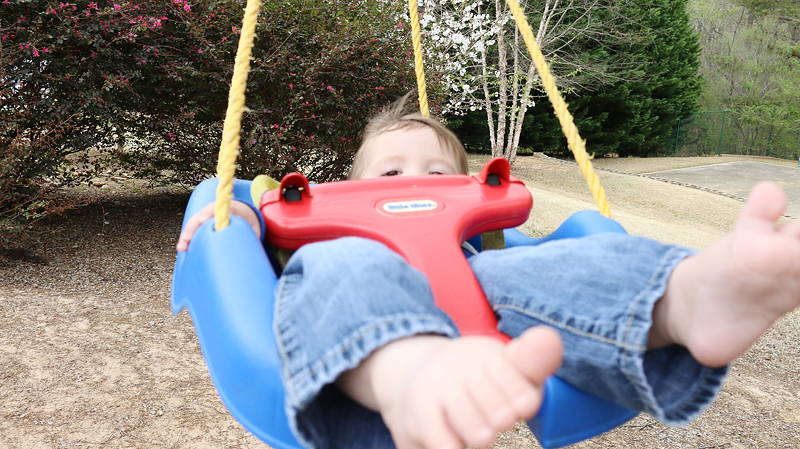 I dyed eggs with my kids….
And I was able to not scream at the kiddos when they were nagging me about dinner time!  All you mama's know that the dinner-time-blues are real and they. are. terrifying.
It was delicious too.  I was pleasantly surprised that there was lots of meat in each serving and we ended up with four big bowls – enough for four adults.
And the best part is – right now they are offering a great discount on ready-to-cook meals.  CLICK HERE to check out Crock-Pot Cuisine. First 100 readers will receive $10 off when you buy two or more meals! (The discount will automatically apply when you click the link)  PLEASE NOTE THAT $10 off is the best discount available.  IT IS $9.99 FLAT RATE SHIPPING NO MATTER HOW MANY MEALS YOU ORDER…that means if you order 10 meals, it is $239.90 for the TEN meals with this discount and then $9.99 for the shipping total.
Plus – I like the fact that all the meals have tips on their site to personalize the meal to your preference.  It is like having cliff-notes to ace slow-cooking!  So now that you heard all about this cool new thing – I need to hear you promise to tell me how it works out for you!  And what is your favorite thing to use your Crock-Pot slow cooker for?!