Last May we started our laundry room makeover.  You read that correctly…we started a room over eight months ago.  And no, it's not done.  Not even close.  We are lots of things…fast is not one of them.  That's why it is hilarious to me when folks say "wow – you get so much done!"  Take note of my laundry room people.  Take note.
This crazy adventure began when we decided to rip out the flooring.  It was hideous tile.  In retrospect…maybe that wasn't the right timing.  Then we painted the trim.  Our hood from the kitchen got vented and we built out the upper cabinets and painted them to hide the duct work that vented the hood to the outside.  Then we painted the walls.  Then we stopped.
Well by George and Ringo, this is the year that I will have a finished laundry room.  Hopefully before LJ arrives…because ya know…babies create some pretty stinky messes.
So the first thing I did was finally paint the wall behind the washing machine.  I used the same paint that I picked out before – Kerry Blue Terrier (which it looks nothing like the dog breed by the way…way more blue, less beard).  The finish is Semi-gloss which is the first time I have ever used this finish on walls but I am liking it with the amount of dirt and pre-treater and water that splash up on the walls.  It's really scrubbable!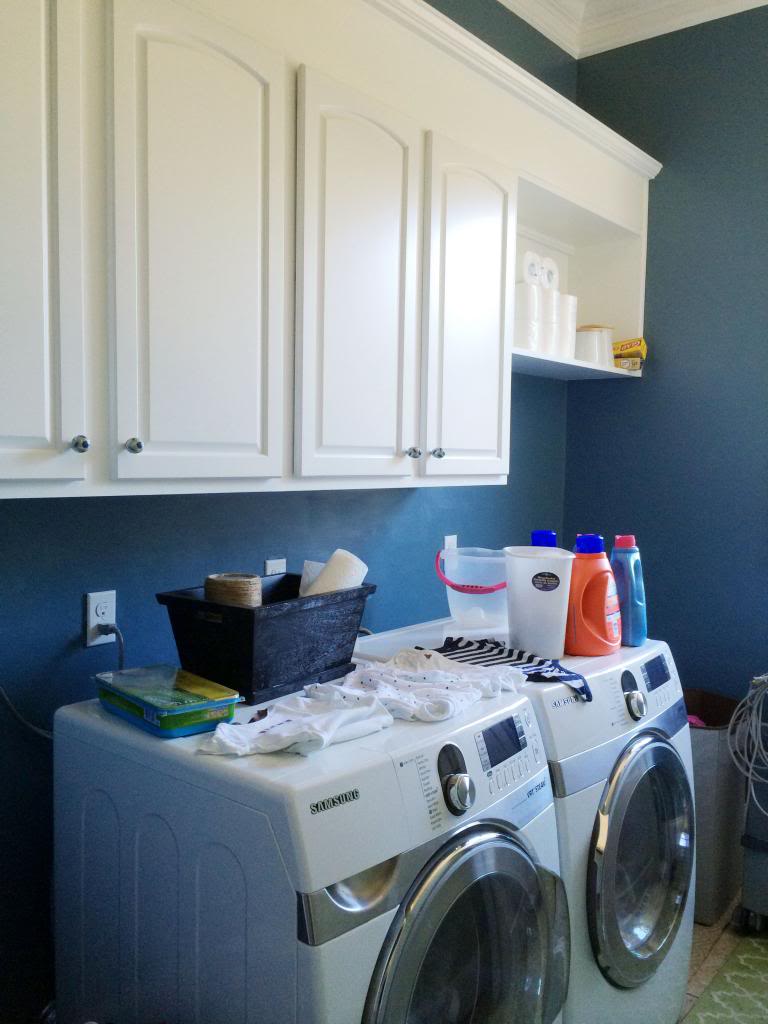 Then I decided that I wanted to do something completely Miley on this wall (aka crazy).  It is my space…I am pretty much the exclusive launder-er and I just really thought an accent wall of fun and function would be great.  At first I wanted an entire wall of pegboard…to hang the mops and tools and hooks for drying clothing.  Then I realized that I probably would not be able to actually bend over to do laundry if all that stuff was behind me.  Plus, nobody likes a hook in the back of the head.
So I decided to go with yet another accent wall.  Go ahead…call me Hildi from Trading Spaces with my crazy obsession of making walls anything but plain painted walls.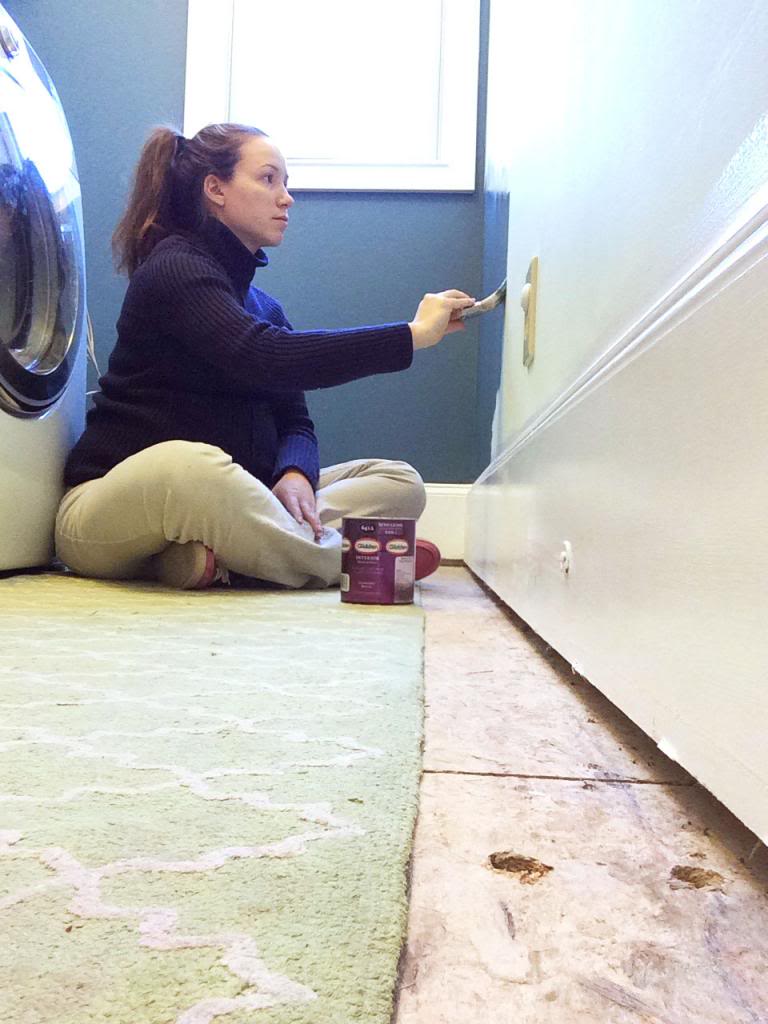 Sooo…ombre it is.
It should be noted that an old friend of mine did a dropdead gorgeous wall treatment WAY ahead of the ombre trend and when I saw it, I googled her technique.
So the first thing that I did wrong was paint in the vertical.  Don't.  Learn from me and my waywardness…paint horizontally if you attempt ombre.
The darkest color – Kerry Blue Terrier was on the bottom.  Then I just mixed in white semi-gloss paint to be about 50/50 with that for the next layer.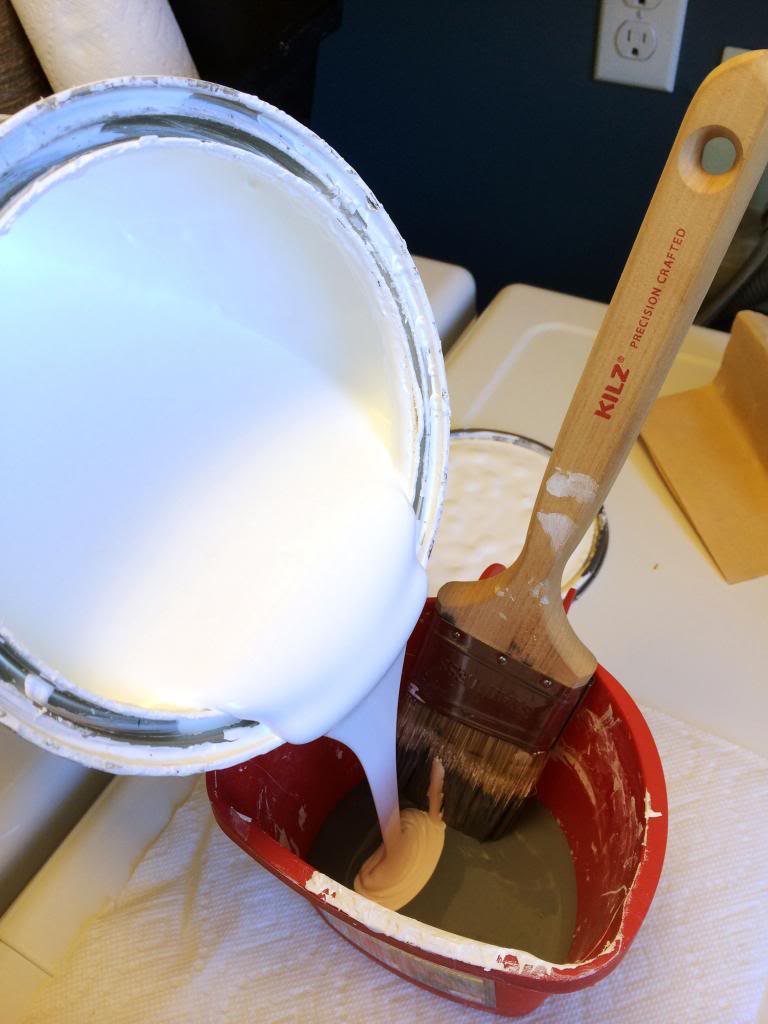 Again.  Paint horizontally.
Overlap the paint colors about two to four inches so that you can get the max blend.  I blended by gathering a slightly damp paint brush and a squirt bottle with water.  Then once I had about a three foot section painted, I would spray the overlap and blend by swiping the brush back and forth from the lighter color into the darker color.
You can see here in the glossy parts where my horizontal strokes met my vertical ones.  Not a good look.
It was about then when I had to go back over my old layers and do horizontal strokes…because dang if I can see glare of two different directions.  The third layer was half of the 50/50 mixture and half more white.
More blending.
Then the final coat is just plain white semi-gloss – the same as the crown molding.
The glare is crazy in these photos and they are still a little wet so that's why it looks a little nuts.  I have considered doing a full glaze over the whole thing to get it smooth looking.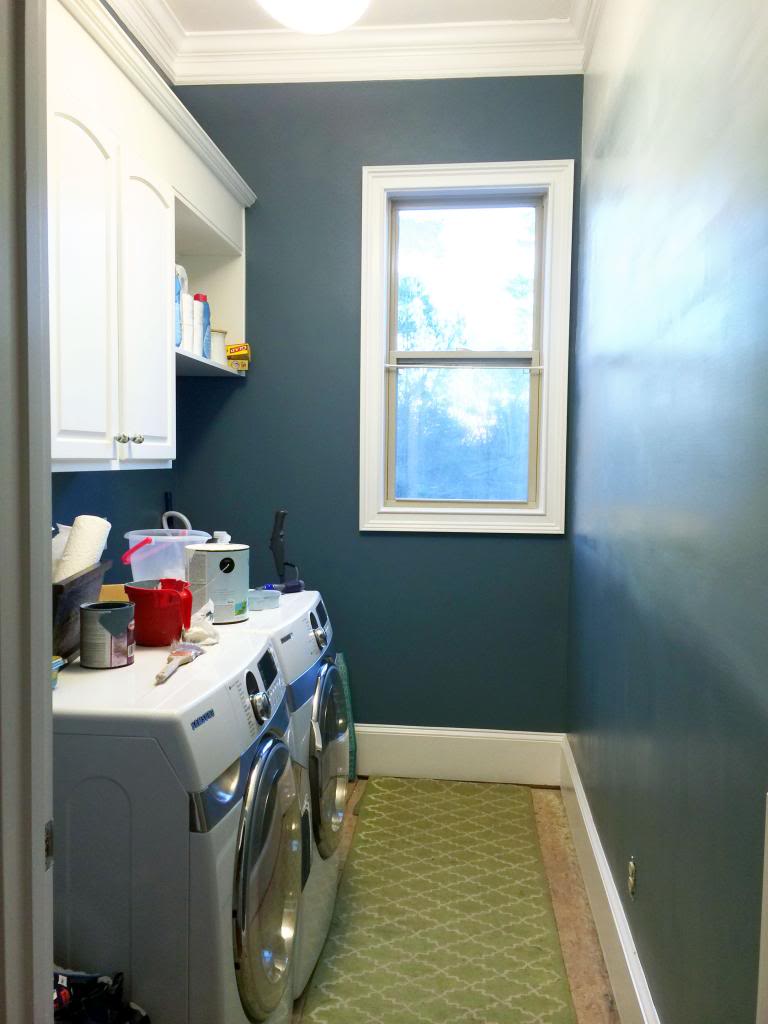 But overall, it looks like the sky…or the ocean.  It's very calming and fun.  Kinda like the love child of the heads of Katy Perry and Lauren Conrad.
And yes, just for fun, I created a gif for you to see the ombre in action…cue the oohs and ahhs of Katie learning how to make a gif after extensive googling…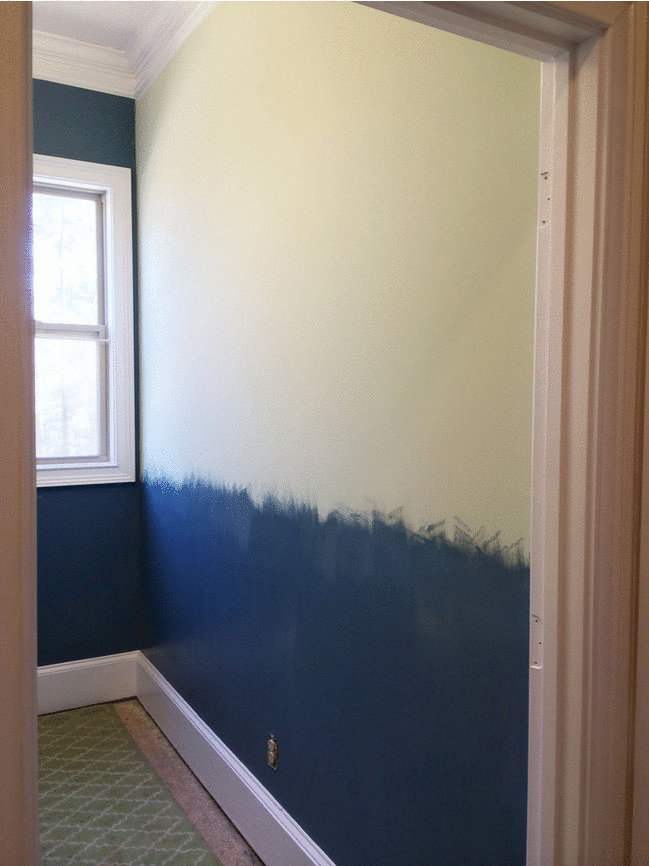 So that's my wall…I think it probably won't stay like this forever…but I LOVE that it is not 'cucumber peel' anymore and really it does bring a smile to my face…that's what counts when you are spraying Oxi-clean on the millionth pair of dirty underwear.
Update : Looking for more info on something you see in our house?  We have a Shop the Bower House page with paint colors and links to accessories, furniture and decor!