"I was one of the bloggers selected by True Value to work on the DIY Squad. I have been compensated for my time commitment to the program as well as my writing about my experience. I have also been compensated for the materials needed for my DIY project. However, my opinions are entirely my own and I have not been paid to publish positive comments."
Let the chaos begin!
I am ready to let loose some of the top-secret highly classified projects that I've been placing finishing touches on…three cheers for me!  Actually we should be cheering for you…because you guys are the ones that told me you come here for the 'house stuff' in my blogiversary survey (which by the way, if you are in a bad mood…just read other's people's quirks…it's like botox for the soul).
Okay…so you know that I have partnered with True Value (aka the ugly home dragon slayer – that's their ABP official slogan by the way).  And those Master Hardwarians are helping us out with DIY supplies…while we bring the brawn and the brains…or in my case, the Brawny (for when DIY gets messy) and the brain-engine-called-Google.  I created my To-Do list and on said list is this bad boy:
That my friends is called a mish-mash.
One yard sale table scored for $18 last summer.  And one golden light fixture with several modern stacking chairs.  Not exactly what I'm going for in this space.  I don't think any body goes for this look.  anywhere.  in any decade.
So I decided to start with the table.  I love the two toned look of it…I'm just not loving the tones…or the shape that it is in.
The top is birchy.
Birchy like yellowy…not like what I call that woman who cut me off on Highway 78 the other day.  Totally different kinda birch.
As you can plainly see…this table is a little rough around the edges…the previous owner used it as a craft table….and it shows…
The top is especially bad.  Water rings…stains…divots….
So I whipped out our sander and some gritty sandpaper (60grit to start) and went at it.
Since there was only a few coats of well-worn poly on it, the entire top wasn't difficult to strip down.
Time consuming…but not hard.
If you are planning on doing this at home…make sure you go with the grain.  That is my number one tip.
After you sand down the entire surface, wipe it down of dust and see what you got.
Here's mine after sanding with the high-grit sandpaper followed with a medium grit.
Pretty nice, huh?  Big difference from that hot mess up there.
After my sanding with gritty, medium then fine grit sandpaper…clean the sucker REALLY well.  I wiped down the entire table top with water and then followed up with a tack cloth.
Next came stain.  I chose MinWax in Dark Walnut.
I would apply then let it sit for one minute then wipe it up with a paper towel.
The bits of yellow that are peaking through is where the poly wasn't removed good enough with my sanding.  I love it though.  I figured that if this happy little accident hadn't happened, then I would WANT to try my hand at recreating it.
Next came Poly.  I must admit, My name is Katie and I love oil based polyurethane.  Yes, it is annoying that your foam brush dries before you can do two coats…but it is well worth it.  I love this Zinsser type that boasts that it will warm up your wood.
Oh boy did it?!  See my side by side comparison.  Crazy huh?  The polyed side really does make the wood look richer and more finished…and it got rid of that blue hazy look…
And my finished little table top in tip-top shape.  Please note that the eliptical and baby usually aren't there for photos.
I must say this…here's my secret for awesome finishes….sanding in between coats.  If it is a painted piece of furniture – SAND between the coats of paint.  It makes a difference.   If it is a stained piece of furniture (like this one), SAND between the coats of poly.  Use, and watch yourself here because this is hard to remember, use…BETWEEN-COAT SANDPAPER.  So uber clever…those sandpaper-naming-people.
Another gratuitous table shot…this is after three coats of poly as they dry…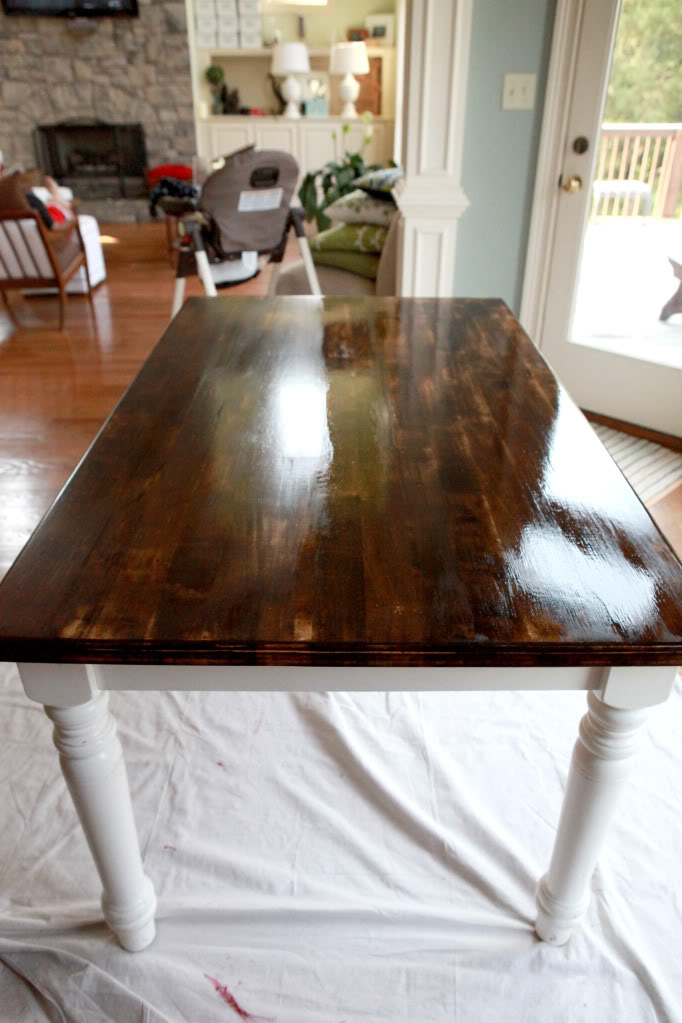 So there you have it folks – one little bit of True Value supplies to create an amazing new table.
Obviously this space isn't finished though….
I still have the GoodWill bench that I made over:
Oh and my chairs that were handmedowns from Mom….
oh and the crowning glory of our eat-in area…the golden chandelier…Lumiere.  Yeah, I watched too many Disney movies. (note how I used past tense…when really I should use present tense).
So there you have it – me striking TABLE off my To-Do list….and moving right along.  Have you ever redone a table?  Did you love it after…did you two-tone it?  Any happy accidents?  Spill…(PUNNY!)
Update : Looking for more info on something you see in our house?  We have a Shop the Bower House page with paint colors and links to accessories, furniture and decor!